A decade ago, recovery was a concept rarely discussed. Instead, everything was about the hustle and the grind. Whether you were a hobby jogger or seasoned professional, training sessions were meant to hurt. To finish with the ability to walk at the end was a sign you didn't give it your all, the only marker of a good session being one which saw you curled up in the foetal position, reassessing your life choices. Thankfully, in the years that have since elapsed, the adage of "no pain, no gain" has been well and truly debunked, and in its place we've come to learn of the importance of recovery. Now, rest days are just as vital to one's performance as the training sessions themselves and when it comes to optimal performance, recovery is essential. Not surprisingly, it's led to the rise of the massage gun, a device that helps tackle tension in the body, release muscles and even prep them for activity.
But as anyone who has had a Theragun in their hands will know, the sensation it gives is an intoxicating one that's easy to get hooked on – and we certainly have. Now, the company has announced its latest device which looks to tackle tension above the shoulders with the Therabody TheraFace Pro.
Ok, so you might be questioning just why one needs a Theragun for the face, and we wouldn't blame you. Part facial massager, part skin device, the TheraFace Pro looks to do both by fulfilling the roles of up to eight other facial tools. With four magnetic attachment heads: a flexible silicone cleansing run, a micro current ring, an LED light ring, and three soft and squishy percussive massager attachments, you can customise your treatment based on the buttons and digital interface – much like you would the original Theragun.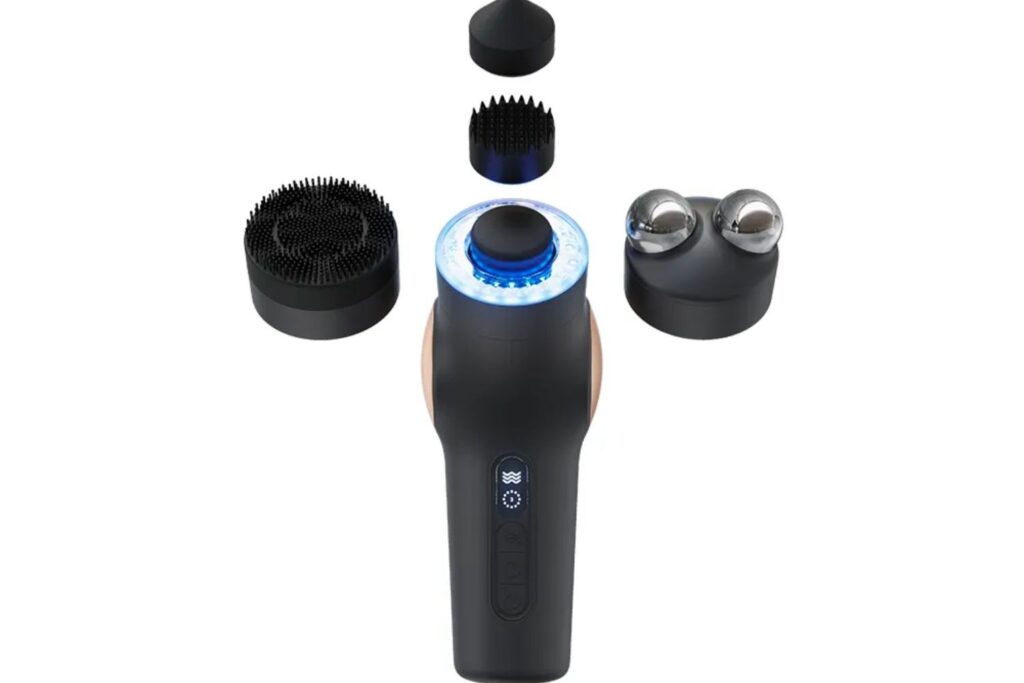 The device works to release tension in your facial muscles, with the pointed head also working to deliver targeted stimulation to smaller spots like the eyes, nano lines and pressure points that work wonders for those who struggle with jaw pain. The flat head can be used for face, neck and chest, while the microprint head also helps to increase circulation. Unlike the massage gun which has an amplitude of 16mm, the TheraFace Pro only hits 3mm muscle depth and is perfectly safe to use, even if it might seem a little daunting at first to apply such a thing to your face.
And for those of us who are looking to revitalise our grooming routines and perhaps spend a little longer on our faces in the morning or evening, the TheraFace Pro offers some truly unique benefits that extend well past that of relieving muscle tension. The percussive heads can be used in tandem with the targeted LED light therapy attachment to reduce the look of fine lines and wrinkles, while blue light helps to kill acne-causing bacteria. The silicone cleansing ring offers deep cleansing and exfoliation, while the microcurrent therapy can also be used to create a more toned contour effect in the face and neck.
FDA-cleared for safety and efficacy, the TheraFace Pro might just be the hybrid device you never knew you needed, offering facial treatments from the comfort of your home while also relieving tension and providing a means of stress management. It's currently available in the UK, however our guess is it's only a matter of time before the product drops in Australian stores and online.