1 / 3
Tomato, prawn and chilli pasta
Serves: 4
Prep + Cook Time: 20 mins
Ingredients:
1 punnet of cherry tomatoes
3 cloves garlic, sliced
Chilli flakes / fresh chilli for taste
400g prawns peeled
½ lemon squeezed
3 tablespoons of olive oil
1 thinly sliced zucchini
1 teaspoon of salt
1 teaspoon of black pepper
Steps
Heat pan with oil over medium heat.
Add tomatoes, garlic, chilli and zucchini. Sauté for 5 minutes or until starting to soften.
Add prawns into pan. Cook until they change colour/cook through
Meanwhile, boil pasta in a pot of well-salted water and cook until al dente according to package directions. Reserve 1 cup of pasta water drain pasta and set aside.
Add pasta to the sauce with the 1 cup of pasta water and continue cooking to emulsify the sauce
Serve and garnish with a squeeze of lemon. Or salt + black pepper if preferred.
Get your greens pasta
Serves: 4
Prep + Cook Time: 30 mins
Ingredients:
San Remo Pasta Pro Performance
6 spring onions
1 chicken breast
1 leek
1 large handful of broccolini
3 tablespoons olive oil
2 cloves of garlic
100g spinach (fresh or frozen)
2 large handfuls of peas (fresh or frozen)
extra virgin olive oil
optional: basil, mint to serve
optional: 50g parmesan cheese
Steps:
Wash onions and leek. Slice the spring onions. Trim the leek, halve it lengthways, then finely slice.
Finely slice the broccoli, keeping the tips.
Put a large, non-stick pan on a medium heat.
Put 1 tablespoon of olive oil into the pan, with the spring onions, leeks and broccoli stalks. Crush/slice garlic and add to the pan.
Add the spinach and peas, along with a pinch of sea salt and black pepper.
Cook for 10 to 15 minutes, or until soft but not coloured and the spinach has defrosted, stirring regularly.
Meanwhile, while the sauce is simmering, boil pasta in a pot of well-salted water and cook for 12 minutes or until al dente. Add the broccoli florets for the last 2 minutes. Reserve 1 cup of pasta water drain pasta and set aside.
Drain the pasta and broccoli, and tip it into the sauce. Add 1 tablespoon of extra virgin olive oil and optional parmesan, combining together.
Slice chicken breast and pan fry on each side for 3-5 minutes. Then add into the pan with pasta and sauce.
For that extra garnish on top, sprinkle some fresh herbs over the sauce/pasta.
Serve in bowls and enjoy.
Meatball pasta
Serves: 4
Prep + Cook Time: 45 minutes
Pasta Ingredients:
San Remo Pasta Pro
1 teaspoon coconut oil
1 onion, diced
2 garlic cloves, crushed
800g tin crushed tomatoes
¼ cup basil leaves, chopped
2 tablespoons chopped oregano
½ cup beef or vegetable stock or water
Sea salt and freshly ground black pepper
Butter or ghee, for pan-frying
Grated parmesan cheese and extra chopped basil, to serve
Meatballs Ingredients:
500g good-quality lean beef mince
2 garlic cloves, crushed
1 free-range egg
1 small carrot, grated
½ cup quinoa flakes
2 tablespoons chopped oregano
Sea salt and freshly ground black pepper
Steps:
Cook pasta as per packet instructions
Mix together all the meatball ingredients in a bowl, roll into balls the size of a golf ball and place in the fridge.
Melt the coconut oil in a frying pan over low heat.
Add the onion and cook for 4 minutes, then add the garlic and cook for a further 3 minutes.
Stir in the tomatoes, basil, oregano, stock or water and season well with salt and pepper. Bring the sauce to the boil.
Meanwhile, melt butter/ghee in a frying pan over medium-high heat, add the meatballs and cook for 4-5 minutes until nicely browned all over. Don't turn the too often to avoid meatballs form breaking apart
Add meatballs to the sauce and simmer for 15-20 minutes.
Divide the pasta among four bowls, top with the meatballs and spoon over the remaining sauce.
Sprinkle parmesan and basil on top to serve.
We love a good hearty bowl of pasta, but what's better than knowing you're getting an extra punch of protein while eating?
New product by San Remo, San Remo Pasta Pro, is packed with 37g of protein per serve (which is 70% RDI*), equivalent to 6 eggs or 125g of cooked chicken breast and with 25% less carbohydrates than regular pasta. Not bad at all.
Check out three recipes above, created by Tim Robards (San Remo Pasta Pro ambassador), to get that protein flowing.
Nikolina Ilic
Nikolina is the new web-obsessed Digital Editor at Men's and Women's Health, responsible for all things social media and .com. A lover of boxing, she has a mean punch inside and out of the ring. She was previously a Digital Editor at GQ and Vogue magazine.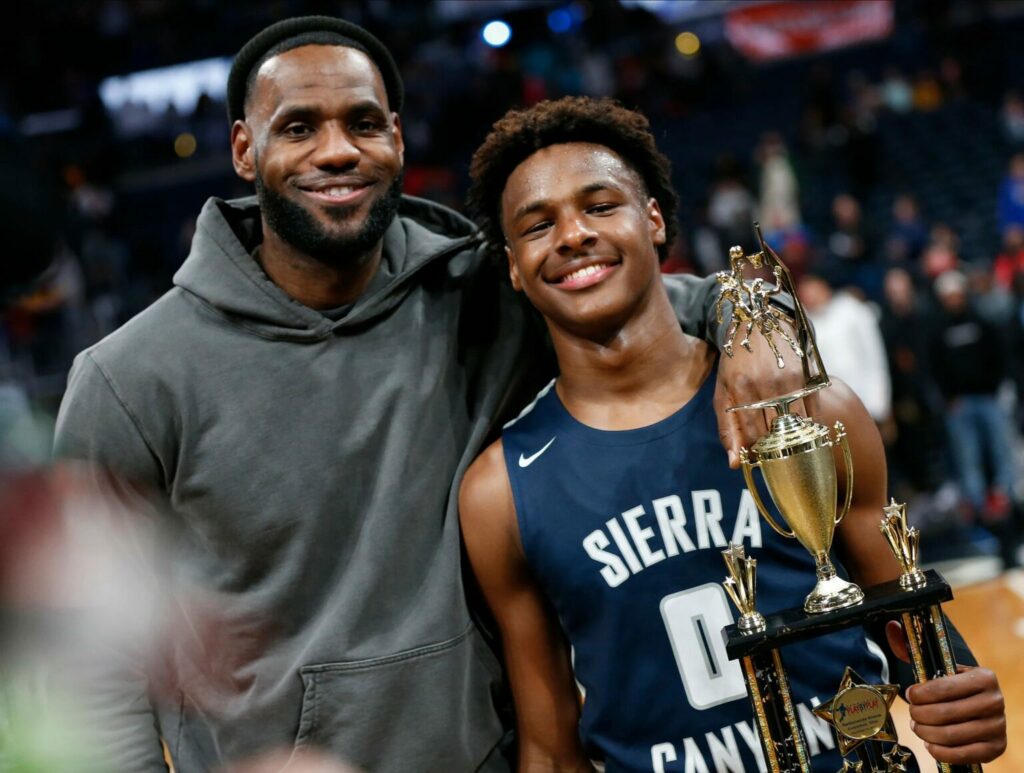 Bronny James is coming back
LeBron James' eldest son has been cleared to play after a heart issue. What does this mean for the 2024 draft and what is a cardiac arrest?