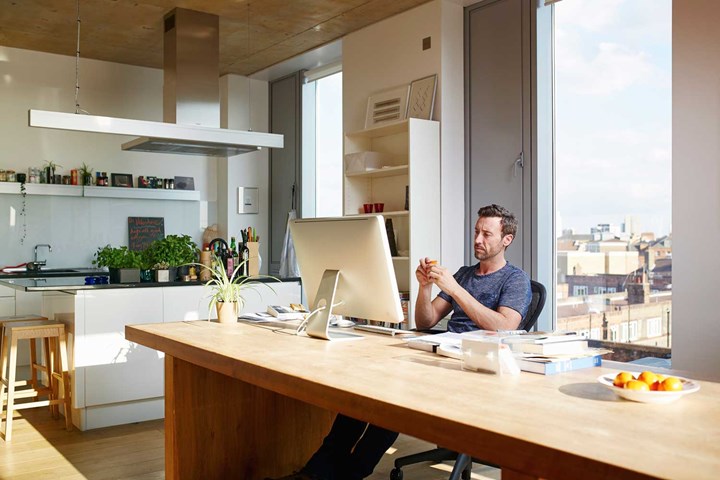 Sure, a man's home is his castle – but cold battlements, draughty halls and smoky fireplaces aren't doing your health, happiness or productivity any favours.
Upgrade your home with these 4 pieces of smart tech guaranteed to turn your "castle" into a clean, sleek, productivity-boosting palace.
GET SMART
Google Home made quite a splash in the US when it launched nine months ago – and now it's finally made its way to Australian shores. Why the delay? Well, this genius piece of tech is voice-activated and the good folk at Google have been working hard to localise the device so it not only interprets the Australian drawl, it also responds in kind. For the uninitiated, Google Home is a voice-activated, always-listening speaker that can play music, remember appointments and give detailed answers to almost any question you can think to ask it ("What's the square root of 464,869?"). All you need to do is start a phrase with "Okay Google", and the device will kick into action. Kind of like owning an all-knowing, hyper-efficient slave.
LEND A HAND
If Google Home sounds nifty, Hayo takes things to another level altogether. This sleek, cylindrical gadget contains 3D sensors that map the environment around the device allowing you to control, say, your Sonos speakers or indoor lighting with hand gestures. Think Tom Cruise in Minority Report, swiping around graphics in midair, and you've got some idea of how Hayo operates. You simply tell it where you want to place invisible buttons, sliders and barrier fields in the space, and link each to a command for one of your connected devices via its app. For example, you can place an invisible "button" on the arm of the couch. Instead of getting up to turn off the lights when you're ready to watch a movie, you just hover your hand on this button for a second and – boom – your lights go dark. Very cool.
CONTROL INDOOR AIR POLLUTION
You may not realise it but data from the Centre for Australian Weather and Climate Research shows that the air in the average home can be up to five times more polluted than the air outside. The Dyson Pure Hot+Cool Link purifier automatically captures 99.95% of fine particles such as allergens and pollutants.1 It's intelligent, automatically monitoring indoor air quality and reacting accordingly, while the Dyson Link app – developed for iOS and android – gives you the ability to access air quality information, both inside and out.2 Truly smart tech.
UP PRODUCTIVITY
Yep, the Apple Watch was good. But Apple Watch Series 2 is better. Why? For starters, it's now water resistant to 50m, so those laps you're punching out in the backyard pool are now being crunched into your fitness data. (Also handy if you have a habit of forgetting to take your watch off before hopping in the bath.) Secondly, Series 2 has an integrated GPS receiver. This addition is invaluable for those who like to take their exercise outdoors, providing more accurate metrics on your bushwalk, trail run or mountain-bike adventure. If you want to squeeze more exercise into your home-life, think of this astonishing piece of tech as your very own PT.
1 Particle capture tested to EN1822. Gaseous capture tested to JEM 1467 (acetic acid, acetaldehyde, ammonia) and GB/T18801 (formaldehyde, benzene) and DTM-003282 (NO2). Gaseous capture rates vary.
2App functionality may vary by market. Requires WiFi and app enabled device. Standard data and messaging rates may apply.