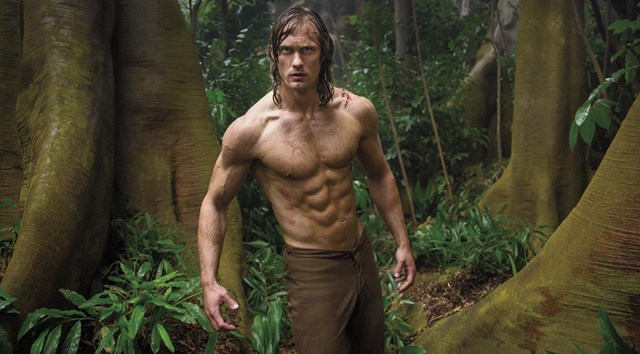 On the big screen, Tarzan is raised by a troop of angry gorillas and shapes his fit-for-purpose body by swinging off vines, wrestling wild animals and launching himself from tree to tree. In reality, all actor Alex Skarsgard had on hand was a small gym trailer, his trainer Magnus Lygdback and a choreographer who once put him through his paces with a belly-dancing routine (more on that later).
Despite this, Skarsgard was able to build an insanely lean and muscular physique worthy of the king of the jungle. Through eight months of intense training and purposeful eating, The Legend of Tarzan lead has set a new level of fitness for Hollywood acts to follow.
Skarsgard's transformation – which saw him complement his towering height with boulder shoulders, hefty arms and laser-cut abs – was broken into two phases. In the first, he ate like a maniac and shunted vast amounts of iron to build mass. In the second, he cut his kilojoules and shifted his training focus to shred fat while maintaining muscle.
Want similar results? Follow Tarzan's lead.
Bulking Up
"The first phase was to bulk-up," says Skarsgard. "I wanted to put on serious weight, so for three months I was basically on a 29,000-kilojoule-a-day diet of whatever I could get my hands on."
"There was lots of meat and potatoes – it was difficult at the start. I was constantly walking around with a set of Tupperware containers filled with food like cold steak. I just had to eat, eat, eat."
The key to Skarsgard's diet: variety. Protein came in the form of eggs, fish, beef, lamb, chicken, seeds and nuts, while a smorgasbord of fruit and veg ensured every nutritional base was covered. See for yourself . . .
Breakfast: Scrambled eggs, sirloin steak, avocado and cherry tomatoes; 220ml green juice (kale, spinach, cucumber, celery, parsley, mint, coriander stalks, lemon, lime, fennel and broccoli)
Morning Snack: Monkfish kebabs with egg plant and peppers; 100ml juice (kale, lemon and ginger)
Lunch: Lamb with beetroot, broccoli and salsa verde; 220ml green juice
Afternoon Snack: Salmon salad with edamame beans, broccoli, radish, quinoa, sesame seeds, spring onions, kale and avocado; 100ml juice (carrot, ginger and argan oil)
Post Workout: Hazelnut milk, flaxseeds, chia seeds, avocado, dates and hazelnut butter
Dinner: Chicken thighs and charred corn with black bean, pepper, spring onion, coriander and quinoa salad
Evening Snack: Chicken salad with kale, seeds and cherry tomatoes
In tandem with this onslaught of food, Skarsgard flogged himself in his small gym trailer, focussing on big, traditional moves like the squat, deadlift and bench press. The result: three months of hard toil yielded on almost 10 kilograms of box-fresh muscle.
Shredding Down
Once in London to start shooting the film, Skarsgard dramatically decreased his kilojoule consumption and increased his aerobic activity, with a one-hour workout at 5am every morning and swimming on the weekend.
"I kept lifting weights," he says, "but I started working with the choreographer on movement stuff, which was very important for the role of Tarzan. I didn't want to look like a bodybuilder. Every single muscle had to be there for a purpose.
"We started out with a lot of yoga and pilates as I'm incredibly stiff. Then there was a lot of improvisation and pretending to be an ape. We had a room where we spent hours every day playing around and doing weird exercises that the choreographer even did with his belly dancers."
In the gym, his schedule broke down like this:
Day 1: Legs
Day 2: Chest and anterior deltoids
Day 3: Back, middle and rear deltoids
Day 4: Biceps and triceps
Core: Every other day
Movement training: Twice a week
Chiselling the Core
The stand-out feature in Skarsgard's reinvention of Tarzan is his cobblestoned six-pack. He added this stunning high-definition to his midsection by mixing up his core routine every session.
Core alternate 1: Static core and straight abs exercises, like planks, mountain climbers and leg lifts.
Core alternate 2: Obliques and rotation exercises, like side planks, wood chops and Russian twists.
If you're thinking about sculpting a Tarzan-like physique, then Skarsgard's trainer, Magnus Lygdback, has some sage advice: "You have to be prepared to go hard and heavy. But you can easily over-train. So listen to your body. If you need to take an extra day off, do it."
Read more at Magnusmethod.com and follow him on Instagram @magnusmethod.