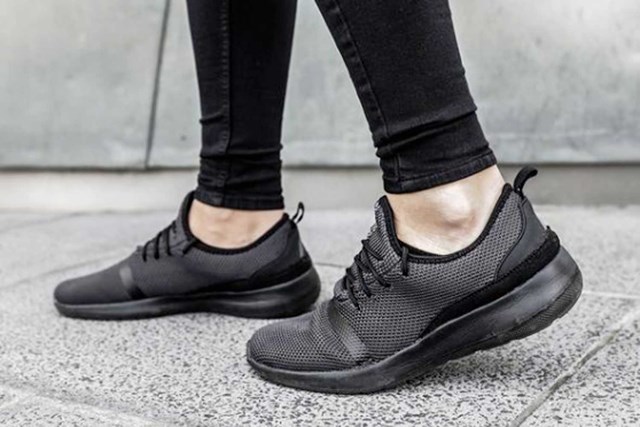 When in doubt, wear black.
Not everyone has time to figure out what matches or which colors clash with one another or just how to make sure their shoes go perfectly with their pants and shirt. It's a lot to keep track of, especially when you're in a rush or don't feel like trying everything on, so it's much easier to keep the ultimate neutral/darkest color of them all on hand at all times.
And in the case of shoes, it's kind of a requirement that they always match (or at least don't violently clash with) your outfit. Dress shoes are pretty easy to find in to find in black, but what about sneakers?
These seven sneakers are perfect for casual days when dress shoes would seem way too overdressed or you need something comfortable and you just can't quite find any other footwear to go with your outfit. Basically, they take all the stress out of getting dressed.
adidas Ultra Boost Clima, $300
The adidas Ultra Boosts are a cult hit, usually selling out in major numbers thanks to a particularly arduous fan base. The praise makes sense when considering how these sneakers combine comfort and style, especially with this chic black and orchid-tinted colour combo.
Nike Flyknit Trainer, $220
Since 2012, buyers have been obsessed with the look of the Nike Flyknit sneakers, including reviewers calling them "elegant" and "beautiful up close." Those are pretty high compliments to give to anything and/or anyone in life, let alone a shoe.
Vans Old Skool Core Classics, $119.95
If you like keeping things a little more old school, these are right up your alley. The classic Vans maintain a vintage aesthetic while emphasising modern-day comfort and snug, sensible fit. They pair well with jeans or shorts, so they're the ultimate in casual cool.
Allbirds Wool Runner, $140
Allbirds' running shoes do some major double duty: they're great for running or getting active outside, but they're also timeless and subtle enough to wear with some slightly more formal styles. That's rare to find in the often ultra-casual sneaker world.
Converse Chuck Taylor All Star, $100.00
And of course, the iconic signature Chuck Taylor high-tops are a safe bet, if not an obvious favourite among many different people. There's more than one reason they've not only been stocked in store shelves forever, but bought en masse.
Under Armour Charged All-Day TNL, $120
The futuristic Under Armour TNLs have gone for elastic cords instead of laces to ensure that shoes are able to fit well. During hotter months, the breathable material keeps you both light on your toes and your feet
Athletikan Triple Black, $120
An up and coming Melbourne-based footwear brand, Athletikan separates itself from competition by leaving out the flashy logos, instead opting for simplicity. Athletikan aren't like any other brand: instead they opt for limited releases so if you want to get your hands on a pair of these, you have to act quick.
This is an edited version of The 5 Best Black Sneakers For Men Who Are Tired Of Colour which originally appeared on Men's Health