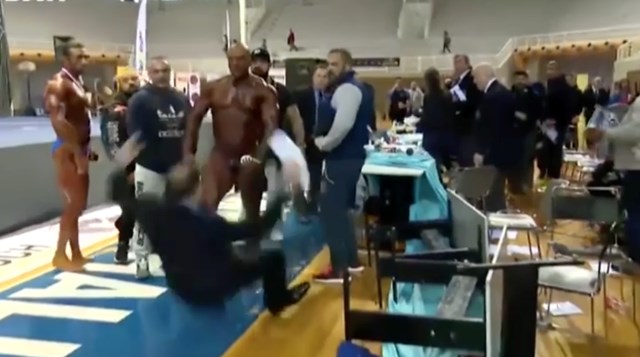 A Greek bodybuilder has shocked onlookers after losing a prestigious competition by slapping a judge, flipping over the judges' tables and reportedly pulling out his penis.
Giannis Magos, competing at the 2016 IFBB Diamond Cup in Athens, Greece, flipped out after learning that despite winning his 100kg division he had missed out on the overall title.
Caught on video in damning (and cruelly hilarious) circumstances, Magos aggressively cussed out judge Armando Marquez before slapping him to the floor.
Another video taken after Magos had hit Marquez shows the bodybuilder strutting around the upended judges' table while arguing the results of the competition.
"Yesterday I'm winner! Yesterday I winner! And today I get beat, how? I don't understand," yelled Margos. "F*ck off."
Related: Drunk Guy Punches Bouncer, Turns Out To Be MMA Fighter, Oops
While the disappointment of defeat set Magos off, it's probably worthwhile noting that this was the third time he had finished in second place at the event. Poor guy.
According to a post on the International Federation of Bodybuilding and Fitness' official Facebook page, Magos is facing a lifetime suspension for his "disrespectful and aggressive behavior.
We should just be thankful he placed second; imagine what he would've done if he took home the bronze.
(See also: Man Gets Tired of Sitting in Traffic, Hacks Electronic Billboard to Stream Porn)