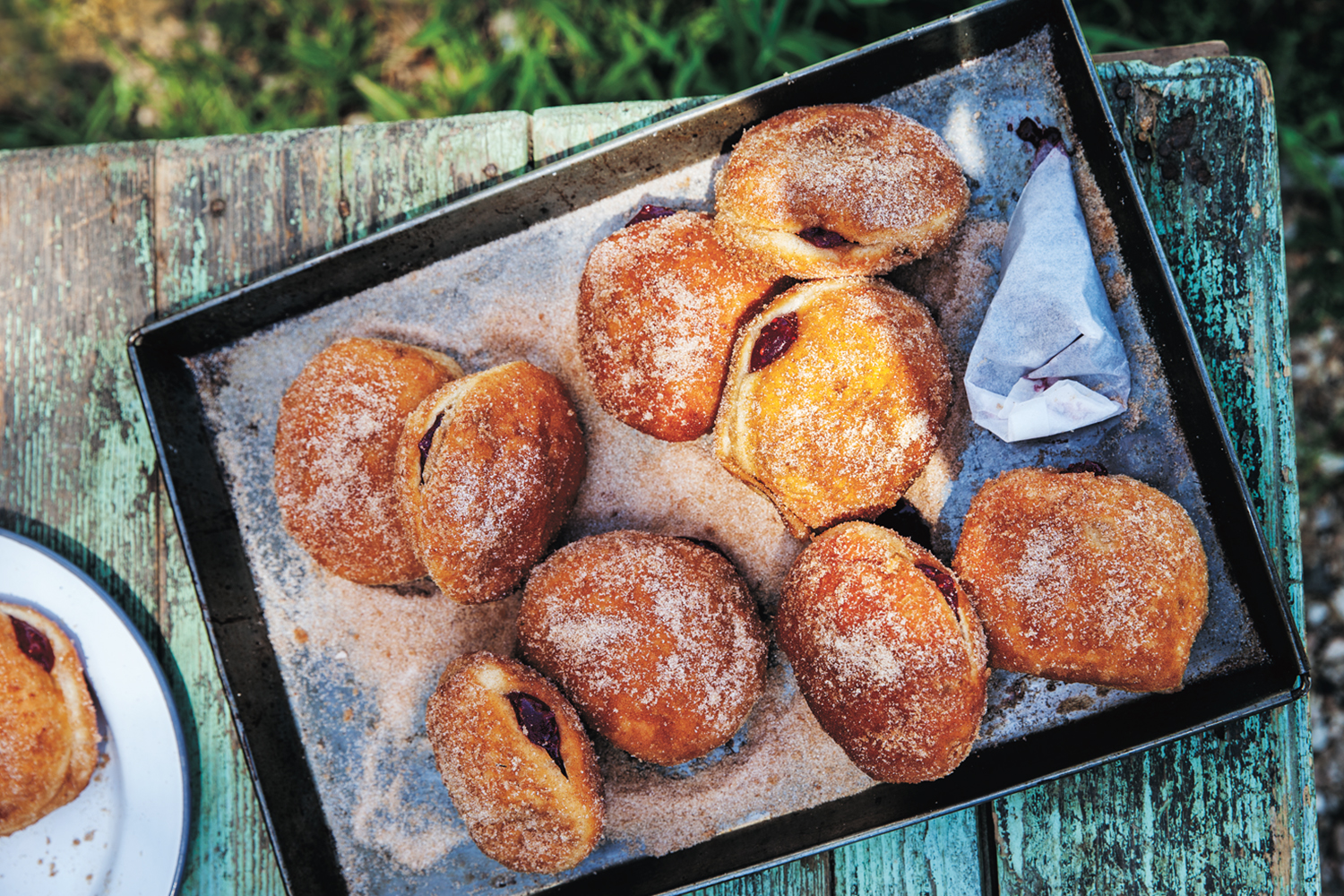 Proudly supported by
Doughnuts are a bit of a thing at The Ducks in Byron, and they have quite a following. The best thing about making them yourself, aside from getting to enjoy them while they're still warm, is that you have total control with the fillings. We use vanilla cream, chocolate chantilly, lemon curd, butterscotch cream, Davidson Plum Jam – all sorts. You also get to play around with different shapes and sizes, and what you roll them in. You can go to town with smoked sugar, beetroot-powder sugar, citrus sugars using lemon, lime or grapefruit zest – whatever you like. Myfavourite, though, still has to be the old-fashioned jam doughnut rolled in cinnamon sugar.
Ingredients
14 g (2 sachets) dry yeast
220 ml warm milk
25 g caster sugar
220 g unsalted butter, plus extra for greasing
5 eggs
450 g bread flour
pinch of salt
2 litres vegetable oil, for deep frying
300 g Davidson Plum Jam or jam of your choice, for piping
CINNAMON SUGAR
100 g caster sugar
1 teaspoon ground cinnamon
Method
Grease two baking trays with butter.

Combine the yeast, milk and 1 teaspoon of the sugar in a small bowl. Set aside for about 5 minutes for the yeast to activate and start to foam.

Mix the rest of the sugar and the butter in an electric mixer on medium speed until pale. Add the eggs one at a time, mixing until incorporated after each addition. Add the flour, yeast mixture and a pinch of salt, and mix to form a smooth dough, about 5 minutes. Cover the bowl with a damp cloth and set aside somewhere warm for about 1 hour – the dough needs to double in size.

Once the dough has proved, knock it back and roll it into a thick sausage. Cut into 50 g pieces and roll into balls. Place the balls on the greased trays and set aside to almost double in size, about 30 minutes.

To make the cinnamon sugar, combine the sugar and cinnamon in a shallow bowl.

When ready to cook, heat the vegetable oil to 180°C in a deep-fryer or large saucepan.

Fill a piping bag with a 3 mm nozzle with the jam.

Working in batches, carefully place the balls in the oil using a slotted spoon. Fry for about 2 minutes, then flip over and fry for another 2 minutes. Carefully lift the doughnuts out of the oil onto paper towel and drain briefly.

Once cool enough to handle, make a small incision in the side of the doughnuts and squirt in about 1/2 tablespoon of jam, then roll in the cinnamon sugar. They're now ready to eat!

This is an edited recipe extract from The Blue Ducks in the Country, published by Plum RRP $39.99.