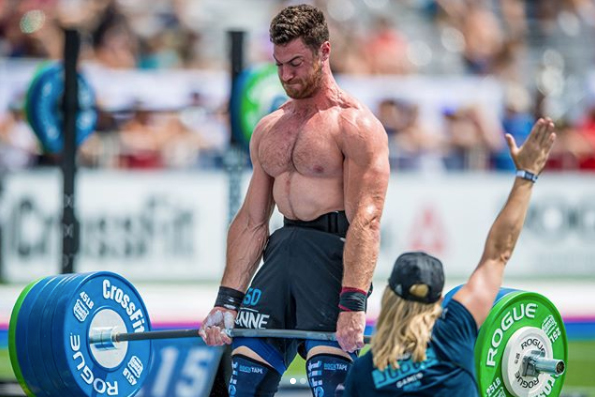 "I told you Wednesday would be the hardest day in the history of the CrossFit Games, I did not lie," said Dave Castro, way too gleefully, to a room of the fittest human beings on the planet. Officially opening the 2018 CrossFit Games, the dark overlord of pain and suffering, Castro (aka the boss-man behind the sport), immediately instilled fear into the hearts of athletes ahead of the 5 day festival of fitness.
If you enjoy soul-destroying workouts, then the fitness Gods are smiling on you right now, as the 2018 CrossFit Games have officially kicked off, and even the sight of the latest workouts will send adrenaline through your veins. And it's only Day 1.
For those unfamiliar with the Games, each year the world's fittest and strongest descend on the US for a 5 day physical and mental battle, fighting for the title of the 'Fittest on Earth'. It's arguable regarded as the peak of all-round fitness, with athletes unable to solely rest on either strength or fitness; they'll need both to reach the podium at the Games.
The program of events at the Games is set and announced by the aforementioned supervillain, Director of the CrossFit Games, Dave Castro, and with this year's competition kicking off today (Wednesday US time) in Madison, Wisconsin, the workouts are some of the hardest ever experienced by CrossFit athletes. Even that is an understatement.
Mathew Fraser is the official defender of the 'Fittest Man On Earth' title, a 2 time CrossFit Games Champion, and an absolute beast in the gym, yet even he may struggle to find his footing with the initial day of competition, opening the field to huge array of competitors all willing to chase him down.
The below workouts were all completed on Day 1 in Madison, in a 'fitness doomsday' of sorts, and looking at the events, we'd be cooked after giving just one of them a crack. Heck, we're beat just writing them down.
Event 1
"Crit" (Criterium bike race)
10 laps around a 1200 metre closed circuit
Event 2
30 Muscle-Ups for time
Event 3
CrossFit Total
Athlete's total score is the sum of a 1-rep-max back squat, shoulder press and deadlift
Event 4
Marathon (42.2km) Row Erg
Four hour time limit