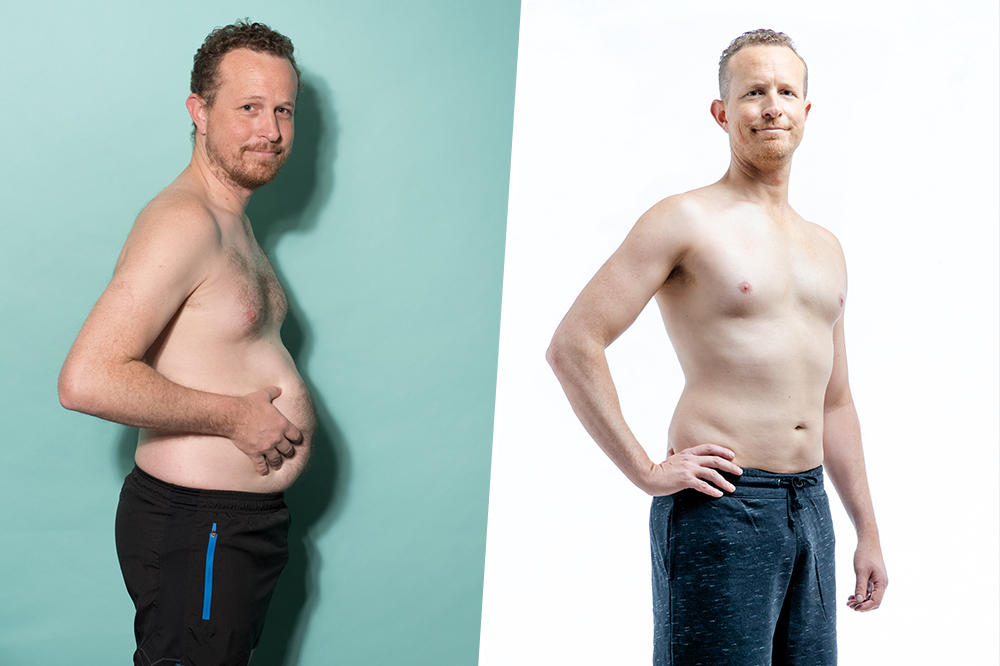 Beanpole. Weakling. Unco. These were all insults directed at me when I was a kid. I was tall and gangly with barely a gram of muscle on me. Always the last to be picked for the sports team, I was determined to fill out.
My wish was granted in my mid-twenties, but not quite in the way I would have liked. At the time I was working as a breakfast radio producer and the 4am starts played havoc with my metabolism. Suddenly I found myself the not-so-proud owner of a belly. I would go to the gym sporadically and make half-hearted attempts to stay in shape, but all I was really doing was slowing my ever-increasing weight gain. Eventually I got to 96.3kgs. I'm 190cm tall so I could hide it quite well, but the spare tyre around my waist kept on inflating.
My two kids have so much energy. On the weekends they aren't content with just sitting at home watching TV all day (which I could quite happily do). They want to go out and play in the park, go on bush walks and ride their scooters. If I'm to share some of this important bonding time with them, I need to get
into shape.
Starting on the transformation with Chief and Emilie, the thing that scares me the most is the change of diet. No chips for lunch, snacking on chocolate or even diet soft drinks. In their place come large servings of vegetables, smaller ones of meat and water. Lots of water.
Our lunches and dinners, which are supplied by THR1VE, are not only delicious but take the stress out of meal planning and preparation. For breakfast I make bacon and eggs with avocado on toasted protein bread or a two-egg omelette with smoked salmon and spinach.
Ten minutes into my first gym session with Chief I think I am going to vomit. Even after having a gym membership for 15 years, I had never trained so hard. "You'll be dreaming of days like today in afewweekstime,"saysChiefas he's trying to squeeze the last bench press out of me. Chief is right – it does get more intense, but my ability to handle it vastly improves. We train five days a week for 45 minutes and I back it up with a run or bike ride on Sunday.
he speed of my weight loss takes me completely by surprise. Despite being told to stay off the sales, I am just too curious to see how my body is changing. I drop three kilos in the first week. Over the next seven weeks my surplus baggage continues to steadily
fall off.
There are a couple of blowouts – social events where the lure of a glass of wine, French fries or ice-cream is just too great to resist. I'm only human!
But I always make sure to get back on track afterwards and my weight continues to drop as new muscles and definition on my chest, arms and legs start to appear. Even my abs are starting to come out of hibernation. The other day I bought some new jeans. They were two sizes smaller: I'm now the proud owner of a 32-inch waist. Incredible.
Now that I've lost the weight, my greatest fear is slipping back into old habits and putting it all back on. My old nightly habit of a wine or three and ice-cream after the kids go to bed is something I can't go back to if I want to maintain my new physique. It will be a challenge, but one I'm determined to win.
Check out our 2 other Dad Bod transformations, only in the December 2018 issue of Men's Health, on sale now.