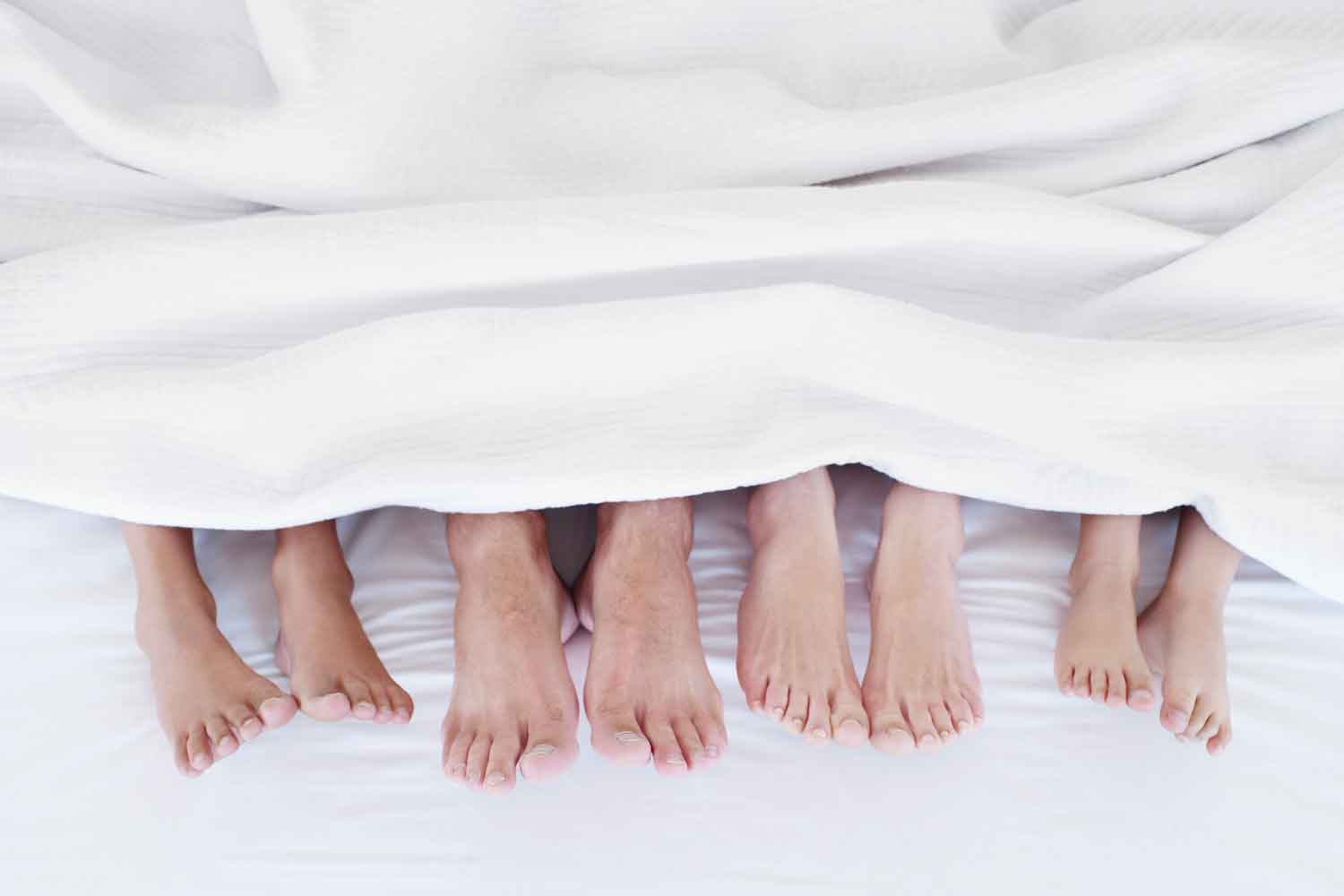 Ah, the devil's threesome: the most controversial configuration of a ménage à trois. Two girls and one guy? The ultimate fantasy. But two guys and a girl? It's simply too much for some men to handle. Yet after a quick cursory search of MFM threesome porn on the internet, I can say with confidence that MFM clips have been watched, literally, tens of millions of times.
But for straight-identifying guys, there's still a taboo around the activity: specifically, that you must be secretly gay or bisexual if you want to have a threesome with another man. Which is kind of ridiculous, considering the same guys watch porn with other men in it all the time. (Unless you're one of those dudes who ONLY watches lesbian porn.) No one considers it gay to watch another man have sex with a woman when it's in porn, but when it's in real life, it's suddenly super gay?
Well, that's not necessarily the case. I've had bi MMF threesomes where all of us hook up with each other—notice these are called MMF and not MFM; the two M are together, indicating there's a potential for the guys to hook up, too. No surprise to anyone, but those encounters are undoubtedly queer. But I've also had MFM threesomes with straight men, where he and I aren't hooking up in any way, shape, or form. Those types of threesomes will be the focus of this piece.
You learn a thing or two about friendship, masculinity, and sex when you have a devil's threesome. As someone who's had more than his fair share of devil's threesomes in his lifetime, and somehow isn't burning in the fiery depths of hell for it, I'm going to share exactly what I've learned.
1) The devil's threesome is not about you or your friend. It's about fulfilling the female partner's fantasy.
You are not the star of the show in a devil's threesome. Neither is your buddy. It's all about her and her desires. In fulfilling her desires, you'll likely knock a few things off your own bucket list, too. It's a win-win-win for everyone involved. If the sexual act is solely about you and your buddy, and "look at this crazy shit we're pulling off," she's not going to like it. She's going to feel like a prop.
2) MFM threesomes are not inherently rough.
When you watch MFM porn, it's almost always incredibly rough. There's a lot of pounding, spit roasting, choking, spitting, spanking, money shots, and all that good stuff. But there's nothing inherently rough about a devil's threesome. I've had ones that are surprisingly tender, since that's what the woman requested. She didn't want to get double penetrated—she simply wanted someone to make love to her while the other guy makes out with her and caresses her nipples. It was a surprisingly sensual experience.
3) DP is harder than you think.
Speaking of double penetration, it is much harder than you think. First off, if one of you isn't hung, it's not going to happen. That guy won't be able to help but slip out when thrusting. Typically, the best way to accomplish DP is having one guy just stay deep inside of the woman, while the other guy thrusts. The thruster's movements will automatically move the non-thruster, so it'll seem like you both are thrusting, when in actuality, the non-thruster is just trying to keep himself inside her vagina or anus.
4) There's so much more to focus on than P-in-V intercourse.
Unless you're DP masters, there's usually one guy who's doing the P-in-V, while the other guy plays a more passive (but equally important) role. He's the one who's playing with her clit while the other guy does anal. Or he's making out with her, sucking on her breasts, or simply holding her tightly. In MFM threesomes, you learn to appreciate all the other things besides strict penetrative intercourse. It's a mindset you take with you when you go back to having one-on-one sex.
5) It takes your friendship to the next level.
The straight men I've had a MFM threesome with, I've known for years. It wasn't a random dude at the bar who was like, "Hey, we doing this?" I was best friends with these guys before we had a threesome, and we are still best friends now. I will say there is something—I'm not sure if intimate is the right word—but perhaps platonically intimate, about having a DT with a friend. Seeing how your buddy bones along with his orgasm face takes your friendship to the next level. How could it not?
6) Seriously, you're not gay or bi if you have a devil's threesome.
I know I keep belaboring this point, but it's because I know a bunch of you reading this article are still thinking, "Nah, this still sounds pretty gay." The thing is, it can be, but only if you want it to be. If you find yourself really drawn to the man while he's having sex, and not really caring about the woman involved, then I'd recommend reflecting on your sexuality. But if you simply find it hot watching or being with another man as he has sex with a woman, that's not gay. That's you getting turned on by people having sex because watching people having sex is undeniably hot!
This article originally appeared on Men's Health