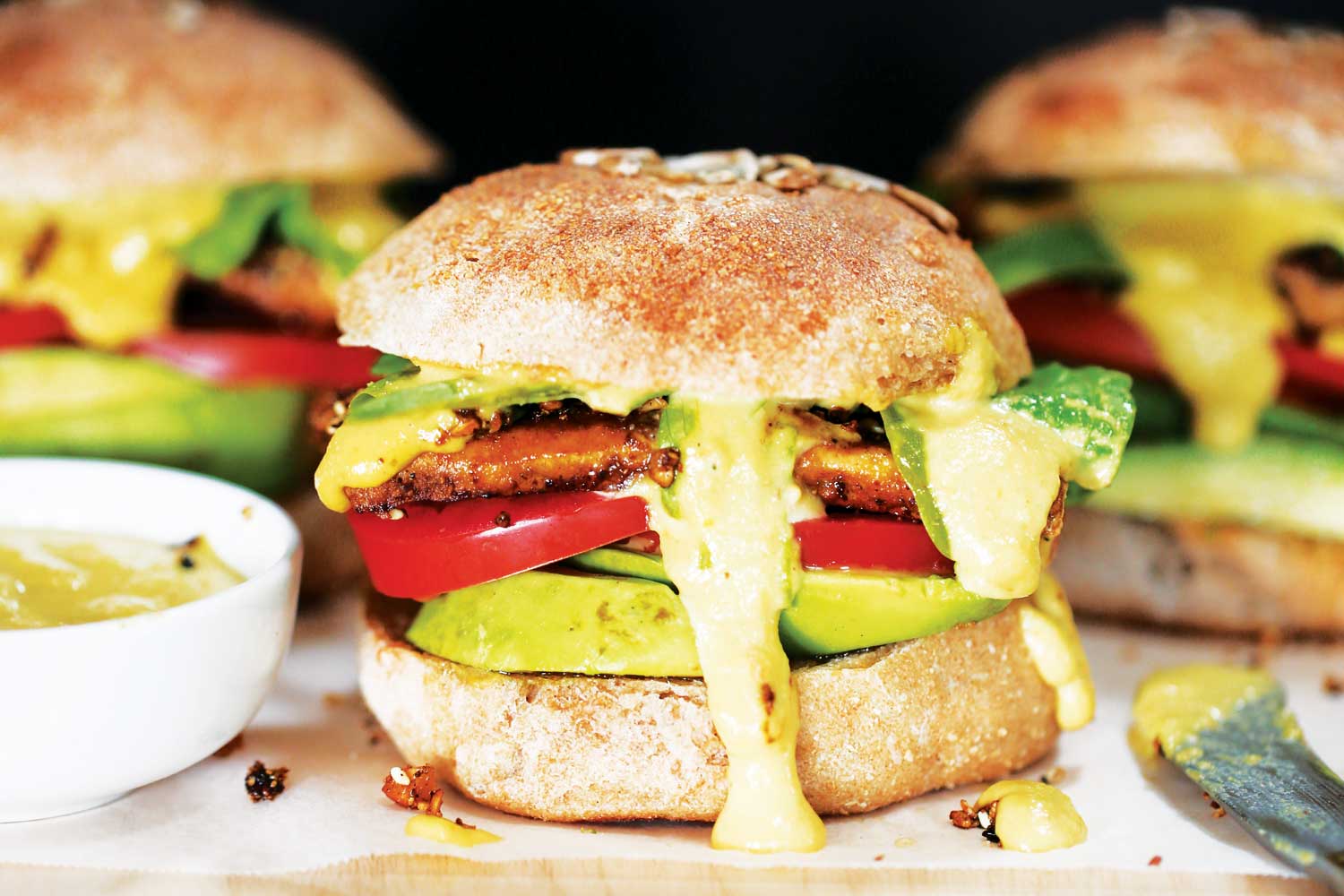 Proudly supported by
Anyone who knows me well knows I LOVE a good burger. But there is an art to getting the balance of salad, bread, tofu (or veggie patty) and sauce just right. Too much salad and you spend all your time chewing. Not enough salad and you get a mouthful of dry bread. Not enough sauce and everything tastes a little bland. So finding that ratio is essential to achieving the perfect burger!
Ingredients
½ cup Hazelnut dukkah (see my recipe or use bought dukkah)
500g tofu, cut into 6 x 1.5cm-thick slices
Cold-pressed olive oil, for frying
3 buns of your choice, cut in half
1 large avocado, sliced
1 large tomato, sliced
9 lettuce leaves of your choice
Quality salt & cracked black pepper, to season
Turmeric cream cheeze
Makes: approx. ½ cup
½ cup cashews
1 small garlic clove
1 tablespoon cold-pressed olive oil
1 tablespoon fresh lemon juice
2.5cm chunk fresh turmeric (or 1 teaspoon ground turmeric)
2 tablespoons savoury yeast flakes*
¼ cup filtered water
* You'll find this ingredient at your local health-food store or online.
Method
Place dukkah on a small plate and press tofu into dukkah to coat well.

Heat olive oil in a medium frying pan on a medium heat and fry tofu on each side until golden brown. Set aside.

Turmeric cream cheeze

Blend all the ingredients in a high-speed blender until smooth, scraping down the sides as necessary. Spoon the cream cheeze into a clean jar or bowl until ready to use.

Keeps in an airtight container in the fridge for 5-7 days.

To assemble

Cut each bun in half and stack a few slices of avocado and tomato on the base.

Top with the cooked tofu, then the lettuce leaves and a generous dollop of turmeric cream cheeze. Season with salt and pepper.

Place the lid on the burgers, then grab with both hands and enjoy!

Tip: You might need a serviette while you eat this one!

This is an edited recipe extract from Anthea Amore's new book Hungry. http://organicpassioncatering.com