Delivering health benefits on a physiological level across skin, nail and the cardiovascular system, the premium supplement Anthogenol® is in a class of its own. Think improved skin health and collagen formation, all in the one ultimate capsule, making looking after your general health and wellbeing that much more streamlined.

Thanks to the inclusion of the antioxidant-rich, all-star ingredient MASQUELIER's® Original OPCs – a unique grapeseed extract named after French professor Jack Masquelier who discovered these powerful antioxidants Oligomeric proanthocyanidins (OPCs) – taking Anthogenol® capsule daily delivers clinically* approved benefits for every body, across all stages in life.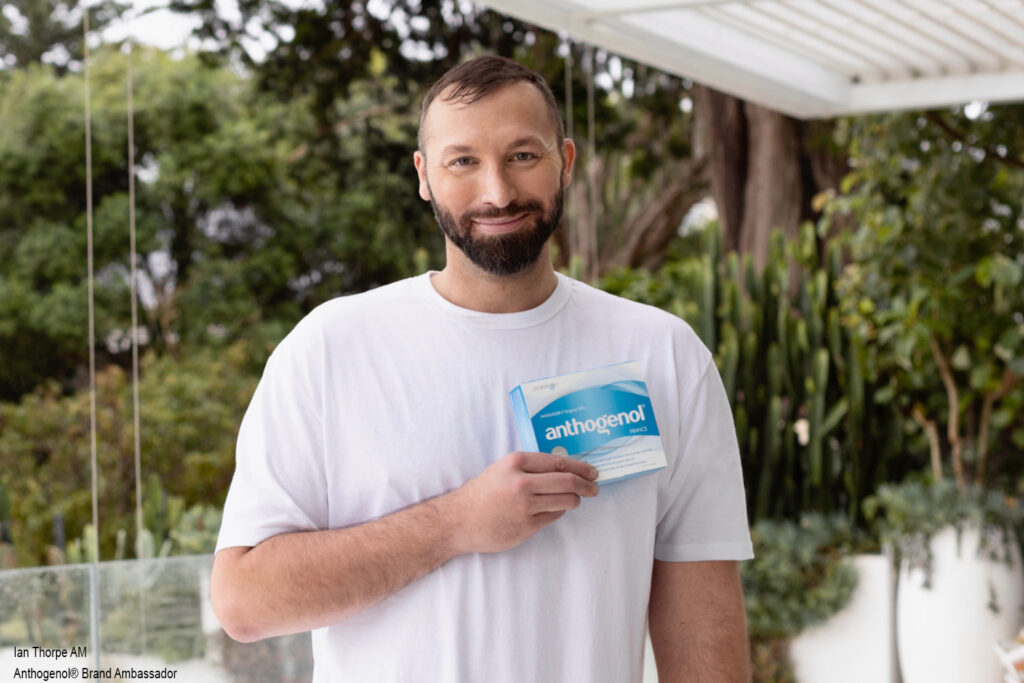 First introduced to Aussies back in 2004 from France, Anthogenol® 100 Capsules is the No.1 OPCs antioxidant supplement in Australian pharmacy* and its powerful effects on the body have been witnessed by over 3% of Aussies adults!

Anthogenol® 's elevated formula helps reduce free radical damage in the body caused by physical and emotional stress, poor diet and exposure to those unavoidable pollution and chemicals in our day-to-day life. It also helps maintain the collagen formation for skin, bones, muscles and tendons, and supports skin, hair and nail health. On top of that, it also supports blood circulation to the peripheral areas of the body, such as legs, hands and feet, while helping relieve symptoms of mild varicose veins.

Anthogenol® is made in Australia and formulated using premium ingredients, including the French seed extract – MASQUELIER's® Original OPCs, Vitamin C and Silica. Each capsule is free from added wheat, sulphites, gluten, yeast, animal products, milk derivatives, eggs, soybean products, lactose, sugars, artificial colours, flavours or preservatives and stands alone from other grape seed supplements due to its highly-specialised proprietary extraction process. It's suitable for vegetarians, vegans, and those with dietary restrictions too. Since 1948, Anthogenol® makes healthy living easier for busy, complex you, so you can focus on being you. Shop the capsules and start feeling like the best version of yourself here.
—
*IQVIA, OPCs (Grapeseed extract) Antioxidants supplements, Australia Pharmacy Value Sales, data for the 52 week period ending 25/06/2022.
*Clinical trials:
Retinopathies and OPC. Verin M.M., Vildy A. and Maurin J.F., Bordeaux Med. (1978); 11(16): 1467-1474 (FR).
Antagonistic action of Endotelon® on histamine papule and areole. Agache P., 1981. La Vie Medicale (1981); 88(14): 2035-2038 (FR).
Pleiotropic benefit of monomeric and oligomeric flavanols on vascular health – a randomized controlled clinical pilot study. Weseler AR et all, 2011. PLoS One (2011); 6(12): e28460 (EN).
Dietary flavanols modulate the transcription of genes associated with cardiovascular pathology without changes in their DNA methylation state, Milenkovic D et al, PLoS One (2014); 9(4): e95527 (EN)
Therapeutic trial of a peripheral angioprotector, Endotelon®. Beylot and Bioulac, 1980. Gaz Med de France (1980); 87(22): 2919-2922 (FR).
Capillary resistance in geriatrics, study of a microangioprotector Endotelon  Dartenuc J.Y., Marache P. and Choussat H., 1980. Bordeaux Med. (1980); 13: 903-907 (FR)
Light vision and chorioretinal circulation. Study of the effect of procyanidolic oligomers (Endotelon®). Corbe. J.Fr.Ophthalmol (1988); 11(5): 453-460 (FR).
Sponsors: I.N.C. De Zodde 16 1231 MB Loosdrecht The Netherlands