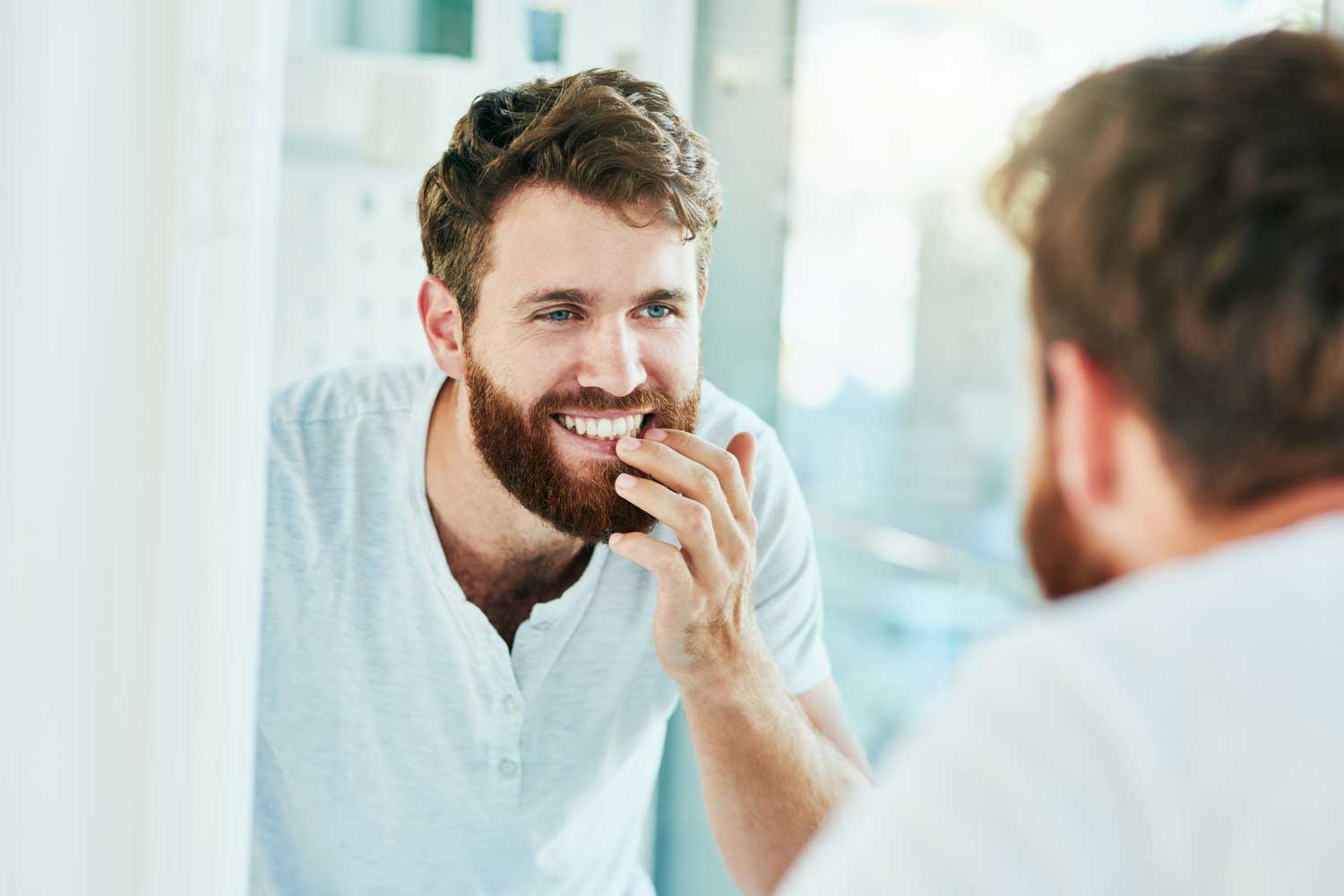 Your smile. It's one of the first things people notice about you. And with the selfie game still going strong, smartphone cameras forever being pointed at you, and dating apps requiring some serious magic to get a swipe right, the pressure to have the full aesthetic package – blinding white teeth and all – is stronger than ever.
RELATED: 9 Surprising Ways To Whiter Teeth
To get your chompers rivalling The Rock's, you need to be aware of some of the common teeth-staining culprits, stick to a good oral-health routine and get across the best teeth-whitening options. No idea where to start? We've got you covered.
1.REGULAR DENTAL APPOINTMENTS
Before plunging into any sort of whitening procedure, set up an appointment with your dentist to make sure everything is okay with your oral health. "The best place to start is to see your local dentist and have a thorough clean, as this often brightens your smile a few shades just from removal of the plaque, which holds day-to-day stains," says Dr Aodhan Docherty, a cosmetic dentist at About Smiles.
2. WHITENING TOOTHPASTE
So, do these actually work? Well, they're not gamechangers, but they'll help. "Whitening toothpastes are more abrasive, meaning they can rub off stains attached to the surface of teeth," says Docherty. "Secondly, they may use something to try and pull stains out of the teeth; this is where peroxide comes into play." The research behind peroxide based whitening is solid, he says. "Hence, if I were opting to use a whitening toothpaste I would use one with peroxide, such as Colgate Optic White." The concentration is low, however, so expect slow and minor change.
RELATED: What's The Best Way To Whiten Teeth
3. HOME WHITENING
Supermarket-bought whitening kits have the same limitation as whitening toothpastes – a low peroxide concentration. But when the mouth trays are custom-made by your dentist, who also provides the gel to fill them with, you're upping the ante. "That said, they still need to be worn for an extended period of time," says Docherty, who notes that if the guards aren't perfect, the gel can leak onto the gums (although this is unlikely if they're wellmade). "I provide my patients with the industry-leader and gold standard home-whitening Opalescence (from Ultradent)."
4. IN-CHAIR WHITENING
While it's certainly a pricier option, an in-surgery whitening procedure can change the look of your teeth in one sitting. "This involves using very high-strength peroxide to bleach the teeth," says Docherty. It must be provided by a dentist as it requires expertly-placed protective barriers to prevent damage to the gums, cheeks, lips and other areas, and it's often used in conjunction with custom home-whitening. "In-chair whitening often creates fast and excellent results. In my clinic I use either KOR in-chair whitening or Opalescence BOOST."
RELATED: Drinks That Are Secretly Ruining Your Teeth
What causes stains?
"Stains are commonly caused by diet, including dark-coloured drinks such as coffee, tea and red wine (all the good stuff!), and also from smoking," says Docherty. Avoiding these can help to prevent staining – but who can really do that? So, just remember to try to give your teeth a good clean afterwards to prevent the stains from soaking in."