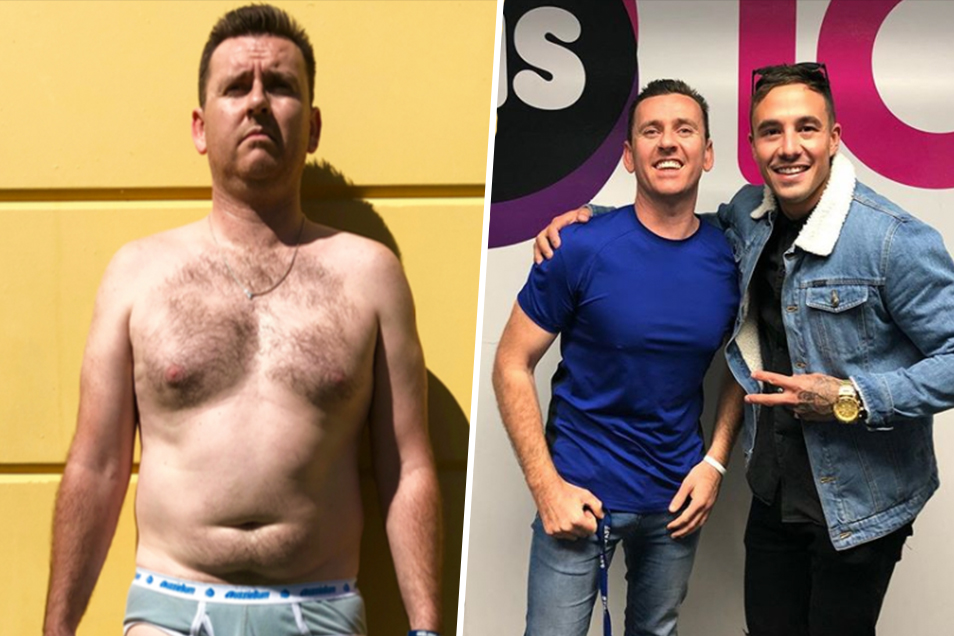 The world of radio is a demanding beast, with early morning starts, tight deadlines, and long hours all a part of the job description. Perks such as hobnobbing the world's biggest celebrities are quickly offset by the crushing requirements of fast-paced media. Essentially, it's the perfect breeding ground for unhealthy habits.
This was certainly the case for Sydney-based radio personality Intern Pete. Real name Peter Deppeler, the 'Intern' is an on-air regular for Australia's top-rating Kyle and Jackie O Show, syndicated on the KIIS network world-wide.
12 weeks ago Deppeler was an overworked and unhealthy employee, powering through 25 cigarettes daily and chugging down Coke for breakfast. Listeners of the program only knew the 35 year-old Simpson native as the butt of regular on-air jokes, a walking-talking punch line.
And while not much has changed in that department (Pete remains a human punching bag on the show), there is most certainly less of him to punch. A whole 12kg to be exact, with the producer trimming down and adding muscle to his new 72kg frame.
Pete's new look has been turning heads, even garnering attention from Kyle and Jackie O who have likened him to another recent 'loser', Jonah Hill. 'They keep joking that I might be turning into him and the more weight I lose, the less funny I become!' Pete laughs.
Deppeler credits his transformation to his PT and nutritionist, former Buckingham Palace butler turned beach-based trainer, Richard Kerrigan. On Kerrigan's 12-Week Fuel and Fitness Plan, a transformation arm of The Beach Life health empire, Intern Pete was able to shed the weight, give up smoking, trade the junk for real food, and completely change his mental health in the process.
'Now I feel better than I have ever felt in my life and I save money! I run daily, I cook my own healthy meals and I even plan to run a marathon one day. I'm a completely different person!' Pete explained in a statement.
Their work together started on food education. Richard began his plan by teaching Pete the importance of removing processed foods from his diet, cooking from scratch, meal prepping and correct portion control.
Fitness wise, Richard got Pete into the regular habit of running each day. 'Before I started the program I couldn't run more than 1K. Then I started running 5K, but it would take me around 45 minutes. Now I can run it in 22 minutes!' said a clearly ecstatic Pete.
And if his social media is anything to go by, it seems that Pete's lifestyle changes are here to stay, not to mention his confidence. "Better put on wide lens, my biceps are trying to say hi," said Pete in an Insta-vid filmed while training.
Intern Pete has truly smashed this transformation out of the park, and we're definitely hoping his new-found love of fitness and nutrition will filter it's way through his workplace and all the way up to his boss, Kyle Sandilands.
"How glorious would it be if I was ripped on the cover of Men's Health," said Sandilands in a phone call to MH Editor Luke Benedictus last year. Yes, it really would, and we're here ready to make it happen for you Kyle. Call us.