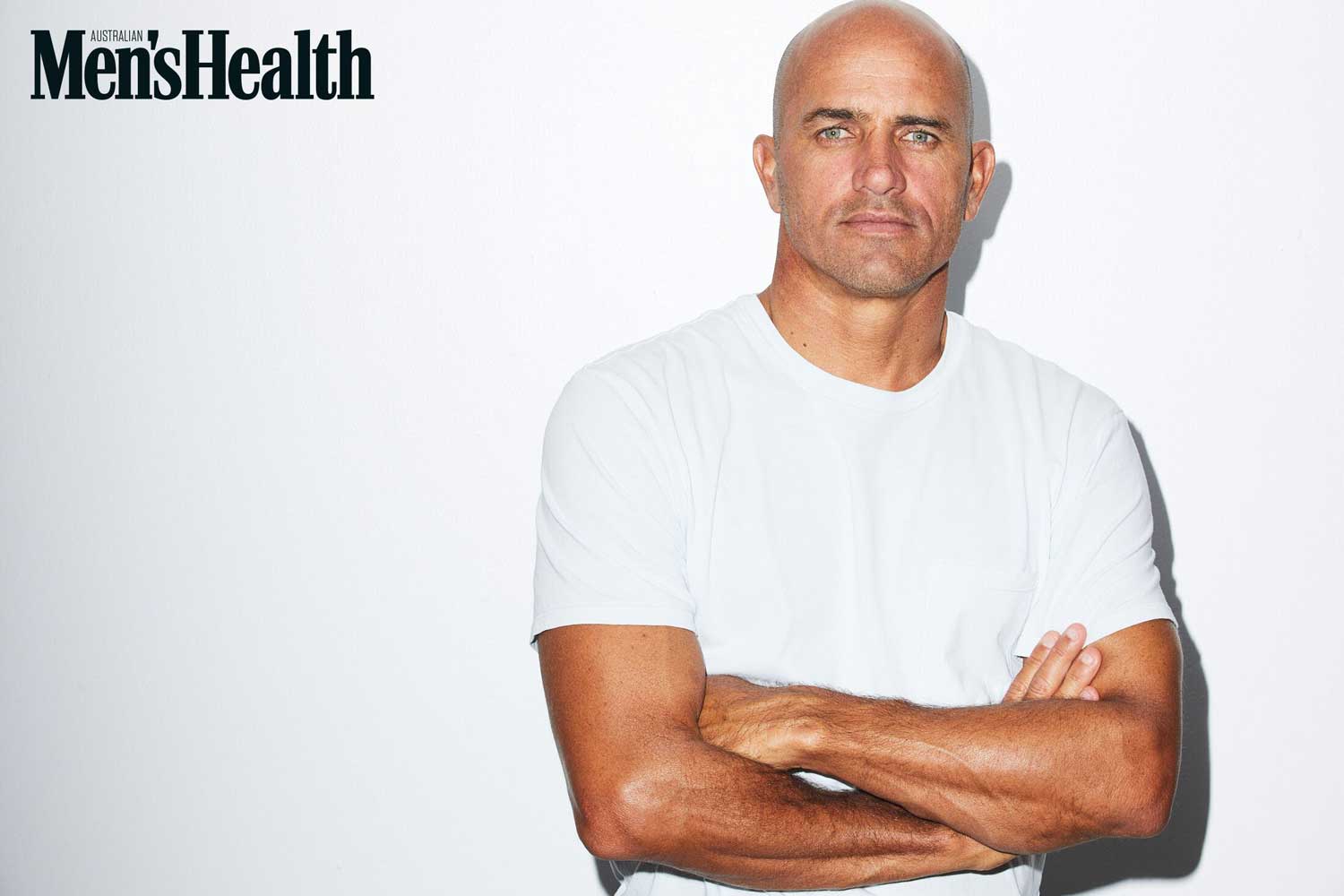 IT'S 7.45 on a Friday night on Hawaii's famous North Shore and Kelly Slater is reclining on his bed, contemplating an image that captures perfection. It's a photograph of the most incredible wave Slater has ever seen. The picture was taken at Pipeline about five years ago. The thing that makes this wave perfect? Not even Slater could catch it.
"I was in this heat in the semifinals of the competition and this wave came along that I've been looking for my whol life at Pipeline and just never been in position to catch," he says, reliving the day in his mind's eye. "I was close to getting on it but I just couldn't catch it. It was too intense and I wasn't in the spot. My friend got a picture of it from the water. It's just the most insane wave."
Slater's eye wanders up to the ceiling or where the ceiling should be. Instead there are rafters where some of his favourite boards lie across the beams. "I have all my guns, my big boards up there," he says. "Anything that's eight foot or longer hangs in the rafters above my head."
This image of the king of surfing at home in his bedroom, surrounded by the tools of his trade and a picture of a wave that couldn't be caught says plenty about the man who's ruled his competition in a way few athletes in history have ever had dominion over their sports. If you want to try to understand the secrets of Slater's incredible success and longevity – he's won a record 11 world titles and is both the youngest at 20 and eldest at 39 to achieve the honour – it begins and ends with the contents of his bedroom.
First, the passion. The first thing Slater sees when he wakes up in the morning and the last thing at night are those surfboards. "You've just got to love it and nothing else," he says when asked to identify the primary factors in his prolonged success. "Surfing is that for me." Then there's the humility. As the picture constantly reminds him, as good as he is, the ocean is greater. Taken together these two qualities, passion and humility, represent the twin girders of enduring excellence. Possess them and you can ride almost any wave to shore.
Which is exactly what Slater's doing, raging against the dying of the light as he returns from injury to take on a new brigade of young surfers, some of whom aren't even half his age. Outside of competition his fervour trickles down into projects like his sustainable clothing line Outerknown, his revolutionary artificial wave company and his board brand Firewire, that will form the broad planks of his post-surfing life.
As Slater prepares to embark on what may be his final full year in the World Surf League, he chatted to MH about the secrets of sustained success, life beyond the tour and why he'll never stop chasing that perfect wave.
MH: As you prepare for your comeback to the tour are you looking to prove you can still compete at 47 or are you doing it simply because you love it?
KS: It's probably both. I love surfing. But I don't love competing very much at this point – the grind of getting on the tour and going to this contest that I've been to 50 times before, I don't love that. I do love the challenge of certain guys though. When I get to surf against my favourite surfers, the John Johns, the Gabriels, Filipe, I love that challenge and that opportunity. From here on I'm doing it for my fans and for people who seem to be inspired by me doing this at my age. The sheer number of people, on a daily basis, that are like, 'Man, at your age you're doing that? You're older than me and it made me get off my butt and get myself in shape again'. That and the challenge of being 47 and going against guys that are 20 years old. For all those guys, 'You know what? I'm your gatekeeper now. You've got to beat me and I'm the old guy'.
MH: Do you think you have a shot at winning this year?
KS: Oh yeah. I know I do. I've won enough times to know what I have to do to win. But it's commitment. It's focus. I've watched guys win contests over the past two years who were not doing anything even remotely untouchable for me. A lot of times, most of the guys who win pick the right waves and they make good choices. It's not necessarily doing some crazy giant manoeuvre that no one else can do. It's usually just doing the basics really well on the best waves. Ninety percent of the time if you do that you're going to win. If I do that 90 per cent of the time, I'll win the world title this year easily. Can I go out and do it 90 per cent of the time? Probably not, but I can give myself that opportunity every time I paddle out.
MH: If you don't win these days is it easier to accept than when you were young and more cutthroat about it?
KS: You have no choice. I've learned that. In 2008 I was in Bali and I'd won three of the first five events of the year. And if I were to win in Bali, I was going to win the world title so early in the year. I felt super good and in my first round I got a 10-point ride and like a nine-point-something. I was really tuned in. And then I lost my second heat in the third round. I was so angry at myself. I couldn't let it go. I couldn't sleep that night. So, I got up the next day and went surfing. When I got to the beach to paddle out I remember looking at the heats my main rivals were going to surf. All the guys who could potentially catch me were still in the contest. And they all had heats with competitors that I was like, 'Oh they're going to beat those guys easily'. So, it made me even more angry. I was just telling myself the worst. But as I started surfing I went, 'You know what, it's not going to help me at all to feel this way. Just let it go'. And that moment just freed me. I literally felt a thousand pounds lighter. I went out and really enjoyed my surf. I surfed for two orthree hours and when I came in all the guys I was worried about had lost their heats. It was just weird. It might have been sheer coincidence but I processed something so fully and so completely and I felt really light afterward and then it went my way. It was a good lesson for me. Your biggest lessons
MH: Do you think because your career has been so complete and you have so many projects outside of surfing you'll find it easier to look ahead rather than back once your career is finally over?
KS: Look I've burned the candle at both ends for so long. I mean non-stop competing since I was eight years old. Next year will make 40 years. I'm going to burn this thing out of me and be done with it. Then I'll just go on enjoying surfing the rest of my life. I may compete here and there in an event or two each year. But it won't be what motivates or drives me. It hasn't been for a while now.
MH: After 23 years at Quiksilver you founded Outerknown. What was your inspiration?
KS: I remember my contract was coming up and I was talking to my manager on the phone one day. We were just talking about the environment around clothing, who I was in my career and what my ideals were around all of that. I remember saying to him, 'You know what? Let's just do this. Let's do this other company. Let's put everything into it'.
For the full interview, pick up a copy of the May issue, on sale Monday 8th April