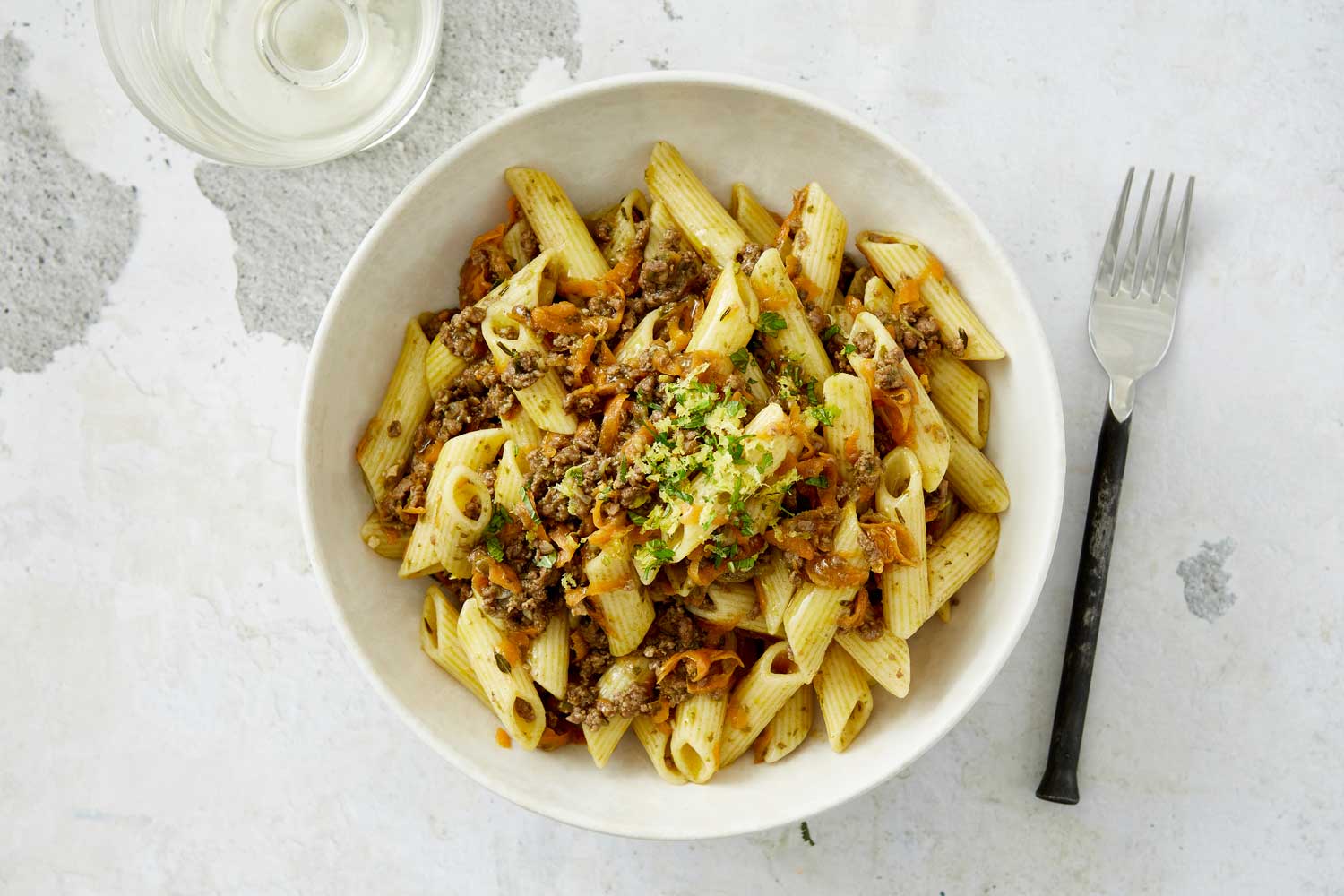 Proudly supported by
Tackle one of Italy's most iconic dishes – without the added fuss.
Ingredients
1 tbs olive oil
250ml (1 cup) boiling water
sea salt and pepper
1 x Medium Brown Onion
2 x Garlic Cloves
Bunch Fresh Thyme
Bunch Fresh Mint
5 Anchovies in Oil
250g Lamb Mince
5g Chicken Bouillon Powder Stock
60ml Basil Pesto
500g Penne
1 x Large Lemon
120g Carrots
Method
Peel and finely chop the onion. Peel and crush or finely chop garlic. Pick the thyme leaves. Finely chop the anchovies. Peel and coarsely grate the carrot. Bring a large saucepan of salted water to the boil for the pasta.

Heat the oil in a medium saucepan over medium heat. Add the the onion, half of the garlic and thyme and cook for 5 mins or until onion has softened. Add the anchovies and stir for 1 min then increase heat to high and add the lamb. Cook for 3-4 mins until browned and season with salt and pepper.


Meanwhile, dissolve the stock powder in boiling water (see staples list) and stir in the pesto to combine.


Stir the stock mixture and the carrot into the lamb mixture and and bring to the boil. Reduce heat to medium and simmer for 10-15 mins or until slightly thickened. Season to taste with salt and pepper.


While the ragu is simmering, cook the pasta in the pan of boiling water for 12-14 or mins until al dente.

Meanwhile, finely chop the mint the leaves and discard stems. Finely grate the zest of the lemon. Combine the mint, lemon zest and remaining garlic in a bowl. Drain pasta and divide among bowls. Spoon over the sauce and serve with the gremolata.

This recipe was provided by Marley Spoon. Use the code "HEALTH" to get $35 off your first box.