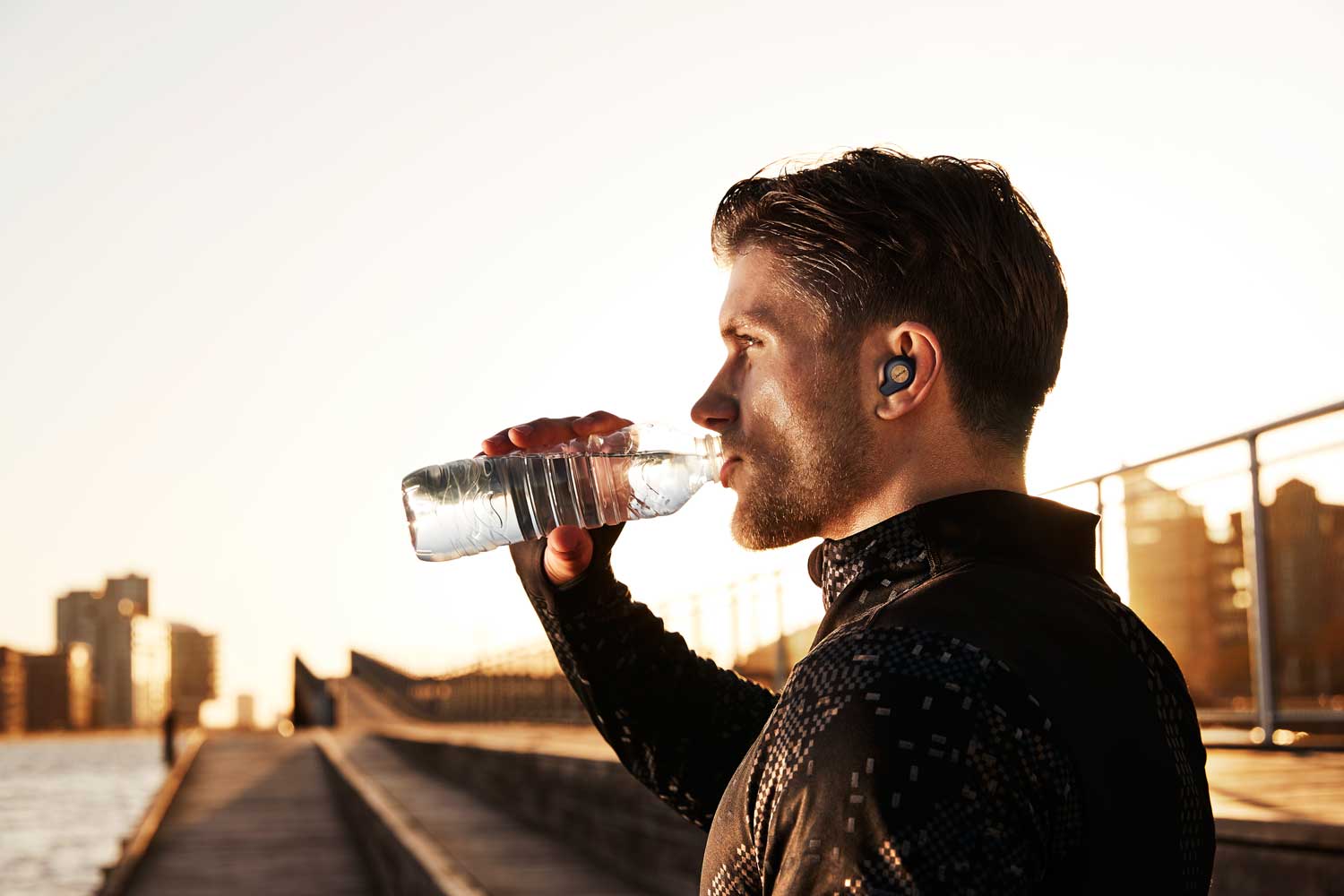 Working out or going for a run with music in your ears is one of the best ways to take your mind off the repetition and sometimes downright tedium of staying in shape. Nothing drives me crazier than earbuds that you have to constantly move back into position to stop them falling out. The Jabra Elite 65T not only have great sound, but also stay in your ear once the sweat starts (and I sweat a lot!)
Setup
Flip open the matte charging pod, place the buds in your ears, download the Jabra Sound+ app and pair with your phone. It's that easy. After initial setup the Jabras will detect when they're in your ear and automatically switch on and will pause if one bud is removed. Occasionally they may not sync correctly but a quick press of the button on the side of the earbud will bring it to life.
Volume controls are on the left earbud, easily felt by two small notches. The right earbud has a single button for play/pause. Two presses will switch on HearThrough mode allowing surrounding noise to mix with your music. This is great not only from a safety point of view, but handy if you need to talk to someone as you no longer need to remove your earbuds. Hold the right button down and you'll have access to Siri, Alexa or Google Assistant.
The Jabra Sound+ app is well designed and easy to use, allowing customisation of your sound with some pre-set profiles and features a graphic equalizer.
Fit
Unlike other wireless earbuds we've tested, the Jabras fit snuggly into the outer ear with the bud sitting comfortably in the ear canal. They are perfectly weighted to stay in place while exercising. Indeed, they are so comfortable that, on occasion, I've forgotten I'm wearing them. A small microphone extends towards your mouth to handle phone calls and HearThrough mode. They look good in the ear and are completely unobtrusive.
Performance
The audio quality is very good, certainly better than the Apple, Fitbit and EFM pods we've tested. Most impressive though is the Bluetooth performance, which is rock solid. Minimal dropouts and when they do drop it's only for the briefest moment. Hands free calling also works very well although I still feel a little self-conscious taking a call in public – the buds are small enough that you can look like you're talking to yourself.
Battery life is very good at 5 hours and the charging pod can give you an extra 10 hours listening time.
Round-Up
There are now quite a few wireless earbuds on the market and not many of them work as well as the Jabra Elite 65t. Sound quality, Bluetooth connectivity and design are all top notch, but what really puts these at the top of the pile for me is the fact that once they're in your ears, they stay there!
Pros:
Stylish understated design that stays in your ears.
Great sound
Volume controls on the earbud
Cons:
No active noise cancellation
Buttons can be a little fiddly to use when exercising
Buds don't always sync immediately
RRP: $329.00