When I spoke to Mick Fanning, he was on a beach in Los Angeles soaking up the late afternoon Californian sun. Even though he's retired from the World Surf League, Mick still spends plenty of time beachside and tries hit the waves every day. With a two-year-old son in the process of learning to surf, Mick's got plenty of work on his hands, but he's still staying in shape with low-impact training.
The three-time world champion fought off some fierce competitors (and one tenacious shark) during his surfing career. After a lifetime of globe-trotting with the World Surf League, he's transitioned into retirement alongside a high energy workout routine that follows the same principles that led him to the top of the surfing world.
Mick credits his success in the ocean to high energy, low impact training. He says that the flexibility, mind-body connection and muscular control that this workout style propagates smoothened his recovery from some serious injuries and helped him win his world titles. Unlike what hardcore workout traditionalists might tell you, you don't need to beat your body to a pulp during training to achieve ideal performance. If you listen to Mick, which you should, because the guy is one of the best surfer's to ever do it, a less intense workout that eases the load on your body can have all the major benefits of a heavier workload, without the usual wear and tear.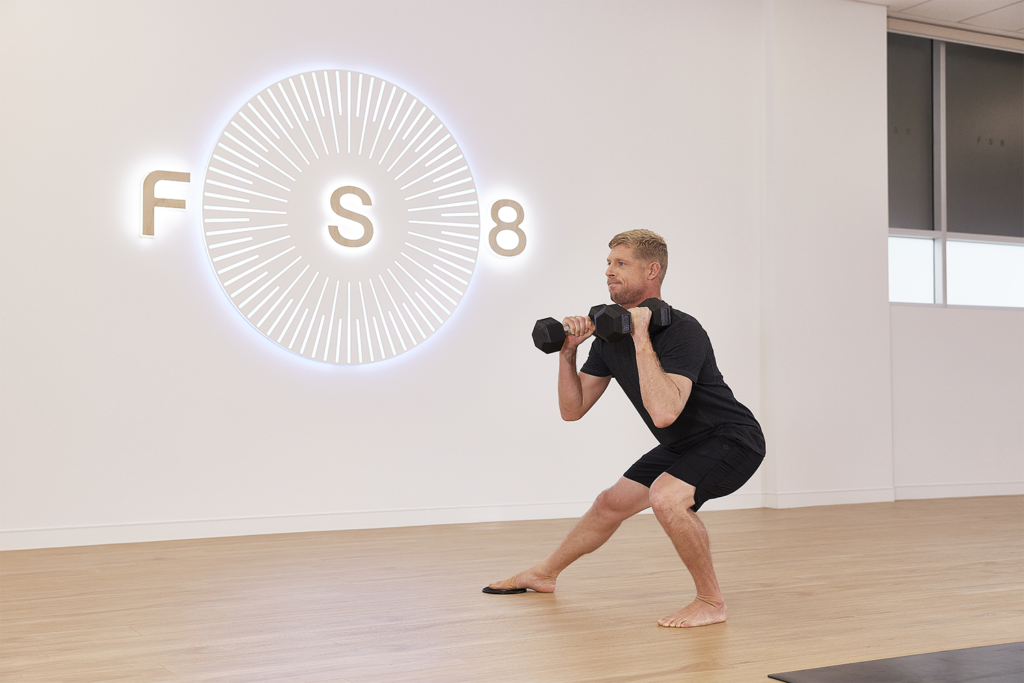 Mick's training has always focused on soothing his body and nurturing his mind through a combination of cardio, yoga and other low impact exercises to deliver an effective full-body workout. "I've never been a person who wants to go in and lift heavy weights. I don't want to be a full-on body sculptor. I just want to be able to surf at my best and move freely in the ocean," says Mick.
Mick is partnering with FS8 fitness studio's to devise a surfing inspired full-body workout that reimagines the meaning of strength both physically and mentally. The workout, which is being called 'Point Break', combines mobility, coordination and flexibility, among other elements, in a 50-minute high-intensity sweat session that will have you feeling the benefits of a high-impact workout, without putting you out of action for the next week in recovery mode.
The Point Break workout is inspired by the movements Mick has used to showcase his plethora of surfing skills. "It's hard to replicate surfing, so we've tried to think outside the box and figure out what moves or what exercises actually help you become better in the ocean." Like Mick says, it isn't easy to transfer surfing-related movements into an effective workout. Point Break does just that, with ranges of motion designed to improve performance while hitting the waves.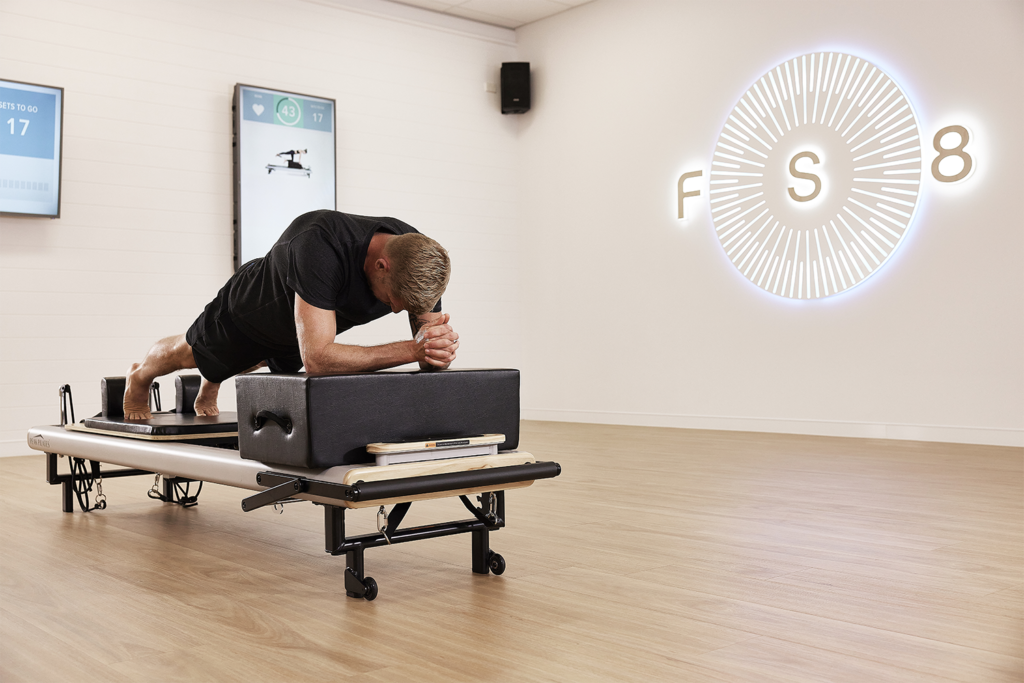 "Surfing is a whole-body sport. When we were designing the program, I wanted to make sure I got length through the hips and the hamstrings and the quads and everything, but I also wanted to strengthen the core," Mick says. But if you're not glued to your surfboard like he is, don't worry. A low impact workout can improve a number of key proponents of health that aren't exclusive to surfers, including endurance, mobility and mental strength.
While a low-intensity workout has become Mick's pick of the bunch as his body has slowed down, he says this style of workout has always been important for him. Low-intensity training helped him recover from some major injuries and stay on top of his game. "Low impact training with high cardio has always been the way. It's almost like putting oil onto the joints so you just keep them flowing," says Mick.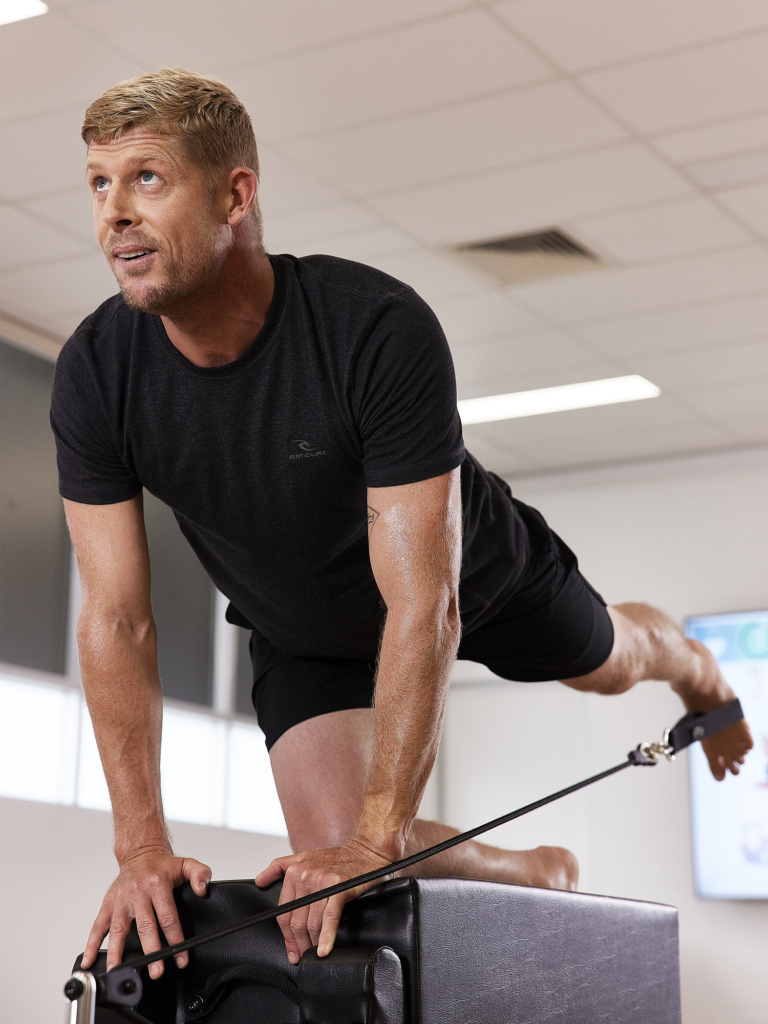 Before he was a world champion, Mick battled against a number of injuries that threatened to derail his career. While he was fighting to establish himself in the World Surf League, severe back pain led Mick to discover that he had scoliosis. The diagnosis changed the way he approached training, with low impact workouts finding a sweet spot of pushing his body to the limits without overdoing it. "My scoliosis is something that I've got to keep on top of, so I do a lot of core work and work on building strength through the legs, that's something I work on daily."
On top of his struggle with scoliosis, Mick tore his hamstring in 2004 and was out of action for almost a year. The injury could have prevented him from ever reaching his full potential and left the world wondering 'what if?' But Mick bounced back after a long rehabilitation process by easing back into training with low-impact workouts.
After he retired, he suffered another injury that would cause most people to give up on high level athletic performance. In 2019, while performing a fairly routine trick by his standards, Mick's knee buckled and he tore his Anterior Cruciate Ligament (ACL).
Despite entering his fifth decade, Mick's injury was not going to stop him from getting back in the water. Mick recovered yet again and returned to his surfboard, backed by low-impact training. "As I'm getting older things start stiffening up and old injuries start coming back if I don't do anything. So I've got to stay pretty active in that area and this sort of program is perfect for me."
While his illustrious surfing career complimented by a mountain of achievements is what launched Mick to fame, there's a specific event in his career that stands out like an elephant in the room, or a shark in the water. In 2015, Mick narrowly escaped an overeager shark during a competition in Jeffrey's Bay, South Africa. The harrowing encounter captured on live tv may have permanently traumatised some, but Mick treats the experience differently. No matter how scary it looked, Mick wasn't going to let a shark stop him from quickly returning to the water. "The ocean has always been my healing place so staying out of the ocean, I felt like it was doing more harm than good."
Mick likens his shark encounter to crossing the street. He believes that since you're more likely to be attacked by a shark than hit by a car, being in the ocean shouldn't be treated as dangerous. Mick recovered quickly from the incident, but the risk of another attack still keeps him alert, "If I hear a splash or something behind me, I still freak out a little bit. But if I see a shark, I'm sweet."
Now that you know all about the benefits of low-impact training from a surfing legend, here are some exercises to add to your routine that prove you don't need to beat your body to a pulp to attain peak performance.
Swimming
Swimming is a great way to get your heart rate up to build cardiovascular health, but it also serves as an effective full body workout by using muscles from your head to your toes. Going for a swim can have all the benefits of a hardcore weight session or a sweaty run. On top of the health benefits, as long as you live close to a body of water, swimming is free. If you spend as much time near water as Mick, swimming is an easy form of exercise to add to your routine.
Rowing
Rowing is another exercise that offers full-body cardio, with low impact. Whether you slug it out on a rowing machine or give it a try in an actual rowboat you'll feel the burn all over. While it won't leave you reeling, rowing can build endurance as well as strength in your arms, legs and core.
Elliptical
A gentler take on running. A stationary elliptical machine mimics the movements of running, without the typical wear and tear on your joints. An elliptical machine actually offers a more complete workout than simply going for a run, as the equipment requires the use of both your arms and legs to keep moving.
Yoga
Yoga comes in many different forms that have different benefits. Mick utilises different styles to target the particular area that needs attention on any given day. Ranging from high energy sweat sessions that will get your heart rate up, to relaxed styles with healing properties that will leave you feeling refreshed, rather than needing recovery time. If you're in need of some extra cardio, or you just need to relax your joints, yoga could be the workout that completes your training routine.
MH: Do you still surf a lot? How often are you surfing now?
Mick: I try to surf each and every day. It's sort of my way of keeping sane. I feel like if I don't surf for a couple of days, I start to go a little bit weird.
After the shark attack at J-Bay, were you worried about getting back into the water?
No, not really. Obviously, it was extremely scary and it rattled me there for a while. I still sort of have a little bit of PTSD where if I hear a splash or something behind me, I freak out a little bit. But if I see a shark, I'm sweet. The ocean has always been my healing place so staying out of the ocean, I felt like it was doing more harm than good. I was ready to get back in not long after the incident and ready to get on with life.

I liken it to crossing the street. I think people get hit by cars more often than they get attacked by sharks. There's times where people have really close calls while crossing the street, but it doesn't stop them from doing it. So I liken it to that, it's not going to stop me from going in the water.
What do you do, or what did you do when you were still on the tour, to stay focused and keep your mind sharp?
I would meditate every night and do a lot of visualisation. Visualisation was a great thing for me. It felt like it didn't matter if I didn't get a surf that day or I didn't get a workout in if I got that meditation done and that visualisation done in the afternoon. It felt like I did my work. So that was something that I always worked on. I'd visualise different heats or different situations in events and if I ever got in that situation in real life, it felt like I'd already been there before. 
When you're training now do you like to be in the moment? Or do you like to listen to music or a podcast or visualise something?
It depends on exactly what I'm doing. Usually, I will put on some music or something just for background noise. But sometimes I think the stuff that I'm doing I need to concentrate on. So I focus on staying centred in the moment and making sure I'm doing stuff the right way. I try not to have outside distractions, that's my time to just look after me.
When you were still surfing professionally, was low impact training something that you were into or is it something that's just come with age?
It was actually. Obviously, I did a little bit of work with weights here and there, but nothing to get me walking around, flexing and busting the seams of my shirt. Low impact with high cardio has always been the way. It's almost like putting oil onto the joints so you just keep them flowing.
Do you do a lot of cardio?
I do it from time, but I get enough cardio just when I'm out in the water. You won't see me running marathons or anything like that, plus my knees and, hips would probably fall apart. But I think you can get enough cardio out of doing repetitions in your movements and stuff like that, where body weight is enough to use for cardio.
Your son Xander was born two years ago. Have you taken him for a surf yet?
He's had a couple of surfs. He's going through a funny phase at the moment where he's not enjoying the beach. Probably 'cause we had such a crap summer at home where it was pretty much wet the whole time. Once we came to California, the water is a lot colder over here and he doesn't like cold water. But the plan this summer is to get him down to the beach a lot more often and hopefully get him on the board a little bit more. I'm not going to push him, you know, if he doesn't want to do all that, then that's fine.
Is that how you were when you were younger?
With surfing, there'll be a time where it just catches you and becomes a bug and then it just takes over your whole life. As a young kid, I wasn't really that into surfing either. I was into other sports like soccer, running and cricket and then it wasn't until I moved to the Gold Coast, where the water is a bit warmer, that surfing took over.
Was it difficult to transition out of moving around a lot on the tour to a more settled down lifestyle?
When I first left the tour, I just wanted to keep doing stuff. I wanted to keep travelling, I wanted to go and explore new places and stuff like that. I didn't miss the competition side, I just wanted to go and have new experiences. I retired in 2018 and then when pandemic hit in 2020, everyone was just stuck, so it was sort of a blessing in disguise. You know? Not having to go anywhere? Now I'm happy not to travel. I'm happy to stay at home and just hang with the fam' and do fun things like swim lessons and take the little fella to school.
Are you moving around a lot at the moment? You're in California right now, is that where you spend most of your time?
I spend most of my time in Australia. My partners from California so we split our time so my son can see his grandparents and his cousins and so my partner can see her family. But most of the time we're in Aus.
It's been a couple years now since you retired from the tour. What are you doing at the moment that's keeping you busy?
Quite a few different things. Obviously, trying to stay fit, 'cause I've gotta chase a 2 year old around. I'm still surfing a lot and I do a few projects here and there. I just finished a project in Ireland doing some stories on golf courses. I've never been a huge golf fan, so it's cool to learn about that world. Mostly I'm just trying to live day to day and focusing on being a home dad. It's been fun.