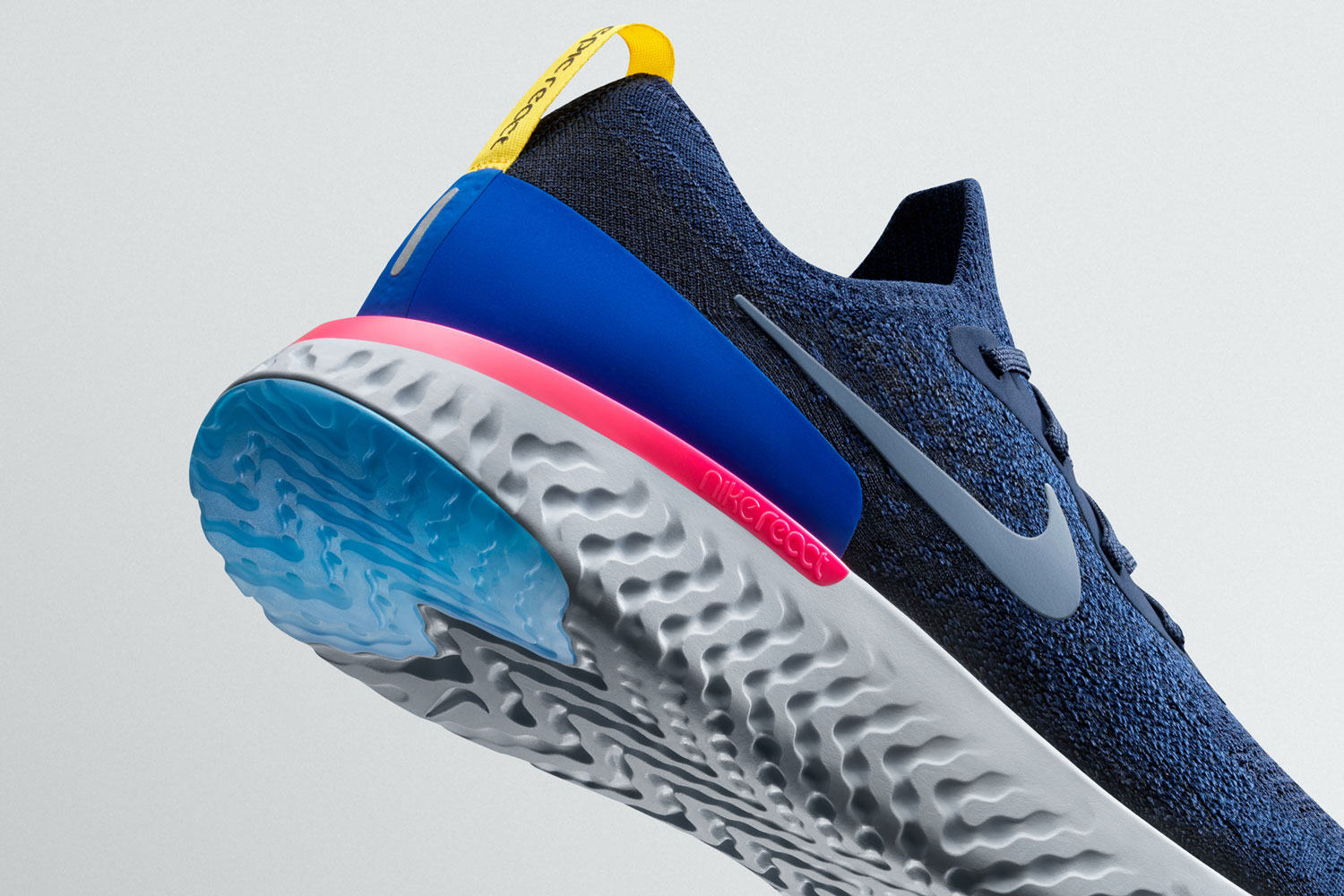 In the words of Men's Health Fitness Editor, Ebenezer Samuel: "It's been awhile since I've felt this . . . fast."
This was the first thought that entered Samuel's mind when he began running in the brand new Nike Epic React Flyknit. Lucky enough to get a sneak preview, Samuel took to a Trueform non-motorised treadmill, working through some sprint work, experimenting with Nike's newest running shoe.
Nike's last running shoe, 2017's Zoom Fly, was a solid entry, but in short efforts like this one, it had failed. The Zoom Fly had been a limited shoe, impressive at long distances, but far from potent at helping your finishing kick or letting you utilise an explosive stride. The shoe, whilst propulsive to the user, also lacked stability under pressure with a thinner-feeling design.
By all reports, these are non-issues with the new Epic React Flyknit. Nike's newest runner, which hits Australian stores on the 22nd of February for $220, is its most versatile and responsive running shoe to date, the kind of shoe that lets you run without thinking. Every step you take in the Flyknits is a steady, sure, confident one, thanks to smart design, and the strong React sole.
Innovators, chemists, engineers and designers came together to create a world first React sole for Nike; offering a running foam that simultaneously cushions the foot and withstands wear and tear, all without compromising on the light weight feeling.
The React sole debuted last year, with Nike introducing them in its latest Hyperdunk basketball shoes. In those sneakers, the goal of the React soles was to "react" to your foot as you ran and jumped and cut around the basketball court, lending stability and the slightest bit of lift when you elevated. It makes sense that runners would want these features also.
In the Epic React Flyknits, Nike merges that stability into a sneaker that you barely notice even exists. The Flyknits are incredibly light and breathable, so you don them and hop on a treadmill or hit the pavement and you feel liberated, as if wearing nothing. Despite their light weight nature, unlike most minimalist running shoes, the Flyknits offer tremendous stability and security; your foot feels balanced and safe in them, allowing you to attack curves and alter your stride with ease. Nike seem to have nailed the balance between minimalism and essential functioning.
The Flyknit upper ensures that your foot stays cool during all that running, too. This is a terrifically breathable pair of running shoes, although the upper is almost too thin at times by reports; wear the wrong color socks, and you just may see them right through the sneakers… they're that thin.
Still, that's a minor quibble because the rest of the sneaker is so strong and well-constructed. Nike doesn't just graft the React soles onto these things, either; it delivers smart touches to make your running ride feel supreme. The overall look is sleek and eye-catching, driven by bright colors along the back side of the shoe. A traction pattern on the bottom helps you grip the running surface, particularly near your toes and on the back heel.
"Because Nike React foam is significantly softer than EVA-based foams of the past, it smooths bumps in the road more effectively — but the midsole had to be taller in order to avoid 'bottoming-out' and wider to give runners a supportive base. To solve for that, designers extended the midsole beyond the perimeter of its upper around the heel to provide both the cushioning runners want and the stability they need," explain Nike engineers.
It's a smooth riding experience overall according to Samuels, and it's one that Nike promises will last you. The hallmark of the React soles is supposed to be their durability: Most sneaker soles wear out after a while, and you can feel it in a few months. In theory, the React soles are supposed to last longer, standing the test of miles upon miles.