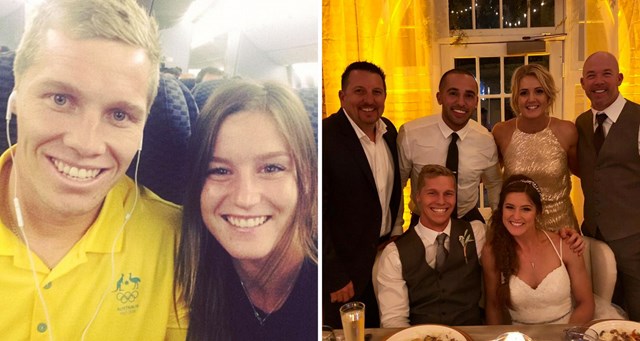 Australian BMX star Sam Willoughby has married his longtime partner Alise Post in an emotional New Years Eve ceremony, just fifteen months after being declared a tetraplegic.
The 26-year-old former Olympian married his American partner in front of 180 family and friends in San Diego, California, with his former Olympic teammate as one of his groomsmen.
Willoughby suffered fractures to his C6 and C7 vertebrae in a 2016 accident, which left him with no movement below the chest.
Determined, Willoughby was able to stand for his wife on their big day with the help of special locked-in knee braces.
Talking to AAP, Willoughby said: 'I'm sort of able to shuffle out there a little bit, so that's the plan.'
"That's been the last month I've been doing that every day. It's been a lot of work to get to that point, he continued. 'I've pictured it in my mind since the day I proposed to her but I'm sure it will be more emotional and nerve-wracking when I actually get there.
"I'm just very happy that I'll be able to be vertical at the ceremony with Alise and just enjoy the day as much as possible."
The couple met as teenagers in 2008 when they were both racing on the international stage, then Willoughby lived with Post's family he moved from Adelaide to the US.
The two raced the London Olympics together in 2012 where Willoughby won silver.
In 2016, the two raced at the Rio Olympics where Post won silver for the US.
Willoughby tragically crashed two weeks later.
Now, the former Olympian has made amazing progression. He can now shuffle, do squats, drive a car and has even been go-karting.
This article originally appeared on New Idea