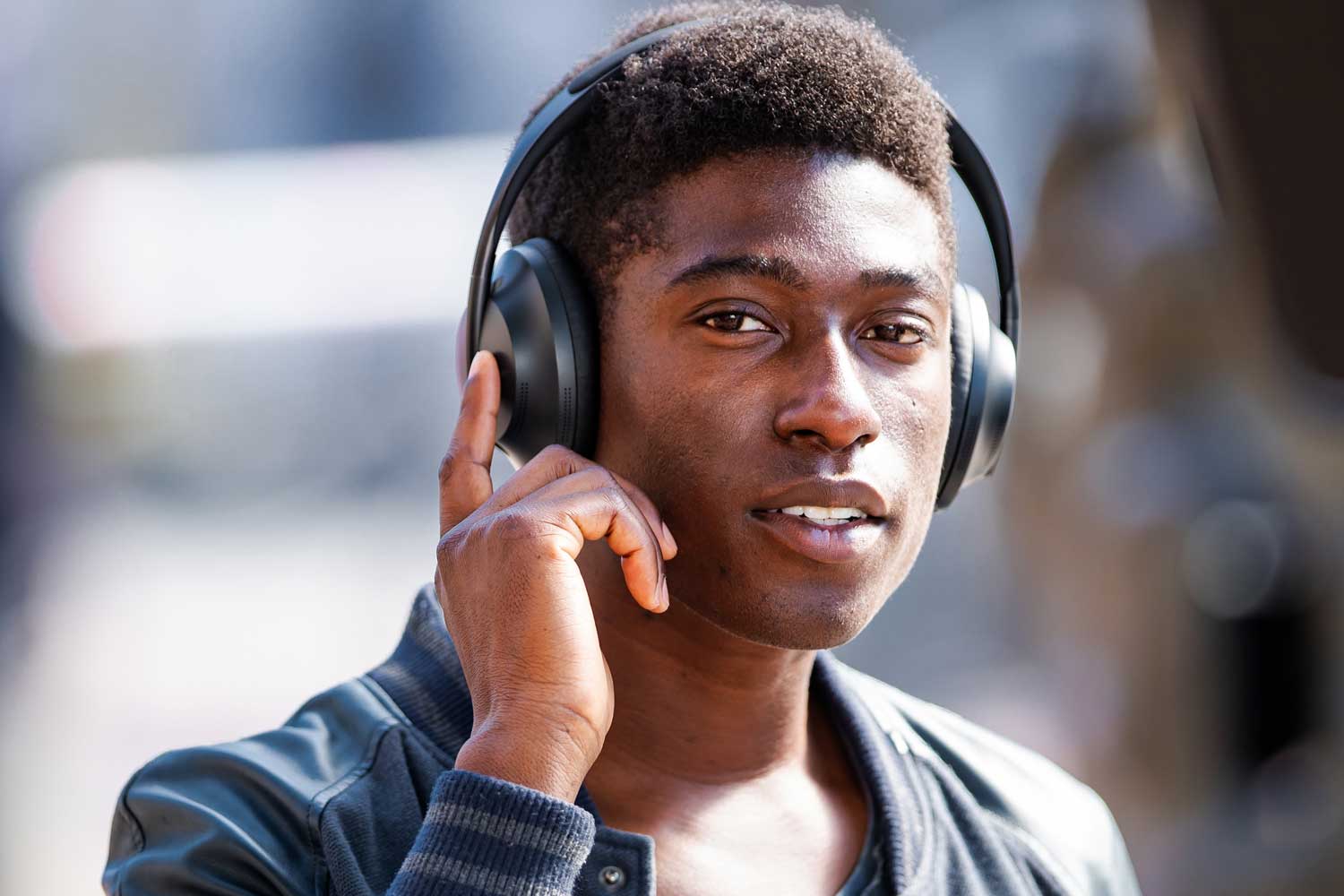 I'm watching a member of the Bose team have a FaceTime call with his boss Sam, who has dashed down to the busy platform of a nearby CBD station. I can just about make out what Sam is saying over the general chaos of passing trains and announcements. Then he taps a button on the Bose Noise cancelling headphones 700 that he is wearing and suddenly his voice sounds like he is chatting to us from the comfort of a particularly quiet office. This astonishing demonstration was to impress me with the incredible noise-cancelling abilities of Bose's new flagship over-the-ear headphones.
Back in 2005 I remember being seduced by an early version of their predecessor, the iconic QuietComforts. Bose were pioneers in the field of noise cancelling technology and those QC2s got me through many a long haul flight over the years until the soft leather padding eventually started to flake and I moved on.
Now the focus isn't just on the incredible sound quality but also on their ability to possibly redefine mobile communication. Bose see the huge potential of the voice in our tech future and are hoping this will enable us to start looking up from our touch screens and start to communicate with each other again and that all starts with being heard… clearer!
Design
These must be the smartest looking headphones out there. Almost the entire structure is now stainless steel and they feel strong, sleek yet very light at 254g. I loved the feel of the new silicone padding. I opted for the silver model over the black and I 'm not sure how long the paler version will stay pristine but the advantage of this new finish is that it is easier to wipe clean the inside band and (detachable) ear cups.
The ear cups swivel 90 degrees (but not inwards) and sit flat in a slightly large carry case. The advantage of the larger case is a small storage area for the extra wires within the band area and, as the headphones sit flat, the tapered case is not too deep, allowing for easy storing in rucksacks and airline seat -pockets.
Setup
There are no fiddly controls with just three unlabelled buttons to negotiate and much of the operation (volume and pause/forward/back) is done through a touch pad at the front of the right ear. This can be a little sensitive at first but once you get used to it, it becomes satisfying to use.
It is advisable to download the Bose Music app where you can link it to two devices at once and also control how much external noise you want to cancel through 11 different settings. This is very useful whilst travelling when you need to hear announcements etc.
Sound
I have not tried the Sony WH-1000XM3, which seems to be the other contender in the battle to be 'best of the best' in the sound stakes but my favourite music went a whole new place with these on. Vocals, especially, sounded incredibly smooth.
Features
There is a discreet eight microphone system in place. Six of them are there to cancel noise and two of these combine with two others to improve the clarity of your voice. The noise cancelling is so incredible that I did find myself needing to use the app to allow in some external noise as it was eerie to not even hear my own breath or footsteps on my commute.
There is now a USB type C connector for charging. A 15-minute charge will give you 3.5 hours play back. Full charge will give you 20 hours. You can connect with any native VPA while Google assistant and Alexa are already integrated.

Thumbs Up
• Uber-sleek design.
• The mind-blowing noise cancellation.
• Versatility of 11 noise cancelling settings.
• Incredible microphone quality.
• Useful touch control on right ear.
• Comfort.

Thumbs Down
• The sensitive buttons can be accidentally activated with handling. I have put them back in the case with the power left on.
• The price – a shade under AU$600.

The Final Verdict
I'm not 100 per cent if I will use these entirely as Bose would hope. Taking calls wearing them in crowded areas, I still felt a bit too self aware but I may get over that as this sort of technology as a communication device becomes more commonplace. They are on the pricier side but if you've got this sort of money to spend and you like to have the very best it could well be worth it for a desirable product that anyone would want to own.
4.5 out of 5