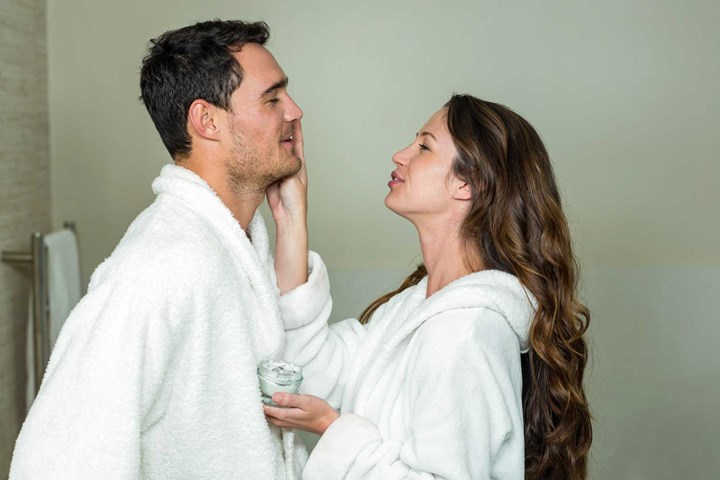 It's easy to get lazy with your grooming routine when you enter a relationship. But just because you've got the girl, doesn't mean you should stop caring about your appearance. So get it right with Bookwell beauty expert Sarah Pelham who shares her top 5 grooming tips to make sure your partner sticks around.
Manscaping from head to toe – Whether on the streets or in the sheets there is an increasing need for men to appear neat and tidy when it comes to managing their mane. Survey results found that 18% of men waxed their body for a baby smooth finish, and research found that Australian women said that men who were too hairy were the least attractive. Tip: Prior to shaving/waxing it's important to prep the skin by using a loafer to discard dry skin in order to achieve better results. If you do choose to keep face, chest and 'below the belt' with hair, keep it neat and trimmed which is women's top choice.
Dazzle your date with pearly whites – Aussie women have revealed that having good teeth and a great smile is something they notice most whilst dating, with 63% of women stating that men with bad teeth is a relationship deal-breaker. Tip: For faster and better whitening results use professional bleaching from dentists over cheaper products such as strips and over the counter bleaches which can be painful and cause long term damage like ruining your teeth's enamel.
RELATED: Is Your Every Day Grooming Habit Making You Less Attractive?
Scents to fill women with lust – A top relationship dealbreaker for 80% of Aussie women is bad odor on men. Whether the source is from bad breath, body or feet be sure to handle your scent. Tip: Explore, trial and invest in a few types of colognes to find your signature scent that women love. Keep in mind that colognes smell different on different men, depending on your body temperature and natural odor. Usually if someone likes your smell they will ask what you're wearing, but make sure you don't overpower everyone with wearing too much. That can be equally off putting to smelling bad.
Blemish free, youthful skin – A clear complexion isn't just for the ladies, men need to glow too. When delving into men's beauty regimes, 21% of men admitted to exfoliating their face and body; 14% of Aussie men use anti-ageing lotions; and 6% use botox and dermal fillers to keep skin looking healthy and young. Tip: Technologies such as IPL laser skin rejuvenation and radio frequency skin tightening are effective treatments for removing scars, blemishes, wrinkles or sunspots and keeping your skin looking young as you age.
Visit your local salon – Many beauty and wellness businesses in Australia are now tailoring their services to better suit male customers. Tip: If unsure what treatment you want or need, contact professionals for expert advice and recommendations. Also check out online platforms like Bookwell that provide the ability to browse beauty, wellness and massage services and treatments online that are local to you.