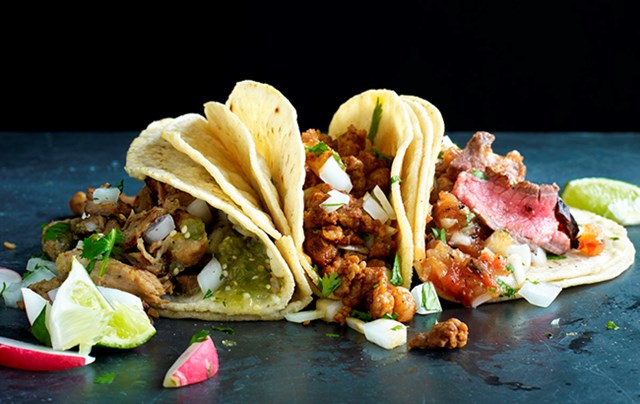 If you're like me, you love heading to the gym and working in your comfort zone. You choose muscle groups you enjoy training and perform moves that feel cosily familiar. Sometimes, though, you need to push your boundaries. You need to pick a goal or sign up for an event – like Survival of the Fittest – and hit your training with fresh impetus.
Click here to register for Survival of the Fittest 2016!
Mired in a tired gym routine of bench press and squats?
You need a program that pushes your body in new ways. Incorporate explosive moves into your workouts; swap barbell squats for squat jumps, bench press for plyo push-ups, lat pulldowns for chin-ups. Once a week, swap a gym session for an outdoor hit-out where handstands, crab walks, burpees and bear crawls are interspersed with sprints.
But it doesn't stop in the gym. If you're taking your body to new places, you need to ensure you're fuelling it in a way that provides the nutritional foundations for repair and rebuilding. The best news: it doesn't have to be complicated. Combining a quality slab of protein with a smart form of carbohydrate and a nourishing source of fat will provide the slow energy release that primes your body for action.
Take my spicy pork tacos with guacamole. In the pursuit of protein, men often get hung up on chicken breasts, forgetting the humble pork fillet. Big mistake: pork fillets are leaner than chicken breasts, meaning you're getting both a tasty and clean source of protein. The carbs in this dish come from pure corn tortillas. They're gluten free and easily digestible, allowing for a steady drip of energy. Then there's the avocado. This superfood is brimful of fibre, vitamin C and vitamin K, and packed with omega 3 fatty acids. These gems are ideal for brain health, keeping your mind nimble as it picks up new movement patterns and your eyes firmly focused on your new goals
Spicy Pork Tacos
• 1 red chilli, chopped
• ½ Spanish onion, chopped
• 1 small bunch coriander leaves
• 2 tbsp apple-cider vinegar
• 1 tbsp coconut oil,
plus extra for basting
• 2 tbsp Mexican chilli powder
• Salt and black pepper
• 2 350g pork fillets, trimmed
• 12 corn tortillas
1. Start with the salsa. In a food processor, combine the chilli, onion, tomato, coriander and apple-cider vinegar. Blitz until slightly chunky – not a purée.
2. Combine the oil, chilli powder, and salt and pepper in a bowl. Coat the pork fillets with the mixture, then sear them on a hot barbecue or griddle pan. Give the fillets 6-8 minutes on each side, depending on their thickness, turning the meat regularly. Remove from the heat and rest for five minutes.
3. Heat the tortillas in a dry frying pan, or wrap them in foil and put them in the oven at 180°C for 10 minutes. I like to put them on the barbecue or griddle pan to make them crunchy.
4. Serve your tortillas with thinly sliced pork, salsa
and guacamole.
Guacamole
• 1 shallot, thinly sliced
• Juice of 1 lime
• Sea salt
• 3 avocados
• ½ bunch coriander chopped
• ½ tsp cumin
• 1 red chilli, optional
• Ground black pepper
1. Combine the shallot, lime juice, coriander and a couple of generous pinches of salt in a bowl and leave for 10 minutes.
2. Remove the flesh from the avocados, roughly chop it and put it in a bowl. Lightly fork the flesh, leaving some larger chunks for texture. Add the shallot, lime and coriander mix and lightly combine. Add the cumin and mix it through. Like it hot? Mince the red chilli and mix it through. Season with pepper to taste.
Makes 2 cups