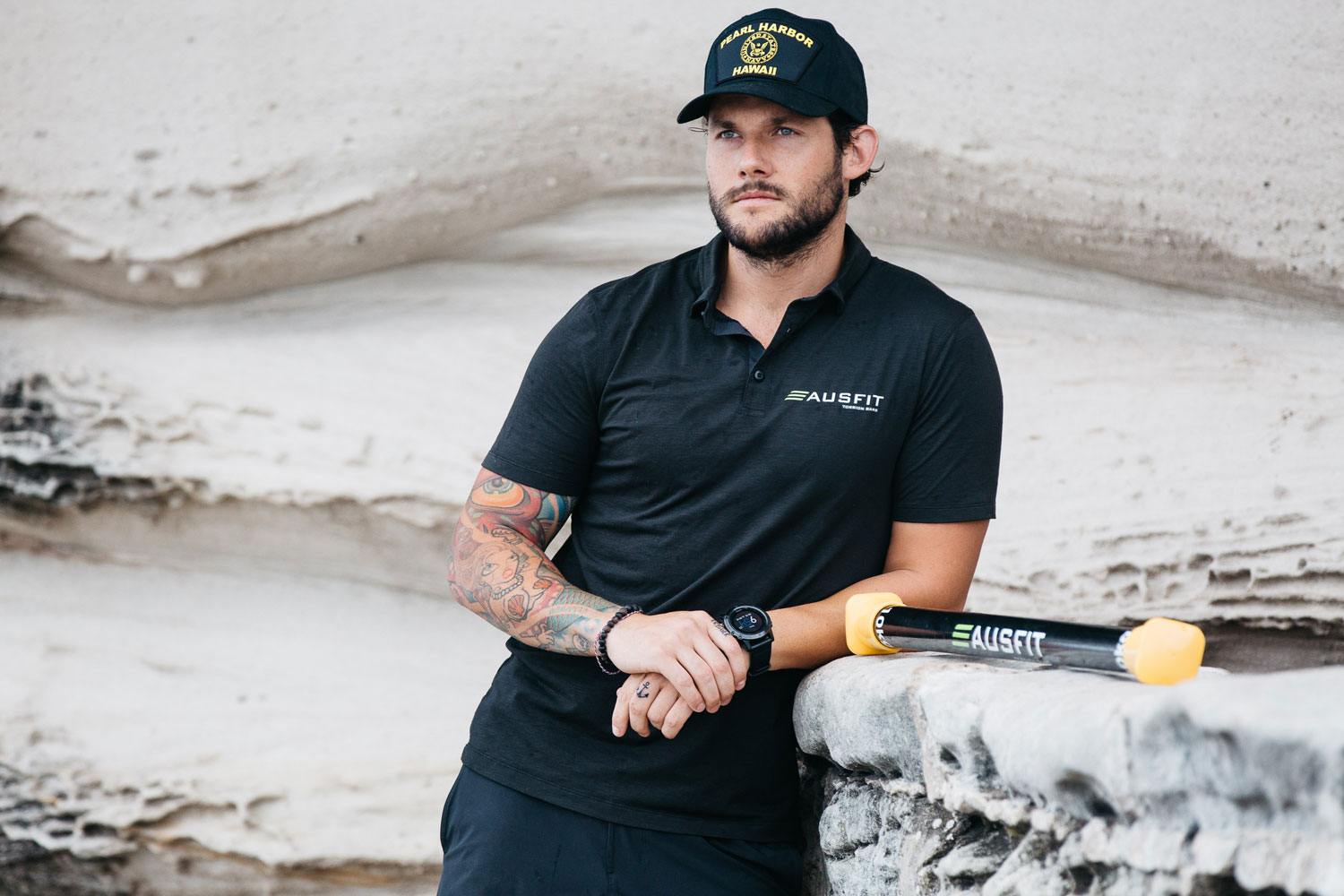 Humility is not a characteristic often associated with success, however businessmen don't come much more humble than AUSFIT Founder and Managing Director, Anthony Richardson.
When speaking to Richardson, you can feel the calm and get the sense that he can handle any challenge that is thrown his way. It's a refreshing change to modern business culture, proving that you don't have to crush all in your path to success. With such a laid back and selfless demeanour, it's easy to forget just how successful his business has become.
In the few short years since the birth of AUSFIT, the company that makes and sells weighted training bars, Anthony has taken his product from the parks of Sydney, to the Pentagon.
After dedicating 11 years of service in the Navy, 2013 saw Anthony take a gap year and start an outdoor bootcamp in Sydney. Whilst training clients, he would use traditional torsion bars (small lengths of metal piping) as weights. These bars were primitive, rusted easily, and were hard to come by. Sensing an opportunity, Richardson sought to produce and distribute a training weights solution by creating high quality, easy to transport, torsion bars for gyms, health practitioners and the military.
Richardson's business growth has been phenomenal, with his torsion bars going truly global, selling in Australia, the UK, USA, New Zealand and China. In it's first year, AUSFIT grew by 580 per cent, and is on track for US$7million of revenue in 2018. After starting with just 20 sales per month in 2015, Anthony and his business are now producing over 4000 torsion bars every month.
MH picked Richardson's brain to identify how he drew on his combined experiences and personal values and create a global fitness empire.
How did your time in the Navy help when it came to running and building a business?
My time in the NAVY taught me many things, the first and possibly most important is how to remain efficient and ahead of the game when you're sleep deprived and physically drained. Equally as important is how to maintain a resilient mindset.
How did you get involved in the manufacturing side of AUSFIT?
When I designed the first ATB's [AUSFIT Torsion Bars] I was a one-man team and if I didn't manufacture them, no one would. I began sourcing the steel, designing the end caps and manufacturing in my garage in North Sydney. In the early stages of AUSFIT this worked, however the company grew quicker than I could have imagined and when the larger orders came in the production time and cost were way too high. After 3 months in the garage and 6 trips overseas I sourced offshore manufacturing with a focus on scaling up while improving the quality and lowering the price of the product. This process was much longer than expected due to the technical aspects such as product testing polymers, cap sizes, abrasion and knock tests these all blew the timeline out significantly however I ended up with a far better product.
What skills and values did you learn from your Navy career that have been transferrable to your business success?
Efficiency. Adaptability. Humility. These three values are definitely at the top of the list. Remaining efficient whilst traveling allows the business to maintain momentum. Maintaining an active mind allows for fast, emotionless adaptability in unforeseen circumstances. And always remaining humble no matter my achievement is important to me.
ATB has been accepted by the fitness and military communities, both here and overseas. In your opinion, what has attributed to this success?
I think the main reason for AUSFIT's success over the years would be both the market gap the ATB's fill commercially and within the Military, as well as the fact that I never gave up in achieving what I set out to do. I set a goal and created a plan with a desired outcome that was realistic and achievable. Before I spent a $1 on the idea I had to make sure that the idea was not only financially viable but the business model was solid the plan was initially for 12 months it took just under 5 years to execute.
With so many avenues of growth for ATB, how do you manage your time?
I think its important to remain adaptable during all stages of growth in your business especially in the beginning as when it comes to time management every book, podcast etc. will say outsource it! However as every small business owner knows unless that person will accept a high five as payment, its not an option. I find myself wearing many hats within the business, (Marketing, Manufacturing, Sales etc.) whilst also working on the business. A simple To-Do list prioritizing each item as well as a loosely structured routine based around my lifestyle works for me. If it's a Monday and I have no deadline, I'm at the beach!
How do you maintain a clear head when operating such a high functioning, fast paced business?
When I was 16 I was working up to 12hrs before and after school, after 3 months I burnt out losing the ability to focus my eyes and remember simple words. Thankfully after a few days rest I was back to normal, however it wasn't until later in life I realised the importance of mental health.
As my mind doesn't have an off switch, I focus on remaining active, getting my own training done early. I have Phone Free days (Sunday) to really disconnect as I generally react to every email regardless of the time. I love to cook which requires me to be present and not thinking about work, I also use essential oil to sleep which works amazingly when it comes to jet-lag. Even when I am at my busiest maintaining these rituals is important for me to remain physically and mentally healthy and adaptable. And like everyone, things don't always go to plan so having a great support network of friends and family which keeps me grounded and happy.