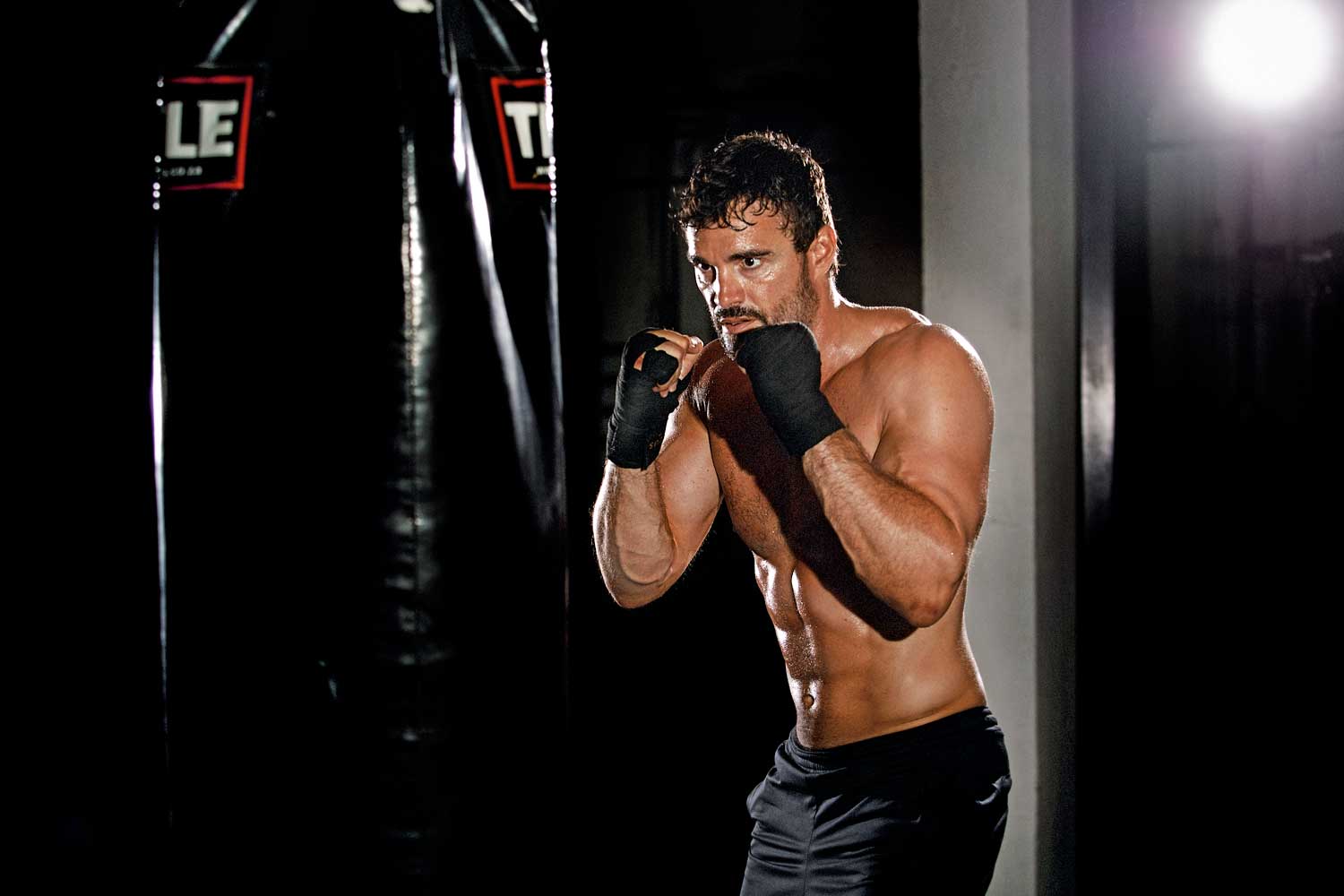 With his eyes locked on the target in front of him, Thom Evans, 34, begins to throw punches, one after the other. The former rugby player for Scotland is 15,000 kilometres from home. But standing in front of the heavy bag in a gym in Cape Town, it seems like he's right where he belongs.
Since he first stepped into a boxing club at 15, his love for the sport hasn't wavered. Back then his dad thought the teenager needed a way to work off the restless energy that accumulates in most boys his age. "It was a great experience, not just to work off that extra energy but because boxing is a skill you can use to defend yourself," says Evans.
It's a skill the former international has used only reluctantly in the past – fighting, for Evans, being a last resort. "There have been a few times a buddy of mine was in trouble, and I stepped in to help him out. And when you're in a situation like that, it's good to have that skill."
Beyond the skills he's equipped himself with through the sport, boxing has given him a sense of belonging. The atmosphere inside the club is a satisfying replacement for the energy he once felt within his rugby team. "It's a great culture when you go down and train in a big class," he says. "I always train better, because I'm surrounded by people as enthusiastic as I am."
Watching Evans move from landing punches on the bag to banging out explosive push-ups, it's hard to believe that nine years ago he came close to death.
During a match at the Millennium Stadium in Cardiff, he was caught in a tackle that left him with a severe neck injury. Sprawled on the field after the tackle, the attending medicos ordered him to lie completely still. Had he moved even a millimetre, death or paralysis could have been his fate.
Evans was rushed to hospital, where surgeons were able to fix the critical misalignment of his cervical vertabrae. "I had an amazing surgeon who put me back together, but those first six months were tough." Evans had worked hard his entire life to be able to play rugby at the top level. Despite making a full recovery, his career in football had come to an end.
"To have that taken from me was hard, but I'm really grateful for all the support I received," he says. "The rugby community is probably the best out there, and I received so much encouragement from my family and friends. And that's what got me through."
his fate could have been makes Evans extremely grateful for his recovery. "A lot of people aren't as fortunate. I can still train, I can still enjoy life. And there isn't a day goes by that I don't appreciate that."
TRAIN YOUR BODY
Evans has come a long way since his days on the rugby field. Back then, he focused on building the kind of physique that would absorb the colossal knocks and impacts of top-level rugby. Now, as a model and actor, he needs his body to be lean. And part of achieving that trim physique is ensuring he fuels his body efficiently. "I just try to eat as well as possible. But I do have a pizza now and again," he says. "I feel like if you're training, you're burning a lot of energy and you need those kinds of foods. You can't diet all the time, otherwise you wouldn't have any energy and your workouts would suffer."
workouts would suffer." Perhaps as a result of his brush with paralysis, Evans has become a firm believer in doing only the things he enjoys. It's one of the reasons he limits his workouts in the gym to just three sessions per week. "I see so many people being put through hell in gyms, and it's no wonder they never return. You have to do what makes you happy." And what makes him happy is keeping his training interesting. Aside from the time he spends under barbells, Evans also swims, plays tennis and boxes. "I do everything I can to try and keep my workout routine exciting," he says.
Making his workouts interesting has helped keep the Scotsman in outstanding shape. But his training fulfils more than just aesthetic goals; it also gives him peace of mind. "I find training therapeutic," says Evans. "Going for a run in the morning clears my mind for the day. Whenever I'm stressed out, as we all are sometimes, it really helps get me through it," he explains.
FOCUS YOUR MIND
Fittingly for someone who's not afraid to test his limits, Evans agreed to participate in a celebrity edition of British reality program The Island with Bear Grylls. The show proved to be brutally tough. After a week, Evans realised he was in over his head. "We had no training prior to going out there. The most we received was two days of tutorials," he says.
Evans' biggest problem was finding enough food. He hardly ate anything for the entire week he was on the island. "I just had coconut – and that was it. For a guy who likes four or five meals a day, it was pretty unbearable." The lack of food left him without enough energy to participate in the activities. Realising his body just wasn't coping well, Evans decided to pull the plug. It's a lesson to all of us not to put your body through more than it can handle.
Evans is a living embodiment of not dwelling on life's setbacks. Of moving forward, no matter what. It's been nine years since his rugby career ended. Instead of dwelling on what could have been, he concentrates on the good things that have happened to him since. "I think when you're dealt a hard blow, especially in your career or with an injury, you've got to look at it from a positive side," he says.
Reflecting on how his life has turned out, Evans acknowledges that most of the opportunities he's received would not have come about had he continued to play rugby.
"If I'd carried on being a rugby player, I would only have been retiring around now," he says. "I wouldn't have done all the other stuff – Dancing with the Stars, The Island with Bear Grylls, the modelling and the acting . . . these are all things I wouldn't have experienced. If you only focus on the negatives, those are the things that will eat you up."