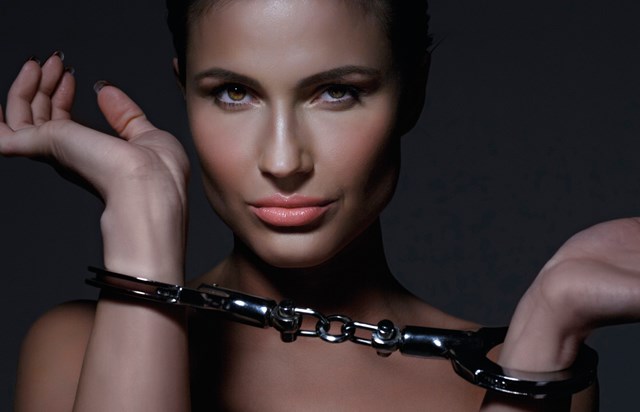 Author, activist and former dominatrix, Nichi Hodgson charges up your sex life with her definitive guide to a new generation of pleasure-giving playthings.
A lecherous editor I used to work for, as stuffy as he was slimy, once asked me if I could help him sort out his perfunctory sex life. "My wife never wants to do it any more," he complained. "A friend told me she needed sex toys, but when I suggested it she burst into tears!"
In his case, I suspect it wasn't the thought of him brandishing a giant glass dildo that was the problem, but the thought of him at all. Make no mistake: sex toys cannot compensate for lacklustre sexual skills or poor communication. Instead, they are tools with which to enhance your prowess, or, as the Tao has it, to help you pleasure your opponent into submission.
What's more, sex toys don't look like plastic Christmas-cracker novelties any more, but sophisticated sexual game-changers. Some are meant to mimic human acts and some are meant to transform them. The really good ones manage both – and it's those that I'll guide you to here. Frankly, they're the only ones I'm interested in. If you want a speedy sexual upgrade and to give her orgasm after orgasm, the same should go for you.
What's the first sex toy you should buy?
Simple – you need a dildo with a difference. Try the award-winning brand Lelo: its Isla vibrator has six intensity settings to tease her with. Or for something with more horsepower, the stainless-steel dildos produced by Njoy have grooves, bumps and bulbs in all the right places, perfectly designed to accommodate the contours of her body. Always pick out models that have an antimicrobial silicon coating. These feel natural and she'll respond best to them. For lube – always have lube – experiment with flavours. Coco de Mer (coco-de-mer.com) has some particularly good ones.
What will give her the most intense orgasm?
G-spot stimulators such as the Je Joue G-Kii are particularly good for teasing your partner to the point of squirt. These curve in a way you'd never want your penis to and the G-Kii is adjustable to the exact angle required to reach her G-spot. Get her to sit up but lean back on her hands while you go to work. Then, as she's about to climax, finish up with your fingers or with her sitting on your face. Or ask if you can tie her up and use the We-vibe 4, a remote-controlled vibrator that gives you an extra degree of power if that's what you're both into. Either way, you'll be thankful you discovered these incredible orgasm generators.
Is there anything that makes sex better for men?
Of course. Throbbing objects aren't only for women, and to that end (or your end) I'd recommend the Tenga Flip Hole Masturbator. This moulded sleeve applies pressure to your penis, and once the silicon inner is laced with lube, it's hard to tear yourself away from its embrace. It doesn't have to be a solo trip either. Get your partner to hold it while you thrust. She'll have access to the pressure buttons and effectively controls your pleasure. Alternatively, perhaps a prostate massager – not as dangerous as it sounds – is more your thing. Try the Aneros Vice, which certainly makes for a more comfortable exploration before you ask a long-nailed female to get involved.
Can you have "virtual-sex" with porn stars?
I'd advise caution here. There is the (somewhat tacky) Fleshlight Girls range, which consists of the moulded orifices of porn stars like Teagan Presley. Or there's an emerging cyber-movement called "teledildonics" (worth 17 Scrabble points, FYI), which is a bit like Skype with added touching. Teledildonics is still in the early stages of refinement and users complain about lack of sensitivity and the fact that it really isn't enough like the real thing. Still, better than sitting on your hand for 10 minutes on a lonely night, I suppose.
What gives the best bang for your buck?
Call it the holey Holy Grail. Believe it or not, this has been achieved by a cock ring called the Bionic Bullet, an affordably priced product that lives up to its super-heroic name. It has two rings – one that slips around your penis and one that goes around your testicles. The pulsing sensation not only feels amazing but also prolongs erections and delays ejaculation. And the bullet, which sits across the top of your penis during sex, is perfectly positioned to massage her clitoris, making it far more likely she'll orgasm during penetrative sex. Sex toys can't replace the pleasure of doing it with another human, but this one gets top marks for attending to mutual, in-the-flesh pleasure.
YOUR NEW TOY BOX
Lovehoney Bionic Bullet Vibrating Cock Ring ($29.95; lovehoney.com.au)
Best for: Sex-toy cynics. Your secret weapon for giving her clitoral stimulation while you have sex.
We-vibe 4 Rechargeable Remote-Control Couples Vibrator ($112.90, wevibe4.com.au)
Best for: Power play.
Tenga Flip Hole Male Masturbator ($99.95; lovehoney.com.au)
Best for: Getting the sensation of penetrative sex with no pressure for post-coital cuddles.
Je Joue G-Kii G-spot Vibrator ($179.95; lovehoney.com.au)
Best for: Giving her the bespoke G-spot orgasm of her dreams.
Aneros Vice Massager ($139.95; aneros.com)
Best for: Figuring out if you might enjoy "prostate play".