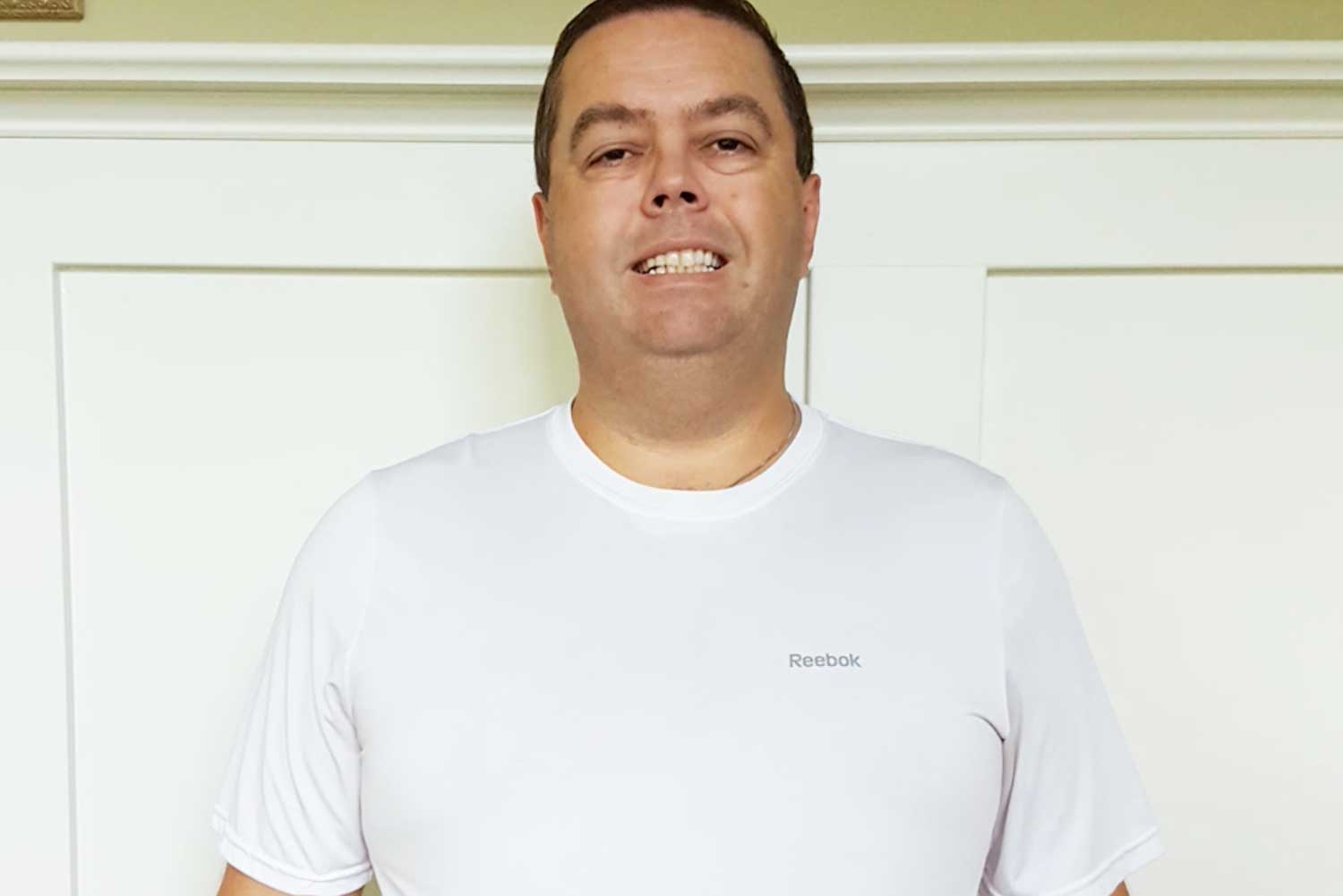 Sure, a lot of people are inspired by Chris Pratt. After all, he's a pretty handsome dude living a dream life as a Hollywood star. But for Andy Beal, a mega-Pratt fan, that admiration turned out to be life-saving as it helped him lose 35 kilos and helped him survive a heart attack to boot.
Beal, a 45-year-old from North Carolina, says he's always been on the heavier side. For him, the weight crept on slowly until he hit his heaviest point at 120kg.
"I work from home and needed an excuse to leave the house each day for a change of scenery," Beal explained to Men's Health. "This meant I was heading to fast food restaurants to buy my lunch. Chick-fil-a, Zaxbys, Bojangles, you name it. Fried chicken, fries, and sweet tea meant I was often consuming over 1,000 calories just for lunch."
It wasn't until the age of 43, and after a heart attack scare, that Beal decided to change his life and his habits for good. "While on a cruise I had a day where I felt dizzy, tired, and some aching in my left arm. I put it down to dehydration and spending too much time on my smartphone—holding it in my left hand for too long—but also worried that it could just as easily have been a heart attack," Beal said.
It was on that trip that Beal happened to also read about Chris Pratt's physical transformation for his role in Guardians of the Galaxy.
"At the time, Pratt lost over 27 kilograms by working out with a personal trainer. I decided that if he could do it, I could do it," Beal said. "I wanted to become my own personal Star-Lord."
To start, Beal overhauled his eating habits and cut out fast food completely. His other dietary change was to cut his net-carbs to 100 grams per day. "I've even become known as the Facebook friend that is always posting photos of salmon salads," Beal jokes.
Beyond food, Beal also began lifting weights twice a week with his personal trainer, Perry Junior of Elevation Fitness, just like Pratt.
"[Junior] started out as just my trainer, but now he's also my best friend," Beal said. "He keeps me motivated, he encourages me daily, and keeps my workouts fresh, fun, and challenging. I must have completed over 200 workouts with him and have never, ever, repeated a single one."

Beyond lifting weights, Junior had Beal add in a workout regimen that included activities he loved like tennis. In six short months Beal lost nearly 20kg. But, all that came to a screeching halt when Beal experienced a heart attack, for real this time.
"I had a massive stroke and heart attack at age 44. If not for the fact that I had already changed my eating and exercise, I may not have survived," Beal says. But the event left him more determined than ever. After a couple of months of rest and rehabilitation, Beal went back to his regular workouts with vigor.
"I am now down 35kg of fat and gained about 5kg of muscle and in the best shape of my life," he said. "I feel great, dropped from an extra large to a medium and I am even motivated to take things to the next level. I just completed my first 5k and am training for a half-marathon."
As for what lessons Beal hopes to impart on others it's this: Keep it simple and realistic.
"The biggest lesson I learned–and passing on–is to make the changes to your diet, workouts, life, that are sustainable," Beal said. "Even if you lost just five pounds a year that's a much better achievement than losing 15 pounds in six weeks and then gaining it all back in six months."
This article originally appeared on Men's Health