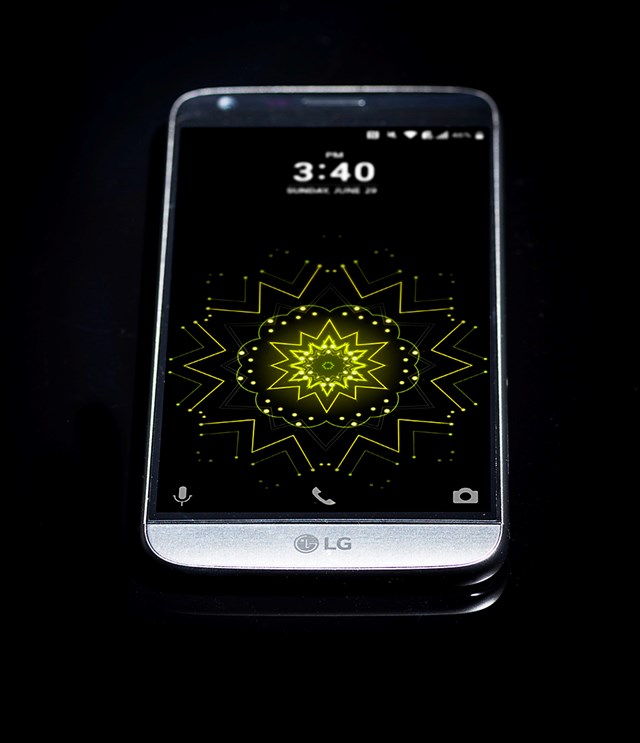 PRODUCT LG G5
PRICE $1,099 lg.com.au
LG has taken the Android ad campaign "Be Together. Not The Same" to heart with its new G5, a radical modular-equipped smartphone. A bold offering in what has been a conservative year for flagship phones, the curvy G5 features new modular add-ons that allow you to lock and load new batteries, camera grip and/or hi res audio to the bottom of the handset like Rambo switching ammo clips.
PROS
• Innovative modular design
• Excellent hardware
• Dual rear camera (handy wide angle)
• USB-C
• Micro SD expansion
CONS
• Feels plasticky
• Expensive modules – $129 for CamPlus,$229 for Hi-Fi Plus
• Smaller battery than G4
HIGHLIGHTS
Modular magic By pressing a small button near the bottom, the whole battery compartment pops out to show off the ingenious modular design. Either add a new battery or the Cam Plus module, which provides a beefier grip, plus a zoom wheel, physical shutter, video record and zoom buttons for an SLR-like experience.
Bright star Sticking with a quad HD display like its predecessor, a 5.3-inch screen has kept a more naturalistic colour palette while scalping .2 inches off the height. Even when the phone is locked, you'll be able to stealthily check notifications during brain-zapping client meetings.
Dual action By far the highlight of this phone is the dual rear cameras, coming in at a 16mp/8mp, with an ultra wide-angle option squeezing a lot more scenery into your images. The hardware and software synchronise seamlessly for an effortless and intuitive experience when switching between lenses.
MH VERDICT
From curved screens to leather backs, LG hasn't been afraid to take chances over the last few years. Unfortunately, brilliant hardware is tempered with an average battery and a primer coating that takes away the premium metallic feel.
Still, the company should be applauded for their ambition. That and their class leading raw processing speed, dual camera setup and interchangeable battery, make this one of the most compelling phones of 2016.
MH RATING