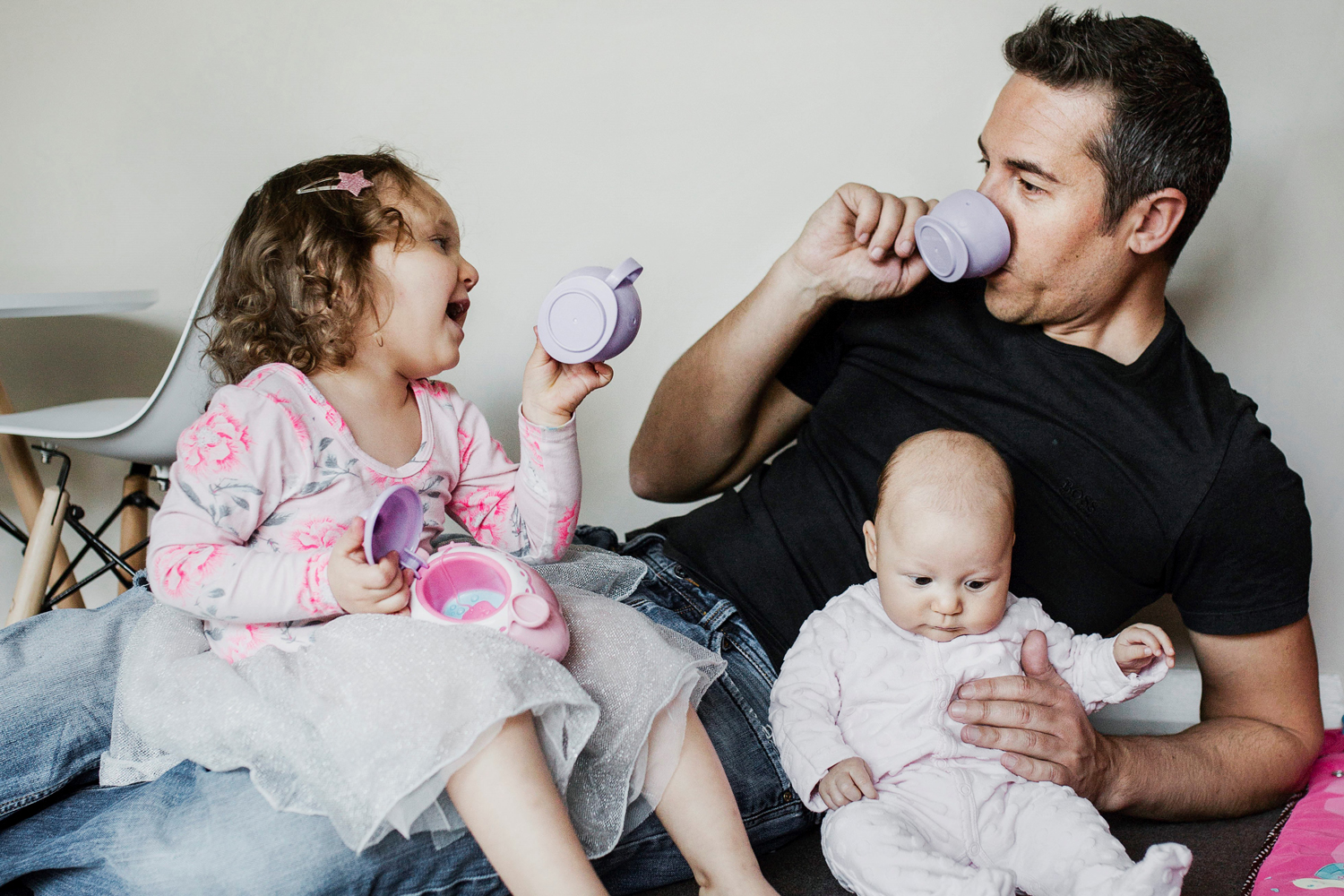 The first months of your child's life only come around once but being a modern dad is a complicated business. Aussie Dads Uncensored is a new photographic exhibition by John Bävman, exploring the evolving nature of fatherhood and offering insights and advice on navigating the chaos. The below highlights, along with the full exhibit to be held this month (tickets available online here), chronicles the first-hand adventures of the new breed of fathers, proving you can have a great career and be a great dad by taking parental leave.
Daniele Cavini
38, Senior Commodity Manager
On leave with Sophia for 2.5 months, Arianna for 1 month
"The first moments of life on earth with your baby is something you can never get back, and even though it may seem challenging, the little things (smiles, hand gestures) make it all worth it."
Connor Tierney
30, Finance Professional
On leave with Finnian for 3 months, Patrick for 2 months
"Both my wife Laura and I are responsible for our children's care – it's not her role primarily, nor mine – it's both of our roles, therefore we both take leave from work and raise our kids together."
Alex Laguna
43, Lighting Designer
On leave with Milla for 3 weeks, Arnaud for 6 weeks, Stella for 3 months, Ruby for 6 months
"I don't profess to have all the answers. I don't do it all, I'm not super in any way, but I really enjoy the process of being an involved father. And sometimes I don't. Sometimes it's really tough and I just wish I could go for a surf. But knowing that I have raised my children – that I have played a huge role in their lives – is more rewarding than anything."
Stephen March
34, Project Officer
On leave with Alexander for four months
"I absolutely loved it. I'm trying to figure out ways to spend more time with him. My parental leave break changed my perspective on what I value. It's now more about being around and looking after the family."
Renn Holland
38, Senior Retail Architect
On leave with Lourdes for 4.5 months, Enzo for 4.5 months from July 2018
"If you both take parental leave you actually come back to work with a whole lot more skills and a different mindset and point of view that massively benefits the company and your own career."
---
View the full exhibition by joining MH and our panel of fatherhood experts, this month, in Sydney.
When/ Tuesday 28th August 2018
Where/ Atrio, Level 7 Westfield, 85 Castlereagh St, Sydney CBD
Time/ 6pm for a 6:30pm start
Panel/
Dr Richard Fletcher – University of Newcastle
Alex Laguna – Founder of com
Tom Williams – Host of The Daily Edition

Dr Vijay Roach – The Gidget Foundation

Adam McDougall – NRL legend/entrepreneur