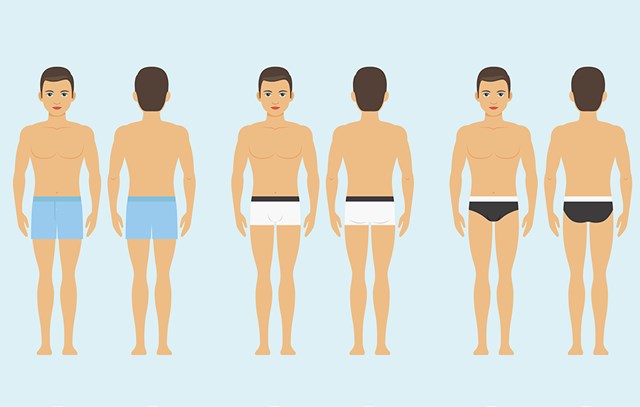 Buying underwear used to be a relatively simple matter that any guy could master by answering one question: boxers or briefs? Now, with literally hundreds of styles to choose from, each with its specific attributes, fabrics and designs, knowing what's right for you seems like it could require a team of researchers.
That's why we reached out to Michael Kleinmann, Editor-in-Chief of The Underwear Expert blog, and veritable professor on the matter. Here, Kleinmann breaks down each style and what it means for you.
Most guys own a pair of briefs, and for good reason: They're your standard, go-to underwear and come in a variety of rises, designs and colours. They cover your entire backside and package, but leave the upper thigh and side of the leg exposed, so they're comfortable to wear under just about anything.
Briefs are perfect for guys who need support or prefer to keep everything in one place but don't care for the excess fabric found in boxer briefs, boxers or trunks. They're great for moderate sports and everyday dressing.
Low-rise briefs sit below the natural waistline on the hips, so they provide just enough fabric to cover you up, and not much more. Additionally, many are engineered to enhance the package.
Wear them with shorts, low-rise jeans, and gym shorts.
The waistband of a mid-rise briefs sits at the natural waistline. Wear them with regular cut jeans, dress pants, and board shorts.
The waistband of a high-rise brief sits right below the belly button, providing a more traditional fit. A high-rise brief can streamline the waist, eliminating love handles and smoothing the stomach. Wear them with higher rise pants.
A true boxer brief will cover about half of your thigh, but many boxer briefs now cover about a third. They offer protection from chaffing during workouts and sports, and often are made with a moderate rise on the waist. They provide just about the same amount of support as a standard brief, and provide complete coverage.
These are great for everyday wear or for the gym. Pair them with gym shorts, and pants with coarse fabric, like a selvedge denim or winter wool.
Boxers are loose-fitting underwear with no support, but more breathability than any other undergarment. Many boxer shorts have an open fly, allowing the user an exit route with maximum ease.
Boxer short styles are varied, spanning from the underwear you may associate with your grandfather, to trendier, slim-fit cuts. They're great for wearing everyday, or for playing casual sports.
Wear more relaxed fits, like the J.Crew ones pictured, for maximum leg comfort. They're good for wearing with looser pants, pajamas, and shorts.
7\ TRUNKS
Trunks are quickly becoming a favourite cut for underwear among men in the know. Why? A trunk cut is a hybrid of a brief and boxer brief without the heap of fabric (in other words, they're boxer briefs with short legs and a square appearance). If you like briefs but want to try something a little different, consider trunks.
They're great for everyday, dressing up, going out, and moderate sports. Plus, you can wear them with just about anything.
Jockstraps offer complete frontal support and protection. They often lift the package up and away from the body, resulting in a cooler and dryer experience than basic briefs.
The pouch is harnessed with two leg bands that fall to the sides of the glutes on the upper thigh and connect between the legs to the underside of the pouch. Cups can be inserted into some jockstraps for protection during rigorous activities like sparring and martial arts.
Save these for high intensity sports, and pair them with uniforms, tight pants, and bike shorts.
This article originally appeared on MensHealth.com