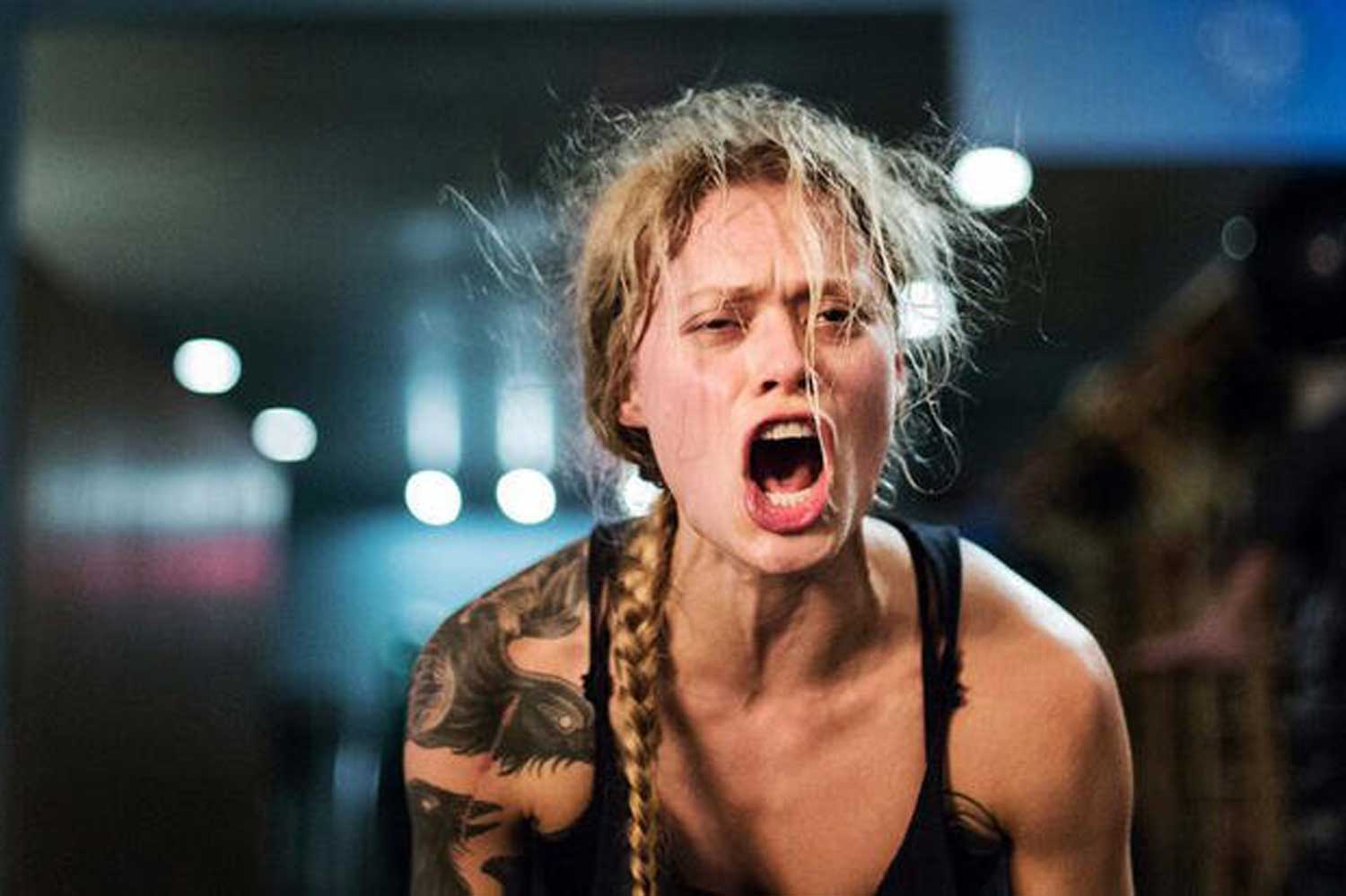 The session starts with a blood-curdling howl.
"Are you guys ready for the metal?," instructor Saskia Thode bellows. "I can't hear you. ARE YOU GUYS READY FOR THE METAL?!?!?!"
As Black Sabbath and Bolt Thrower throb from the speakers, Thode leads the class through an energetic flow. Gone is the meditative state typical of a standard yoga practice; it's burning in what Thode refers to as "hellish fire." In its place, there's tackling, "fuck you" poses, and lots of shouting and screaming.
RELATED: 4 Reasons Why Men Should Do Yoga
So begins a typical day at Metal Yoga Bones, a yoga class at Saint Vitus Bar in Greenpoint, Brooklyn. Classes feature punching, kicking, air guitar-playing, head-banging, and puddles of sweat, providing a space for release even for the most inexperienced yogis.
The German-born Thode has been offering her courses since 2014 at Brooklyn venues, as well as at metal festivals and international cruises. She has tattoos and long blonde hair that she keeps in a braid that falls down her back and reaches well below her hamstrings. A typical class begins with her taking a firm stance on her yoga mat and letting out a deep howl, which she calls a "warrior scream."
The origins of Metal Yoga Bones derive from Thode's upbringing: Thode was just 12 years old when her metalhead mother brought her to her first metal concert, and eventually she became a regular attendee at Wacken Open Air, a popular summer heavy metal music festival in northern Germany. When Thode was 18, she was involved in a car accident that left her severely injured, and her physical therapist suggested yoga. Initially hesitant, Thode gave yoga a try and ended up loving it.
When Thode was 18, she moved to New York City and found the traditional yoga studios too uptight and judgmental. So she founded Metal Yoga Bones as her own brand of high-intensity, high-decibel yoga.
RELATED: Four Biggest Myths About Yoga, Busted
"I don't really care who comes or what they look like. Fat, muscular, man, woman — there's room for everyone here," Thode says. "We end up having so much fun that most of my students don't even realize they are holding a yoga pose."
You don't have to be a certified yogi or even a die-hard metal music fan to enjoy Thode's classes. You don't even have to particularly like yoga. Devon James, 39, a personal trainer from Brooklyn who attended the class at Saint Vitus, had no yoga experience before he went to his first Metal Yoga Bones class, as he spent most of his time playing traditional sports and strength training. "I knew I could, and should, be doing more to balance out my training," James tells Men's Health. "I thought structured group yoga could be a way to make that happen."
At the end of the 75-minute class of "dripping, growling, and shrieking," James knew he'd be coming back for more. "It is physically challenging," he says. "And it's such a break from the slow, quiet, awkward-feeling traditional yoga classes and settings."
That's exactly the atmosphere that Thode is trying to create. "This should be a place for everyone, not just metal heads," she says. But even though there's no pressure to master an inversion or wear your most zen serenity smile during class, you do have to prepare to be screamed at — a lot. Thode compares her class to the locker-room pre-game pump-up tradition. "Guys really like to be yelled at. They might not admit it, but they like me to yell at them," she says, laughing.
This article originally appeared on Men's Health