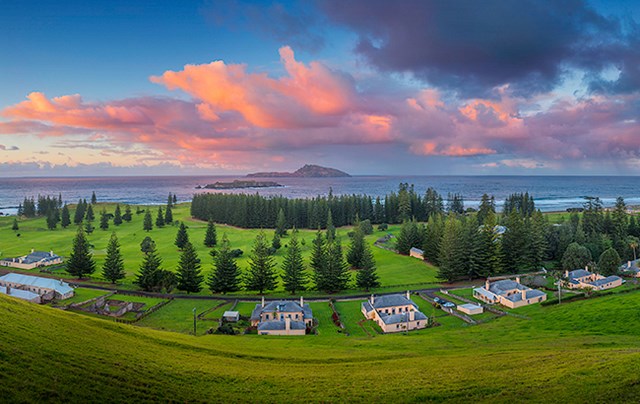 From the terrace of my apartment above Kingston on Norfolk Island I can clearly see Norfolk's smaller cousin, Phillip Island. My intended plan to trek to its peak, on the other hand, is fading from view – as Cyclone Winston, sitting 1600 kilometres north east, has left the sea way too big for my tiny transport to leave harbour. As for my plan to kayak around Norfolk . . .
Thankfully, Norfolk's charms are many – and on an island of just 35 square kilometres, handily nearby. Time to start exploring.

Hit The Beach
Your legs will enjoy a solid workout on the steep cliffside path that leads down to (and, of course, up from) pristine Anson Bay. But the exertion will be worth it – there's every chance you'll be rewarded with Castaway levels of solitude to enjoy one of Norfolk's most spectacular beaches. And if you're willing to cart your surfboard down, your reward will come in the form of outstanding, uncrowded wave action.
Dive In
With its sweeping arc of golden sand backed by stands of gloriously green Norfolk pines and glimpses of Kingston's historic colonial architecture, it's easy to see why Emily Bay has been voted one of Australia's top 100 beaches. And it's more than just a pretty face: a coral reef protects it from the Pacific Ocean – even one at the mercy of a cyclone – and its warm, calm, sealife-filled waters make me very glad I packed my snorkel.
Take In The View
The cliff-top walk that begins at the Captain Cook Lookout in lush, green Norfolk Island National Park packs enough jaw-dropping vistas to more than compensate for its lung-busting, quads-testing dips and climbs. And again there's every chance you'll have the scenery to yourself, save for the hundreds of seabirds swooping and soaring overhead. Local tip: keep an eye out for the Norfolk Island parakeet and the white-chested
white-eye, found only on the island.
Fill Your Belly
Paddock-to-plate eating may sometimes be not much more than a hipster fad on mainland Australia; on Norfolk, with its boat-delivered supplies at the mercy of the sea state, it's a way of life. Head to the award-winning Dino's at Bumboras for local seafood and meat, all served with fresh produce from chef Dino's garden. Or get your protein hit courtesy of the local Norfolk Blue beef at Hilli Restaurant.
At The Hilli Goat farm, owner Emily Ryves will introduce you to her free-roaming goats, then feed you the very freshest goats' milk cheese. Head on over to Steeles Point to wash it all down with a chardonnay, semillion, verdelho, merlot or chambourcin from Two Chimneys Wines, Norfolk's only winery and cellar door. And if you want to fend for yourself, pay a visit to the weekly farmer's market at the Bicentennial Complex in Burnt Pine or fill up from the dozens of honesty boxes showcasing local produce that you'll find dotted all over the island.
Feed Your Mind
Kingston, Norfolk's original colonial settlement, is reputedly haunted – and at night, with the wind whistling eerily in and around the buildings, it's easy to let your imagination run wild. While I may have come up spiritually bereft, intellectually I was fully sated. Forget the movie version of the Mutiny on the Bounty story, the settlement's four separate museums will immerse you in a real-life story of betrayal, audaciousness, survival and adventure that's far more thrilling than any hackneyed Hollywood script.
Swing A Club
Not too many golf courses sit in a World Heritage Site; the links at Norfolk Island Golf Club do (norfolkislandgolf.com). Typically of links courses worldwide, wind is not your friend (it certainly wasn't mine). But when the sun is shining – and it usually will be – there can be few more picturesque places to swing a club.
Grab A Bargain
Good news, cheapskates! Norfolk Island is, for the time being, excluded from Australian taxes and import duties, meaning a whole lot of consumer goodies, including Lego – the island, somewhat bizarrely, has two stores absolutely jammed full of the stuff – will cost you less than on the mainland.