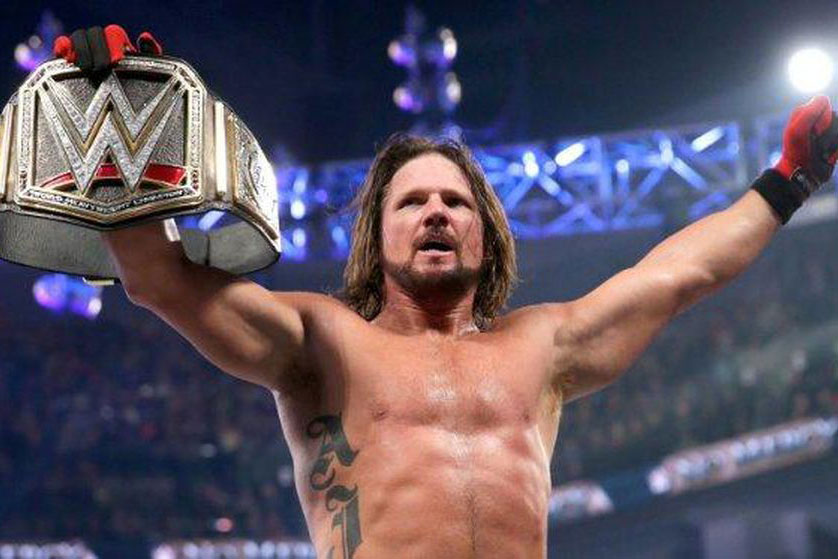 After 19 years in the ring, AJ Styles has certainly earned his nickname: The Phenomenal One.
The current WWE Champion took one hell of a road to get where he is today. Debuting in 1998 for various independent promotions, Styles has spent the better part of two decades throwing his body in and around the ring on multiple continents. He performed in Ted Turner's now-defunct WCW, took Florida's six-sided TNA Wrestling to new heights, showed up in bingo hall indie shows and main-evented sold-out events in Japan's 42,000-seat Tokyo Dome.
Nowadays, the 40-year-old North Carolina native finds himself on the industry's biggest stage next to the likes of John Cena and Brock Lesnar, holding the company's most prestigious title. If pro wrestling is a hybrid of sports and entertainment, AJ Styles is its Daniel Day-Lewis with bigger biceps; a bonafide veteran consistently being given the chance to prove he's still the best in the world.
With WWE's most massive show looming — WrestleMania, inside New Orleans' Superdome, on April 8 — MensHealth.com chatted with Styles about staying in Champion caliber shape while enduring the company's infamous city-to-city travel schedule.
MENSHEALTH.COM: HOW DOES STAYING IN SHAPE AS A PRO WRESTLER DIFFER FROM ANY OTHER ATHLETE?
AJ Styles: Well, first and foremost you got to look the part. If you're in the ring, obviously your shirt is off, you got to look like you could beat somebody up. But the problem is trying to get there. There was a time where young AJ Styles tried to lift 95 and it bounced off his chest because he didn't know how heavy it was. It was then I realized, "Oh shoot, man, I got to work out." I think I was in eighth grade when that happened. I've been working out since then, and figuring out ways that my body reacts. Different workouts that make it easier on me, especially as I get older.
WHAT SPECIFICALLY HAVE YOU HAD TO CHANGE ABOUT YOUR WORKOUTS AS YOU GET OLDER?
I'm not maxing out. Heavy weight is not that big of a deal for me anymore. I'm not out to get bigger. I'm out to maintain what I've got. Sometimes that's doing a lot more reps, or doing heavy one week and light the next.
I went to the Kansas City Chiefs facility with a friend, and they showed me the blood pressure cuffs. It's called blood flow restriction. What I have is…basically blood pressure cuffs. I get them where I need to be, where it's tight, but not too tight. As long as I can feel my fingers, there's no numbness. I workout and I feel like my biceps are about to explode. I move to my triceps, they feel like they're about to explode. And the great thing about this workout is, you don't go over 20 minutes.
THE WWE SCHEDULE IS A CONSTANT GRIND. HOW DO YOU KEEP UP WITH A CONSISTENT DIET?
Intermittent fasting. For me, it's easy. It's not hard at all. Truthfully, I don't eat that clean. Sometimes, like last night for instance, it was 11:30 before I got to eat. I got a quesadilla from Taco Bell. It sounds terrible, but it was delicious, and it was in my 8-hour window. So it works for me.
IS THERE SOMETHING YOU FOUND THAT'S PARTICULARLY BENEFICIAL TO HELPING WITH MUSCLE RECOVERY, AND AVOIDING INJURIES?
DDP Yoga is always a helpful thing. It's helped a lot of guys, and it's certainly helped me. Over time, you will have an injury that will pop up every now and then, but it's not because you're hurt, it may be because a muscle is trying to protect something. So you have to stretch that muscle out.
It's crazy to think that the worst thing on me is my butt. Because my hamstring is pulling on my butt, and my butt pulls on my back. So I've got to stretch all that out before it gets too bad, where it really bothers me. But that's just part of the wear and tear that happens to our bodies over the years. I've been doing this for 19 years. It was nice when I was 25 and didn't have to worry about any of this stuff, but as you get older, you have to take care of yourself or you'll be in trouble the next day.
EVEN AFTER ALL THESE YEARS, CAN YOU EVER GET USED TO SOMETHING THE SIZE OF WRESTLEMANIA?
I really don't think you can. It's amazing what we do get used to. But WrestleMania being only once a year, it's unbelievable to walk out in front of 100,000 people who just want to see you perform. It's a special moment. That's why there's so many other guys in this business who maybe should have got out a while back, but it's just hard to do when you're walking down the aisle and there's that many people with eyes on you.