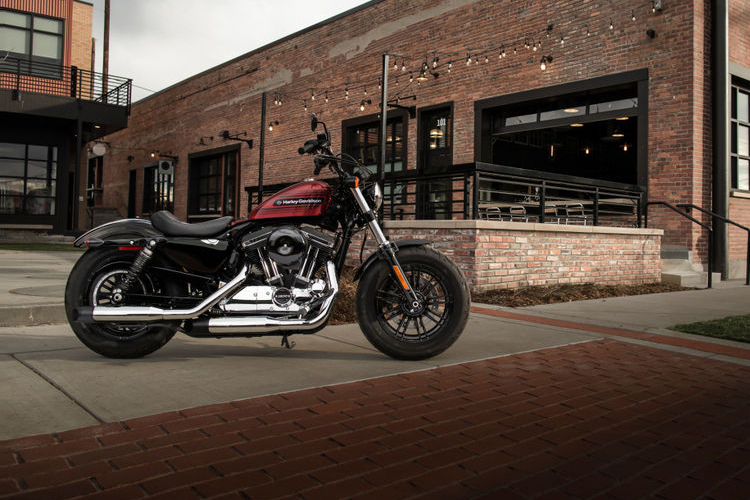 The Forty-Eight is the Swiss Army Knife of bikes. It has everything you need in every possible scenario that can be thrown at you and it's fun af.
Since its introduction in 1957, Sportster motorcycles have been repeatedly reimagined, in the hands of both the Motor Company and bike owners: The Sportster as a bobber, a chopper, a scrambler and a café racer; as a hero on flat tracks and drag strips and road-race courses; as an accessible entry-point for first-time riders, and as a custom-of-one cruiser.
The latest in a line of 100 high-impact motorcycles the company plans to introduce by 2027, these new high-bar Sportsters combine throw-back styling trends from the custom bike scene with the solid foundation of the Sportster platform and the punchy performance of the Evolution 1200 V-Twin engine.
The burly front end of the Forty-Eight Special – a 130mm front tire framed by 49mm forks secured in huge forged aluminum triple clamps – looks especially menacing when topped with a gloss-black, 7.25-inch high Tallboy handlebar.
That 2.2-gallon "peanut" Sportster fuel tank features rows of bold, horizontal stripes framing a simple Harley-Davidson text logo.
The Evolution 1200 engine features a black top end and an expanse of brilliant chrome below, including chrome primary, inspection and derby covers, and solid chrome muffler and exhaust shields. Chrome lower rocker boxes, pushrod tubes and tappet covers contrast with the black cylinders to highlight the V-Twin engine shape. High-performance Michelin Scorcher 31 tires front and rear are mounted on Black Split 9-Spoke Cast Aluminum wheels (16-inch diameter front and rear).
The Harley-Davidson Smart Security System and anti-lock braking system (ABS) are fitted as standard for the Forty-Eight Special model. Prices start from $18,995 ride-away in Australia and $19,750 in New Zealand.