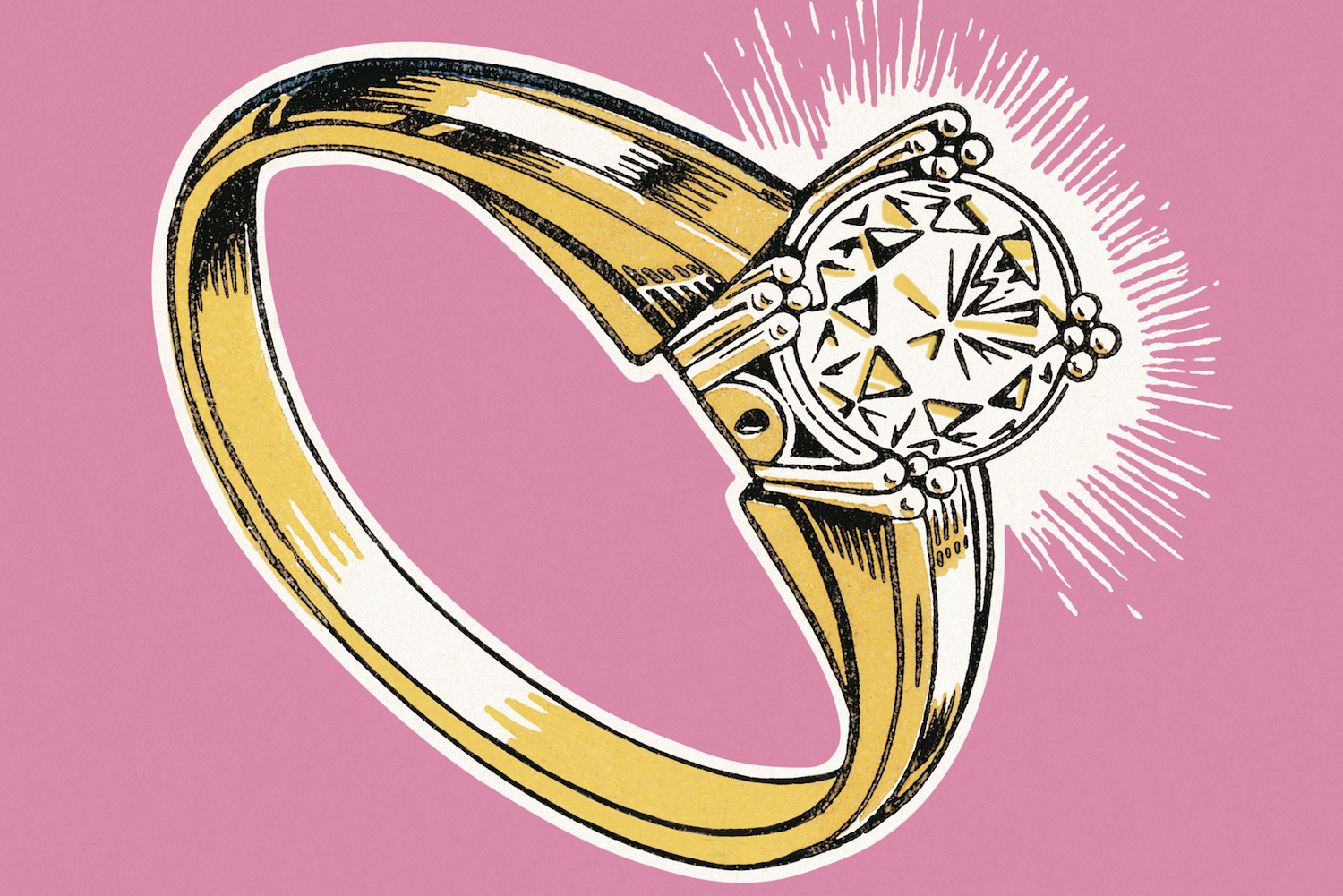 So you've found someone you're madly in love with and you're looking to spend the rest of your days together in matrimonial bliss. Congrats! The next step? Popping the question. (And getting a yes). Getting engaged is up there with some of the biggest moments in your life and nailing the occasion can be pretty nerve-wracking for the person who's bending the knee. So to take some of the stress out of planning a marriage proposal we've gone deep on everything you need to consider for when the time comes.
Here's your step-by-step guide for how to propose to your girlfriend or boyfriend.
First of all… how do you know if you're ready to propose?
"Deciding whether or not you'd like to spend the rest of your life with someone is not a simple decision," Lysn psychologist Noosha Anzab told Men's Health. "We all know marriage is a long-term commitment that requires two people to maintain the relationship through thick and thin and making that commitment needs some thorough time to 'think-it-through'."
Anzab says signs like comfortably discussing a future together, enjoying their company, loving their flaws and sharing the same values are good indications that you're ready to bend the knee. Read there rest of her suggestions to check off the list before proposing here.
Ok so you're ready to lock it down, what's next?
1. The blessing
Times are changing and there's no longer a hard and fast rule about asking for your partner's parents' permission to get down on one knee. So it's important to assess the family dynamics and expectations for yourself. Would your partner appreciate you getting the blessing of their mum and dad? Or would they think it's an outdated tradition? Depending on the situation, this might be the very first thing your do or the last.
Tania Saad, co-founder of proposal planning service my proposal co., says that can be the biggest dealbreaker when it comes to proposals.
"If your partner is close with their family, never forget to ask his/her parents for their blessing before you propose," she says. "This is a really respectful gesture and not only will your partner love that you involved their family but the family will too! Sometimes a touch of tradition can be very sweet and this one will get you off on the right foot."
2. The ring
Whether you choose a ring, design your own or propose with the promise of leaving it in her hands, the most important thing to remember is do not rush the process.
"Allow yourself a couple of months before you want to propose," Iva Tsenkova, a rep for bespoke jewellers Taylor & Hart, tells Men's Health. "This is possibly one of the most important jewellery purchases in your life, so take the time to do your research on what your partner will like."
If you're totally lost about the style you should go for, Tsenkova recommends looking at what they already wear.
"The easiest inspiration of all, is to look at what style of jewellery and clothing your partner already wears. Take into account what will suit their skin tone and daily lifestyle. For example, if your partner works with their hands, the metal and setting should reflect this, to avoid unnecessary damage to the ring."
And if you're really struggling to find the perfect engagement ring, keep it simple.
"Avoid going with a theme, it's wiser to choose something tasteful and classic that will stand the test of time."
Buying a ring
Before choosing your diamond, you must consider the 4 Cs of diamond quality: cut, clarity, colour and carat weight.
"While all of the 4 Cs are important, we suggest that clarity, cut and colour suit your preferences first, before considering carat weight, based on your remaining budget," Tsenkova says. "Of course, for lovers of the bold and bright, gemstone engagement rings featuring sapphires, rubies, emeralds or tourmalines are on-trend, offering a vibrant splash of colour, and a unique take on an otherwise traditional gift."
Designing a custom ring
"Nowadays it is a very easy and affordable process, in fact with the right jeweller, more affordable than buying an off-the-shelf piece," Tsenkova says. "Using a custom service empowers you to take creative control of your engagement ring design. The spectrum of bespoke ranges from a small inscription or gemstone set on the inside of your band, to having an entirely customised engraved pattern along the ring – it's totally up to you. Why wouldn't you choose a ring that tells your story if the price was the same as an off-the-shelf-piece?"
Budget
How much should you spend on an engagement ring and should you follow the three months' salary rule for buying an engagement ring?
"You might think that your partner will be most impressed if you spend as much as you possibly can on the ring, but this isn't always the case," Tsenkova says. "Nowadays, couples get engaged later than they used to and they're often already living together, sometimes with a shared bank account too. This kind of expense is more of a household decision than it was when people weren't living together already."
If you don't have much to spend, don't stress.
"Sticking to a budget won't compromise the quality of your ring. Instead, it forces you to prioritise which elements of the ring are most important to you," Tsenkova explains. "Consumers get better value by learning about diamonds, gemstones and engagement rings before making a purchase. In fact, couples often undertake the purchase together, as this kind of expense is considered a household decision."
Ring size
Guessing your partner's ring size correctly can be done with a little common sense and knowledge of average ring sizes.
"If you have a petite partner, it's likely that their hands are smaller with slender fingers, so try starting at a size H or I for women, and around an N for men," Tsenkova says. "If they're closer to an average height, chances are they have an average finger size to match. An average finger size is L½ for women and Q for men. Finally, if your partner is above average height or build, their weight will be naturally distributed across their whole body, so it might be a good idea to start at around a ring size N for a woman and a size T for men."
If asking out-right isn't an option, you could:
Ask your partner's family and best friends for help because they may be able to offer their advice.
Ask her or his friends to suggest going out to try on rings and have their finger size measured while there
Take a ring they already wear on their left-hand ring finger discreetly to get it measured. If you can't take this ring out of the home, trace the inside of the ring and compare against an online ring size guide.
If you do get the size wrong though, don't worry, you can always have it resized post proposal.
3. The location
Whether it's beachside in Thailand or you've rolled over in bed, the best place to propose is totally dependent on you as a couple.
"The best place to propose is somewhere sentimental to you and your partner, perhaps a first date location," Tania Saad, co-founder of my proposal co., told Men's Health. "Somewhere you both love to go to on date nights or where you first told them you loved them. Adding personal touches like this can make for a really thoughtful proposal."
4. The logistics
Tania says the element of surprise is the most important thing to remember when you're organising the big moment.
"You may have an urge to run your idea by your partner or tell everyone you know about your proposal plans – do not do this," she says. "It's the element of surprise that makes a proposal such a magical moment. Your partner may know you are proposing one day, you have probably spoken about it or even been ring shopping together but as long as they don't know how and when, that is the important part."
So how can you keep your proposal a secret when you're so excited/stressed?
"Select only a few very close people to tell," Tania advises. "It is hard to keep such an exciting moment to yourself but in order to not give away your plans, you should only tell a few trustworthy people. We have witnessed well-meaning family members accidentally giving away the surprise, so the less people you tell, the less chance your partner will find out."
A handy tip is to fake it until you make it.
"Think of a believable fake event to pretend you are taking your partner to, for example a colleague's birthday or engagement party. This will throw them off guard and will allow for the added bonus of having your partner dress up for the occasion!"
If organisation is not your forte, another option is to outsource the logistics of the event and use a proposal planner like Tania.
"Proposal planners help with every aspect of your special event, from initial ideas through to packing up afterwards when you head off to celebrate," she explains. "We help bring your ideas to life and also add a few of our own to make for a perfect proposal. We are romance experts, event managers, diamond specialists, personal shoppers, location scouters, creative stylists and everything in-between."
Proposal trends to consider if you want to get creative
Proposal photographers: hiring someone to covertly capture the big moment
Destination proposals: whether it's overseas or out of town
Petposals: using a cute and cuddly animals to pull off the big question
5. The words
Figuring out what to say when you propose (and actually spitting it out) might be the most stressful part of the whole experience. Finding the right words to express the magnitude of the moment can be daunting, but our advice? Keep it real when it comes to things to say. Don't rely on overused cliches and movie one-liners – just say what you really feel. If you're really struggling for inspiration, here are some ideas to get the words flowing.
Get a little nostalgic – open up about the first time you saw your partner or when you realised they were the one you want to spend the rest of your life with.
Highlight what you love about them – talk about the characteristics and quirks that you love the most about your partner.
Focus on your vision of the future – how does it feel to look forward to what's to come, how do you see you and your partner spending the rest of your live together?
Finish with four little words – will you marry me, duh.
6. The post-proposal
If all things go to plan, it's nice to have something sorted by way of celebration. Whether it's a FaceTime chat lined up with their parents, a bottle of bubbly, an intimate getaway or even a get together with your nearest and dearest – there are plenty of ways to celebrate the occasion immediately after.
How not to propose
Plenty of people throw around rules like "never propose on the jumbotron at a sporting match" or "never hide the ring in food" but hey, maybe your potential bride-to-be likes public displays of affection and breaking a tooth chomping down chocolate mousse. It comes down to knowing exactly what your partner will like. But some things that you can avoid across the board include:
Don't propose before you've discussed the prospect of marriage
Don't propose as a knee-jerk reaction
And for the love of God, do not propose near a body of water unless you have an iron grip on that bling