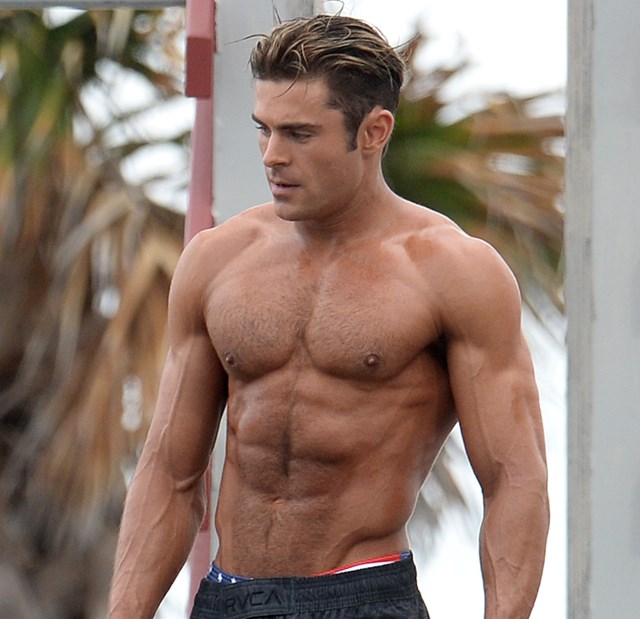 After topless pictures of Efron training for next year's Baywatch movie leaked, it wasn't just screaming teenage girls who were besotted by his body.
Bolting together eight kilograms of untouched muscle and reducing his body fat to five per cent, the young Hollywood gun completed an incredible transformation in rapid time.
His trainer, Los Angeles-based Patrick Murphy, implemented superset workouts and a zero-processed whole-food diet.
"We avoided plateaus with supersets and body splits," he says. "We constantly changed the weight of resistance and rest periods, altering cardio sessions and completing several two-a-day workouts."
WORKOUT: PEC 'N' ORDER
Build an Efron-esque chest with this workout. Superset each pair of chest exercises for a total of three rounds. Each set should contain 8-12 reps with a 45-second rest in-between.
1A. Barbell Bench Press
Using a flat bench, lift the bar from the rack and lower it to the middle of your chest. After a brief pause, push the bar back to the starting position and squeal like Efron in a musical.
1B. Standing Heavy Band Press
Attach the centre of a resistance band to a stationary object and hold one end in each hand. Stand with your back to the band, and with elbows bent, push forward, straightening your arms.
2A. Dumbbell Press From Ground
Lie on the floor with a dumbbell in each hand and knees bent. With the weights directly above you, lower them until your upper arms make contact with the floor.
2B. Power Push-up Claps
Get into a regular push-up position by placing your hands on the floor, shoulder-width apart. Lower yourself towards the floor by bending your elbows and explosively extend your arms so you push yourself high enough to clap your hands. Land and get the next rep going like you're <I>17 Again<I>.
3A. Incline Dumbbell Press
Lie on an incline bench with a dumbbell in each hand. From shoulder width, with wrists facing forward, slowly lower the weight before pushing back up and locking your arms at the top.
3B. Cable Chest Press
Stand 30-60cm in front of the cables, holding one single-arm pulley in each hand. Position the upper arm at a 90° angle and extend through the elbows to press the handles forward.
Click here for Men's Health's most popular workout – ever!
WORKOUT: TUMMY RUMBLE
Baywatch-style abs don't come easy. Superset each of these abdominal exercises for a total of four rounds. Each set should contain 15-20 reps and the workout should be performed three times a week.
1A. Cable Crunch
Kneeling below a rope attachment, keep your hips stationary and flex at the waist as you contract your abs, forcing your elbows towards the middle of your thighs.
1B. Balance Ball Crunch
Lie on an exercise ball and lower your torso into a stretch position against the curve of the ball. Flex at the waist by contracting your abs and curl your shoulders and trunk upwards until you feel it in your abs. Zac makes it harder by placing his arms straight above his head