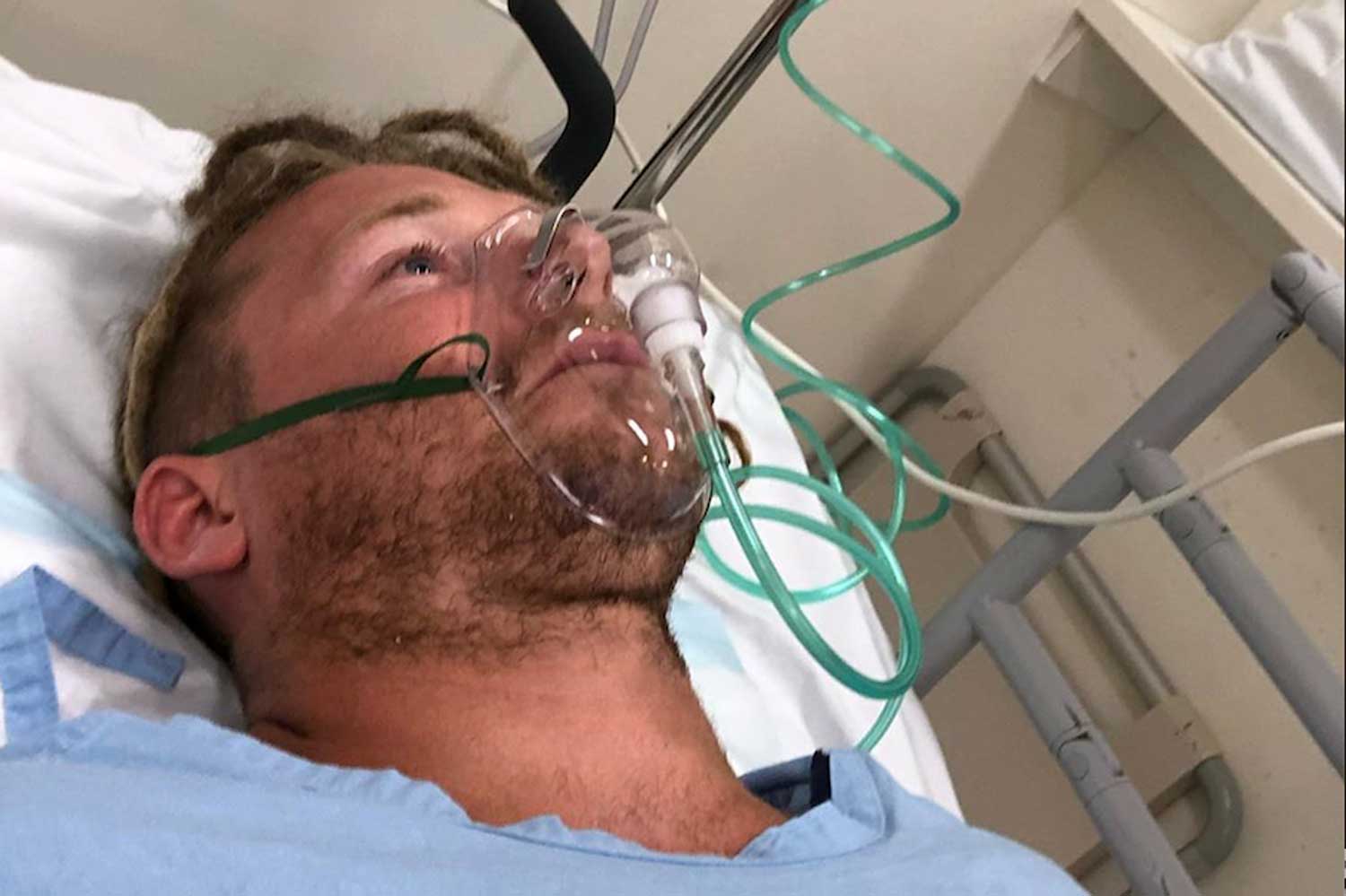 CrossFit champion and all-round legend James Newbury is currently in hospital recovering from what he described as a "freak accident" while Mountain Biking.
The 28-year-old took to Instagram to share the news, reassuring fans that he's doing well.
"Not the most ideal place to spend your 29th. I've been holding out the last couple days mentioning anything but figured I might as well "break" the news and I'll preface it with "I am fine" ????," he starts.
"Over the weekend I had a freak accident coming off a mountain Bike awkwardly head first into a tree, yes not the fastest way down the mountain that's for sure. I've come away lucky with only a handful of breaks through T-Spine 2 & 3 processes and 7+8th rib. I also coped a gash in the left lung leaving it a little worse for wear leaking some air."
Thankfully, Newbury says it won't be the end of his season after managing to escape without doing too much damage.
"The doctor said 'If you are going to break you back you've done it the best way possible for a speedy recovery' so this gives me confidence. How it happened I'm sure is the big question and the basic answer is I just fell awkwardly. I came around a corner not at a crazy speed and washed out the front wheel on some loose rocks, locked onto the breaks and went over the handle bars hitting the base of the tree with my head. Then I flipped and my mid back jarred a protruding branch. Luckily I was wearing a darn good helmet because the docs said it 100% saved me," he continues.

While many fans might be wondering what he was doing putting himself in that position, Newbury is adamant he wouldn't do it differently if he had his time over.
"I don't regret anything. If I wrap myself in cotton wool and deprive myself of things I enjoy then none of it is worth it for me. I need to be happy and I need to be sharing exciting experiences with loved ones for me to stay focused in other areas of my life and that's exactly what I was doing.
"This is life! I'll now be "working IN" as much as possible to allow the bones to heal well so I can get back to another thing I love which is training and competing (yes for the 2020 season). Thanks to my mates for helping me get back down the mountain and the docs and nurses for looking after me (even when you make me use the slide board to change beds ????) and @kaylabanfield for sticking by my bed the last days! I'll keep you guys updated."
And for those curious, "PS I will NOT be redoing 20.3 #shellberight."