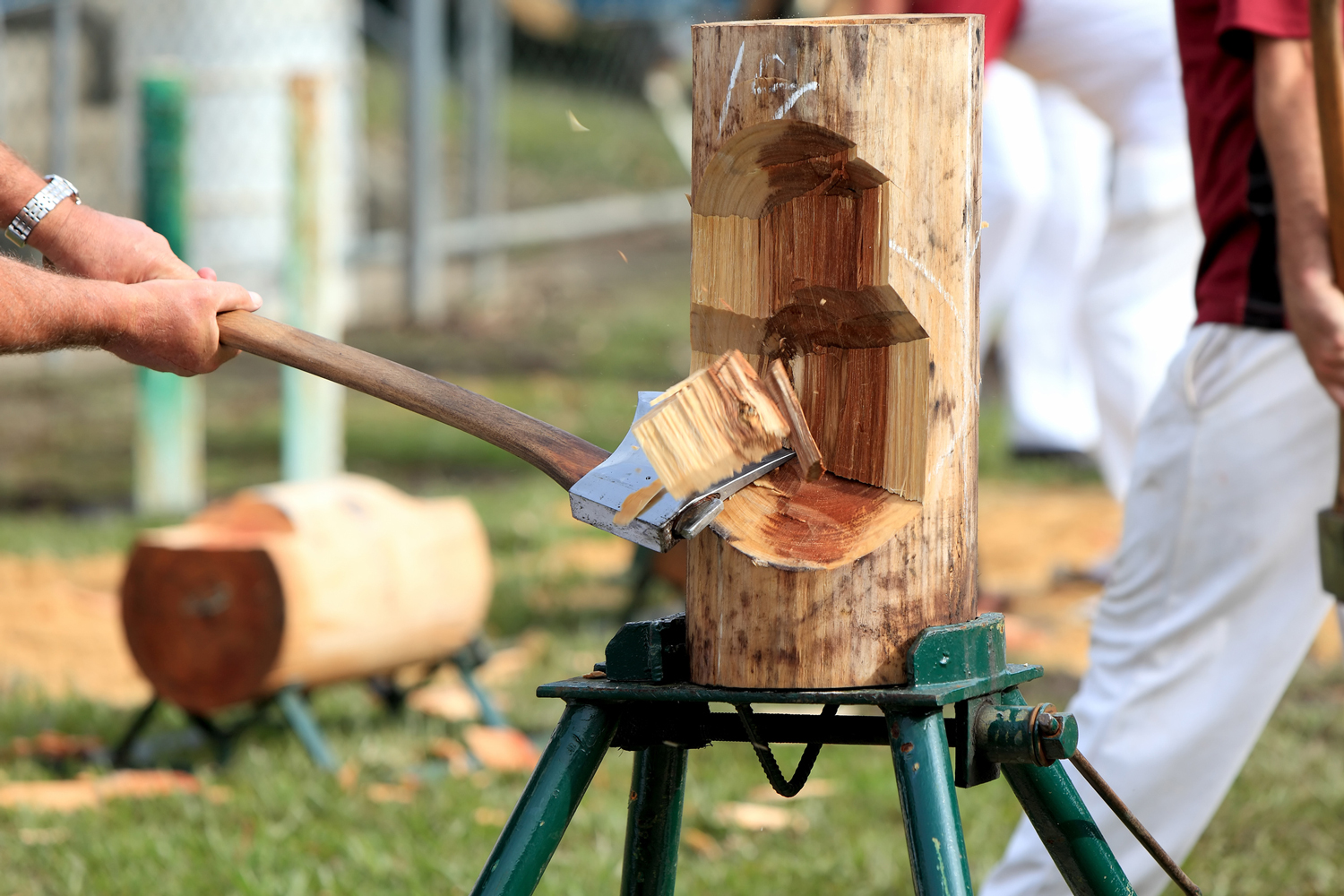 If you aren't a fan of traditional workouts and sports, there's still a way you can put an axe to any unwanted weight. Literally.
STIHL Timbersports is an exhilarating sport comprising of intense saw and axe disciplines, known to the uninitiated as wood-chopping. And the competitors, our modern day lumberjacks, are extremely strong.
Although flying under the radar of mainstream, Timbersports is a sport in which Aussies and Kiwis excel, and it makes sense as the disciplines were refined in Australia and New Zealand. In fact there are several Australians kicking huge goals on the international stage. And they're some of Australia's top athletes, with strength and stamina in bucketloads.
Mitch Argent, from Blackbutt in Queensland, just won the STIHL Timbersports Australian Champions Trophy and will now be heading to Europe to compete against 25 other countries for the STWorld Champions Trophy Title on 26 May in Marseille, France. The 22 year-old Australian Champ comes in at 105kg, and trains 4-5 times a week at home.
Another younger athlete, Lachlan Bryce of Murrurndi, is an upcoming star of the sport and knows the demands and brute strength required to excel to the top, as he continues his rise with the hope of competing in the STIHL Timpersports arena in the near future. Bryce has been named in the starting side for the Australian U21 team at the young age of 16, for a test series against New Zealand at the Adelaide show later this year. Bryce is the youngest ever on record to qualify. And whilst he's got a huge future in the sport, he's working hard to support his training and competition (axes can cost upwards of $850 each), sharpening others' axes for work.
The STIHL Timbersports comprises of 6 official events, each requiring their own skillset and areas of strength. We look at the events below, and the best exercises to train for them.
Hot Saw
For this discipline, the ultimate power saws are called into action. Hot saws are custom chainsaws powered by 'full race spec' motorbike or jet ski engines. Athletes have a space of only 15 centimetres to cut 3 complete discs from a 46cm wide log.
Rowing Machine
5-7 minutes, 30 second intervals
Single Buck
The single buck is a massive 2 metre long one-man saw. With this, the athletes cut off a complete disc from a 46cm log. The perfect mix of rhythm and strength are key to success, according to Stihl.
Tricep Pushdown/Extensions
3 sets, 8-12 reps
Pullups/Chinups
Two minutes, as many reps as possible (AMRAP)
Stock Saw
Athletes must cut 2 discs, called cookies, from a 40cm diameter log, within a 10cm mark.
Planks
5 sets, 30 seconds each
Standing Block Chop
For the standing block, the felling of a tree with an axe is simulated. A vertical log with a diameter of 30 centimetres has to be cut through from both sides. This discipline calls for both power and precision. Top athletes will aim for 8-10 hits in the front and then 8 or less in the back in a time of 12-20 seconds.
Cable Rotational Chops
3 sets, 8-12 reps
Kettlebell Clean And Squat
Two minutes, AMRAP
Underhand Chop
In the past, the underhand chop technique was used to cut a felled tree down to size. Standing on a horizontal log, the athletes cut with an axe through a 32 centimetres of wood. The log has to be worked from both sides. Nerves of steel are needed as the axe impacts just centimetres from the athletes' feet.
Kettlebell Massive Swings
Two minutes, 24 reps
Springboard Chop
The springboard imitates an old lumberjack technique to overcome hard root wood. The athletes cut two pockets in a vertical log 2.7m high. With the help of the springboard they climb to the top and cut through a 27cm diameter log from both sides. Strength, speed and agility are needed for a win.
Squats
3 sets, 8-12 reps
Box Jumps
Two minutes, AMRAP