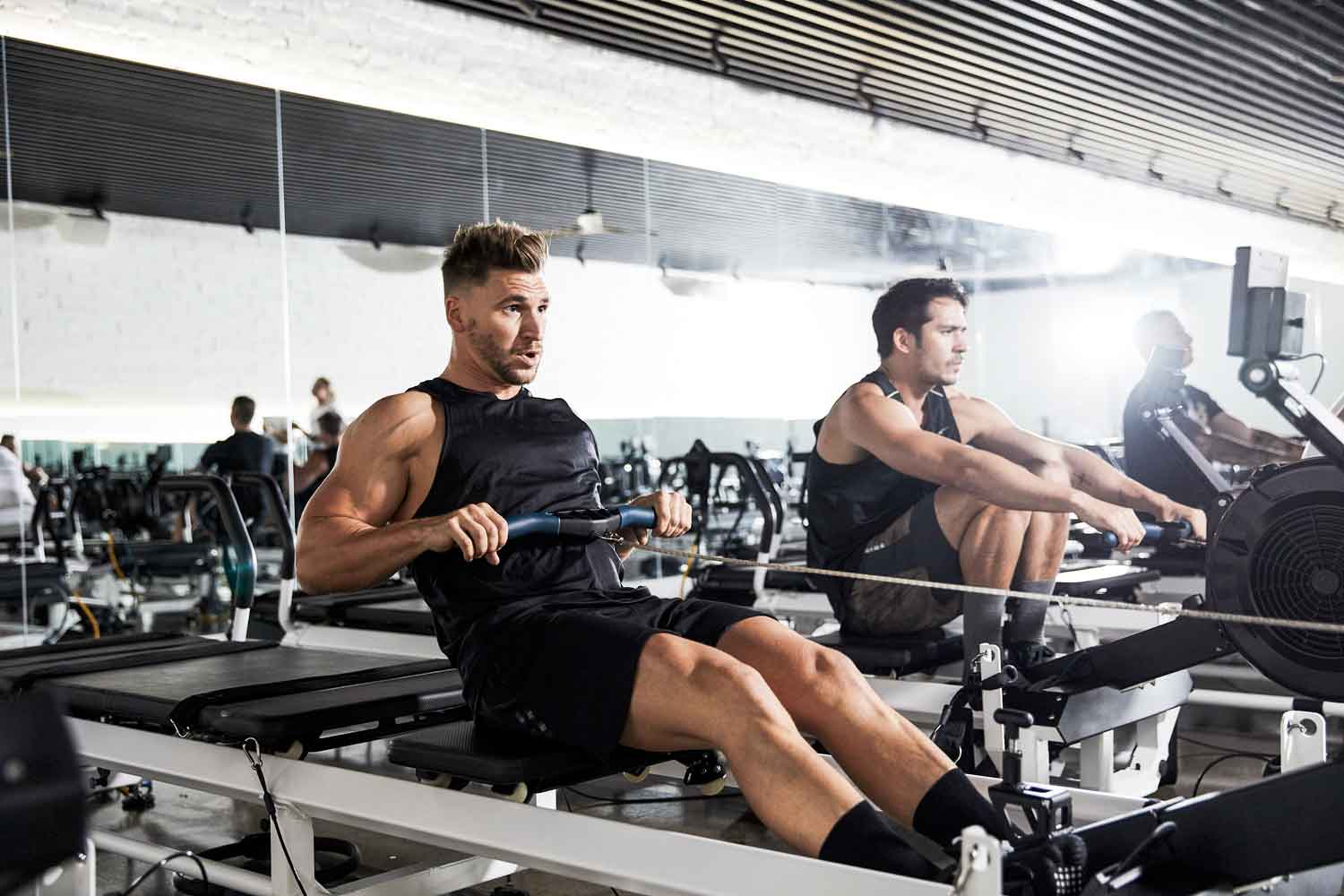 Hence my initial reaction to Strong Rowformer, a new 50-minute workout that purports to fuse the strength benefits of resistance work, the cardio perks of rowing and the holistic functionality of Pilates. It reeked of slickly packaged baloney.
Yet I couldn't dismiss it completely. The founder, Michael Ramsey, is a respected fitness entrepreneur with a track record for being ahead of the curve. Plus, I had unfinished business with rowing machines. A couple of years back, I clocked an Instagram post from Hugh Jackman in which he raved about cracking the gym milestone of rowing 2000m in seven minutes. "When you don't have time, throw this one in," Jackman wrote. "Strips fat. Uses every single muscle."
This really grabbed me. A total-body workout that burned fat while providing cardio fitness and muscular endurance? It sounded like the ultimate in bang-for-your- buck training. Breaking seven minutes for a 2000m row became my new fitness goal. Until I discovered just how hard it really is – after a month I'd barely got within 60 seconds.
Then there was the Pilates side of things. Physios and chiros had urged me to try it for years without success. I couldn't shake my suspicion it was basically a glorified stretching session for haughty ballerina types. But then the paltry exertion of a backyard kick-around with my toddler left me with a pulled hamstring. My desk-jockey lifestyle had left me with all the flexibility of a breadstick. Some mobility work, I realised, was long overdue. Reluctantly, I decided to give Strong a go.
CALL TO ACTION
Strong's first studio opened in the Melbourne suburb of Elsternwick at the end of last year. It's a cool, monochromatic space dominated by a row of 15 contraptions that look like medieval torture machines. Each one is a Pilates Reformer bed with a Concept 2 rowing machine fused at the other end. My 9am class is called "Strong Resistance" and I'm just a little surprised to find it's largely made up of conspicuously athleticlooking men wearing grip socks.
Our instructor today is Timea Berenyi, a sprightly blonde Canadian with a taut physique whose upbeat tone masks her inner drill sergeant until it's far too late. To start off, it's all fairly benign. Standing at one end of the bed, we do an upper-body circuit punctuated with shoulder presses, biceps curls and triceps pull-downs using the machine's straps. Then it's straight into a battery of rowing sprints as the music changes from RnB to pounding house.
Brows are hurriedly mopped as we move into some lower-body work with a series of kneeling glute exercises and sliding donkey kicks that slam my core and make my lower body tremble. Then it's back onto the rower to crank out a Tabata sequence of five sets of 200m intervals.
Everyone is breathing hard now as we wobble through an evil mix of squats and lunges that involves static holds and pulses at the point of maximum resistance. There's a barrage of T-push-ups before the final challenge: 500m on the rower as fast as you can.
Then the lights come up and I'm passed a chilled towel scented with eucalyptus. The sheer variety of the moves means the 50-minute workout has whizzed by. I feel like I've worked every muscle in my body and, while it's proved demanding, I'm buzzing with that euphoria only a top session can induce.
AWAKEN MUSCLE
Afterwards, I sit down at a local café with Ramsey, the founder of Strong. Clean-cut and muscular, the 31-year-old is a qualified PT with a Masters in marketing who's already made a killing out of the fitness game. Ramsey spotted F45's potential straight from the off and went on to own six hugely successful franchises in Melbourne and Darwin – his Port Melbourne gym was named the world's best F45 studio three years in a row.
Strong's origin story began when Ramsey broke his ankle just over a year ago. "I was going for a run in Surrey Hills," he recalls. "I sidestepped and rolled my ankle so badly that I fractured the fibula and damaged all the ligaments."
It proved an awkward injury: the ligaments didn't heal properly and Ramsey eventually required surgery. He didn't make a full recovery for 12 months and confinement to a moon boot had a debilitating effect on his lower-body strength. "Everything became weak," he recalls.
In desperation, Ramsey turned to Pilates ("before I always thought it was a girls' thing," he says). The results were instant as he harnessed the power of muscle groups he'd never previously trained. "But when I got stronger and my ankle got better, I just found Pilates a little bit boring," he admits. "It lacked that high-intensity element that I really loved with F45. It just didn't get my endorphins going."
Ramsey was aware the Pilates industry was predicted to boom in Australia. Could he find a more high-octane version that delivered the benefits while upping the physical demands? His research eventually led him to an exclusive gym in California called HARDTFIT, where the owner had just patented the Rowformer machine.
"I just had to try it," Ramsey recalls. "So, I jumped on a plane, went to Orange County in the States and did a week of classes. And it was the hardest workout I'd ever done in my life. By day three my core, legs and glutes were so sore that I barely got through the week."
Ramsey was ready for a new business challenge. He'd sold his F45 studios despite their success because he felt creatively stifled by the franchise model. What he yearned to do was create his very own.
He aimed big. Aside from Elsternwick, two more Strong studios launched in Mornington (Victoria) and Unley (South Australia) in January, with more set to follow. "We have 80 franchisee requests on a waiting list at the moment," Ramsey says.
It's an encouraging start. Particularly given a Rowformer bed costs $13,400 a pop and a studio requires a minimum of 15 of them. For the moment, Ramsey says, he's still refining the formula and finessing the overall experience. But early signs are impressive. From gym lockers with in-built phone-chargers to the sort of interior-designed shower facilities you'd normally find in a boutique hotel, the Strong experience is unusually polished. Ramsey even spent six months working with a perfumer to create a brand scent that's detectable when you walk in. "It's got some cognac in it because we play a lot of Jay-Z and he drinks a lot of that," Ramsey grins. All the studios will conform to this exacting design template. "Everything needs to be the same," Ramsey states. Prospective trainers – a mix of pilates teachers and PTs – are required to pass the six-day intensive course at the Strong Academy to brush up on their physiology, learn the methodology and hone the finer points of rowing technique.
Franchisees will be required to pay nine per cent of revenue and a further two per cent for a marketing levy that'll go into a national PR strategy. It's an ambitious long-term plan. But in 12 months' time, Ramsey's goal is simple. "I'd love to have 10 very strong and highly profitable businesses with a lot of advocates and customers who are going, 'This has changed my life'."
SPECIAL EFFECTS
But will it transform your fitness? Well, there's a good reason why all manner of athletes from UFC fighters to rugby players incorporate rowing machines into their training. It's one of the best ways to torch fat, build muscle and forge stamina. In fact, Harvard University found an average man weighing 83kg can torch a white-hot 1580 kilojoules by rowing for just 30 minutes. And rowing intervals are the bedrock of Strong.
That's why Jane Erbacher got involved. The Melbourne trainer fell in love with rowing machines while trying to qualify for her certification at Gym Jones in Salt Lake City (AKA "the world's toughest gym") that forged the bodies of Superman and the actors in 300. One part of the certification requires men to do a Jackman and row 2000 metres in under seven minutes, while women must finish under eight. Suffice to say, this is a hardcore challenge. "One guy even burst his eyeball trying it at Gym Jones," Erbacher recalls. "At first, I was like, 'Whoa! I'm not going to be able to do that because I have no idea how to row'."
So, she knuckled down, honed her technique and promptly nailed her time to clinch her certification and bragging rights until the end of time. Ever since, Erbacher has travelled the globe as a specialist rowing trainer, instructing people on how to perform better on rowers and ski-ergs.
Her evangelism for rowing machines is two-fold. "Rowing, when done correctly, is amazing," she insists. "It activates your posterior chain, protects your lower back, builds your core strength and creates really nice posture. The biomechanical pattern in rowing can bulletproof your body."
Erbacher also loves the no-bullshit accountability of the Concept2 rower – there's nowhere to hide from the monitor. "It's so measurable. You just can't cheat," she says. "The screen blatantly tells you the effort that you're putting in."
She was initially hesitant when first approached to oversee the rowing program and training at Strong. Erbacher's fear was that the rowing would be an afterthought, tagged on for a perfunctory cardio hit. "But what I love about Strong is that it's not like that," she says. "There is a really technical element to the workout. They're actually concerned with people measuring their progress and moving correctly to build power, strength and sustainability."
This is why Strong's rowers are designed differently to traditional machines. The foot position is placed lower than the seat in order to reduce the load on your lower back and push the emphasis onto your hamstrings to foster better technique (and protect you).
Moreover, as a complementary discipline to rowing, Pilates completes "a match made in heaven," Erbacher says. That's because it'll develop neglected muscle groups, improve flexibility and build core strength. "The strength movements will make you a better rower and the rowing movements will make you stronger, too," she says. "It's all about creating great posture and really strong bodies."
This is what makes Strong a genuinely intriguing addition to the fitness scene. Sure, the workouts are lively and deliver that all-important hit of endorphins. And, yes, they'll prime your mirror muscles, too.
But behind the achingly hip studios and pumping soundtrack, Strong also smuggles in those dull-but-worthy exercises (think hip extension, glute activation and lots of core) that, let's face it, you'd normally skip.
If F45 rebranded circuit training, Strong is attempting something far more ambitious: they're taking functional strength and making it sexy.