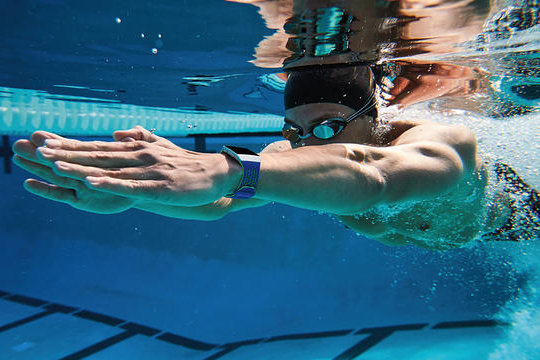 Love them or hate them, smartwatch fitness trackers are now socially acceptable to wear, and they provide great feedback and metrics about your health. No longer the domain of workaholics unable to disconnect, the fitness community has claimed ownership of the devices and put them to good use.
With so many options out there, what will work best for your goals? It all depends on what you're willing to spend and what features you deem necessary to have on your wrist. Whether you want simple heart rate measurements, or a comprehensive overview of your sleeping patters, there's a tracker for you.
We took some time to look at the major players and declutter the noise, highlighting the benefits and pitfalls of each.
APPLE WATCH SERIES 3
The Apple Watch is a great product for Apple users, and the latest editions is basically the equivalent of having a phone on your wrist. The new LTE feature means you can still get call, messages, notifications and even stream music without taking your phone with you or being within bluetooth range. Thanks to it's Apple ownership, the watch has one of the most comprehensive and diverse offering of apps and features, including Apple Pay, providing a real incentive to leave your phone at home, particularly when going for a workout.
The watch has all the standard features from the previous two versions. Heart rate monitors, app integration, and goal setting all come standard, as well as non-fitness features with everything from your email to Instagram available at a glance.
Having Siri, Apple's voice assistant, on demand is a great feature for use when driving. With a simple command you can choose a song, set reminders, or even ask for directions, getting gentle taps on your wrist when you need to turn a corner. While it sounds too good to be true, the voice assistant on this watch is actually extremely accurate and is a great way to multitask while on the move.
The battery life is still an issue. You could potentially squeeze out two days with limited use and in "do not disturb" mode, but set your expectations low as it's more likely you'll only get one day. This means you can't realistically rely on the watch as a sleep monitor, and if you do, you'll likely wake without any power on the device. Another area for improvement is the heart rate monitor, as it isn't continuous, and records at intervals. It's not a deal breaker, as you can manually check up on your heart rate at any time, but having continuous metrics throughout the day would be a definite improvement, especially when it comes to identifying abnormalities.
Another downside to the Apple Watch is that it only syncs with an iPhone, and an iPhone is essential for setting up the watch. Without an iPhone you won't be able to activate the watch. However, the features of this watch provide a good case for making the switch to the Apple ecosystem.
Apple Watch 3, starting at $559
GARMIN Vivoactive 3
Garmin would have to lay claim to the largest selection of fitness tracking smart watches, with a huge variety aimed at different athletic pursuits. Their bread and butter are in GPS technology and wearable tracking devices, so they're able to master the art.
The newly released Garmin Vivoactive 3 is going to be the best bet for the everyday athlete, thanks to it's huge variety of fitness and sport specific GPS tracking. With heart rate monitoring the Garmin ups the ante with VO2 and stress level estimates as standard.
This is one of Garmin's more stylish designs, moving away from the clunky big faces of their other designs. The battery life of the Vivoactive 3 is also a big plus, with 7 days in smartwatch mode, however only 13 hours when using GPS, it's still one of the better battery lives. The Garmin also includes contactless payment, a huge selling feature for the brand on this edition.
NOKIA ACTIVITE
Yep, Nokia do watches now. This fitness and sleep tracker is definitely the truest watch, with an analog face that takes measurements and feeds them directly back to your smartphone app. There are no in-watch apps, changeable faces, music storage… it's a watch. It tells time.
This option is for those looking for a fitness tracker that doesn't look like one. It's a stylish option that looks, acts, and feels exactly like a watch. The trade off for style are the extra analytics and notifications that come with other options, however sometimes a watch just needs to be a watch.
One downside is that health data and feedback isn't available at a glance, however it's not far away on the smartphone app. Given the simplicity of the model, the battery life is huge, running off a traditional watch battery for 8 months.
FITBIT IONIC

Fitbit are the original when it comes to wearable fitness trackers, entering the market all the way back in 2007 with their basic step counter. Since then the product range has evolved significantly as the fitness tech giant has bought up other business, expanding their available resources. This has all lead to the recent release of Fitbit's first smartwatch, the Ionic, just last month.
Surprisingly late to the game for the innovative company, the wait was worth it, with a watch that goes beyond most. Highlights include a 4 day battery life, storage for 300 songs, and even built in instructional workout videos. The data collected by this watch is also the most comprehensive on the market, with GPS, constant heart rate monitoring, and even blood oxygen level recordings.
The extended battery life means you can keep the tracker on while you sleep, analysing movement patterns and potential sleep apnea indicators, as well as reminding you to get to bed at a reasonable hour. Beyond health analysis, the watch is another that allows contactless payment, as well as mirroring smartphone notifications.
Unfortunately, due to it's recent release, the Fitbit app store isn't as varied as other earlier offerings, but developers will surely catch up in the near future thanks to the superiority of this device. Without a microphone, the watch is also unable to take calls directly from the watch, however this is still a unique feature to Apple and Samsung watches, and doesn't seem to be a highly used feature by users. You won't be missing out by going down the Ionic route.
STRIIV
Striiv are a late comer to the category, and they appear to be a slicker version of where Fitbit was at five years ago. However taking time to master their product has resulted in a smooth and simplified offering, and a solid product if you're looking to test the smartwatch waters without spending truckloads of money.
The Striiv watches lean more towards the 'band' side of the category, meaning they don't get in the way and are very active looking. Black and white, simple displays make this very much about fitness tracking, and less about flashy gimmicks. They measure and record all the necessities with none of the fluff, all linked to a comprehensive fitness tracking smartphone app. The base model has a five day battery life, with increases as you progress through the range.
Whilst the functionality may seem limited when compared to other smart watches, all the basics are packed into an affordable, fitness focused smartwatch that is easy to navigate and use.