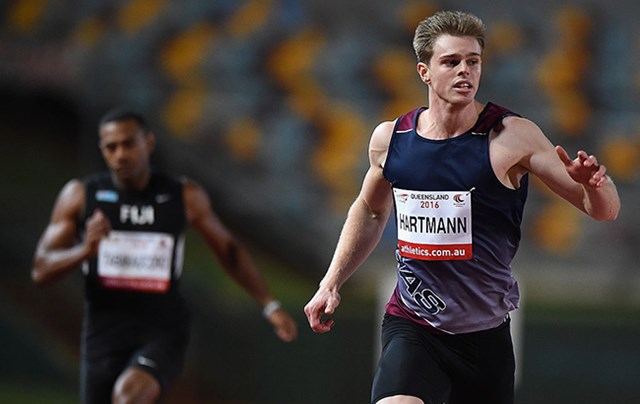 NAME Alex Hartmann
AGE 23
SPORT 200m sprint
AUST. RANKING No.1
LIVES Brisbane
HEIGHT 192cm
WEIGHT 90kg
200M PB 20.45 seconds
The stand-up-and-tell-us-a-little-about-yourself routine is usually a waste of time for all concerned. But not always. When Alex Hartmann took his turn to speak at a relay camp at the Australian Institute of Sport recently, he knocked the socks off special guest Matt Shirvington.
Specifically, Shirvington asked the runners to "tell me what makes you different to every other athlete".
Hartmann met Shirvington's eyes. "My name's Alex Hartmann and I can guarantee you that I'm the hungriest dog in the room and I train harder than anyone."
"Do you, mate?"
"You bet."
Once Australia's best and most diligent sprinter, Shirvington was rapt. "Everyone else went down the technical route – their start, their stride length," he recalls. In Hartmann's focus on work ethic, Shirvington heard a kindred spirit. "It's one reason I think he is just a superstar in the making."
Hartmann would agree. Having qualified for the 200 metres in Rio by recording a personal-best 20.45 seconds in Canberra in February, he's aiming high. While not promising to collect a medal this time, he intends accomplishing some remarkable feats before he hangs up his spikes. These include breaking Peter Norman's Australian 200m record of 20.06 seconds, which has stood since the famous "Black Power" race of Mexico 1968; shattering the 20-second barrier; "and maybe even taking down Usain Bolt's [19.19] world record – that would be lovely". And why stop there? "Eventually, I'd love to be the first man to go sub-19. To go into the 18s . . . that would be a massive moment in history."
The hard truth about Rio is that unless Hartmann gets quicker between now and then he'll get just close enough to glory to eat Bolt's dust. He concedes this, but also knows in his bones there's more speed in him. He's also had a gutful of negativity. No Australian athlete has set himself a more daunting agenda. He's a lesson in reaching for the sky and not letting anything discourage you.
Don't forget to download the Olympics on 7 app!
Get it for Android – rio.seven/googleplay
Get it for iOS – rio.seven/apps
Race to the Top
"I have this drive to keep working hard and prove people wrong," says Hartmann, who on this cloudless Brisbane afternoon is sitting on a bench overlooking a park near his home in the northern suburb of Boondall. He's still feeling faintly nauseous from a morning session in which he ran nine 150m efforts at close to full tilt.
"There've been quite a few people over the years who've pretty much said, 'Why do you bother?'," he says. "I'm sure there's a reason they said that. Maybe they were going through a rough patch in their life."
Pressed, Hartmann says their attitude sprang from a simple fact: he's a white man in a domain ruled by athletes of West African descent. You can debate what's behind this dominance until you're hoarse. Be as delicate as you like. But the dominance is real and has no doubt discouraged many a gifted dasher.
Not Hartmann. "Your thoughts become reality," he says. "You set yourself a goal and commit to it. If I don't believe in myself and think I'm going to become an Olympic champion, then I won't. So every day I go through the process of telling myself there's no reason I can't achieve this."
Making friends isn't a priority right now. He sticks to his small circle: his mum, girlfriend, coach, weights coach, physiotherapist and masseur. "I don't have much of a social life. I can't hang around with anyone who complains about something but never does anything about it. Anyone I'm friends with is a happy, positive person working towards a goal."
Hartmann won't lose a minute's sleep over skin colour, according to his coach, Travis Venema. "He's as tall as Usain Bolt. That's all he's interested in – he just wants to eyeball the big man. And then back it up with his run."
Think Fast
Life took shape for Hartmann when he won a race in preschool. The heady mix of a cheering throng and post-race plaudits hooked him. He spent his early teens losing to better-trained boys from private schools. Post-school, he carried a tetchy attitude into his studies at Max Fitness College, until one day a wise head set him straight: "Look, mate, you've got a choice – you either start being happy or go home."
A turning-point epiphany followed. "You can control your thoughts," says Hartmann. "You can control everything that is you." It's a powerful tool. "Because I don't think even many athletes realise that what you think subconsciously affects your whole day. If you can think subconsciously that you're going to be a success then you're leaps ahead of everyone else."
Last year he quit his job at Big W so he could train 11 times a week. And through Tinder found a girlfriend, Amy, who doubles as his PA and insists he stretch when he doesn't feel like it . For a man in a hurry, it seems like everything's falling into place.
"Alex has the ability to be the fastest Australia's ever produced, in both the 100 and 200 if he wants to be," says Shirvington, who loves Hartmann's Bolt-like build. "He's in the new mould of sprinter" – tall but not the least ungainly.
Speed equates to X (stride frequency) times Y (stride length), explains Shirvington. Taller sprinters tend to be limited by a weak X. But Hartmann can turn it over with all but the absolute cream – Bolt, Tyson Gay, Justin Gatlin – and with coach Venema he's working on matching them.
While Shirvington ran his fastest 100m at 19, everything's pointing to a later peak for Hartmann. Maybe the 2020 Olympics will be his time. Shirvington's advice: "Forget about that. Just go and make it happen. Your best time can occur any time in a 10-year window. You never know when the perfect storm will happen. Alex doesn't need to wait and I know he won't wait. He'll go out and give it everything. I really like what I see with him. I like his demeanour. I like his physique. I like the way he runs. I think he's hungry enough but also patient enough to make it happen."
"It" surely won't be gold in Rio; a finals berth would be astonishing. The man himself promises this: "I'll be doing everything to make sure I leave an impression on the world." With either word or deed, leaving an impression is something of a Hartmann specialty.
Built for Speed
Being panther-like across the ground requires total-body strength and power, as well as synergy between your upper and lower body. "You need sturdy legs, of course, but muscular shoulders, pecs and back all play a role in the arm drive," says Hartmann. "Since I started doing workouts like this, I've stacked on a lot of muscle, and all the track work means fat doesn't get a chance to stick to my body, so I'm lean all year round."
Barbell Squat
Stand with your feet hip-width apart, the barbell resting on your shoulders. Push your bum back as though you're sitting down, descending until your thighs are parallel to the floor. Drive up to the starting position.
Cleans
Nudge your shins up to a barbell. Bend and grip it overhand, keeping your chest up. In one continuous movement explosively lift the bar off the floor, turning it in your hands so you finish holding it under your chin.
Push Press
Hold the barbell under your chin. Bend at the knees, then drive up with your legs while simultaneously pushing the bar overhead.
Deadlift
Stand in front of the barbell, feet hip-width apart. Hold it with an overhand grip. Keeping your head and chest up, straighten up until you're standing tall, pushing forward at the hips at the top of the movement.
Bench
Lying on a flat bench under the loaded barbell, grip the bar at shoulder width. Push your feet into the ground and your back into the bench. Unrack the bar and lower slowly to your chest, keeping your elbows in tight. Drive back to the start position.
Single-arm Row
Using a bench for support, bend from the waist and grab a loaded dumbbell in your right hand with a neutral grip. Squeeze your back muscles before rowing the dumbbell up to your ribs and lowering. Repeat on your left side.