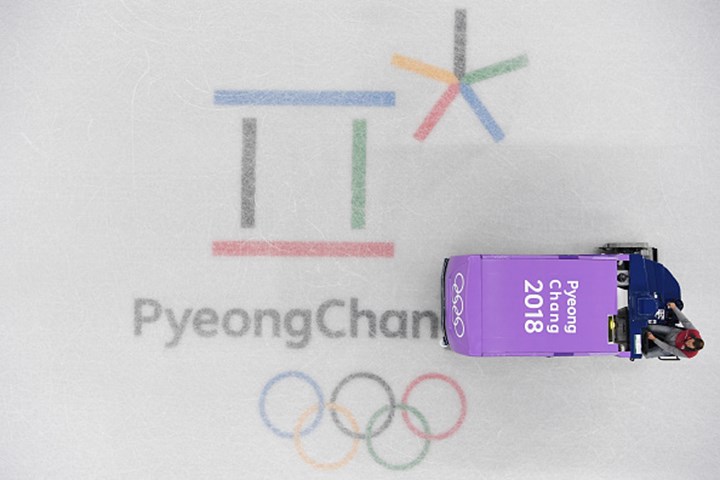 With only a few days of competition left for this year's Winter Olympic Games in South Korea, we've already been gifted a mountain of epic performances, inspirational stories and incredible feats of athleticism. On the flip side, we've also been presented with some hilarious moments that have left us scratching our heads. These moments are sure to live on in memes for years to come, and we're lucky enough to have lived through them. We say 'thanks for the memories Pyeongchang' as we salute our list of 5 favourite 'WTF' stories from the Games so far.
North Korea's "Army of Beauties"

One of the early entries into the list, the North Korean cheer team became an instant viral internet sensation, thanks to their enthusiasm, matching outfits, and cheer routines. North Korea, more well known for their military threats than their cheerleading, sent the "Army of Beauties" to the Winter Olympics. Interestingly, the synchronised team of 229 women were reportedly ordered by Kim Jung-Un to "pierce the heart of their enemies". Wow, heavy stuff, and they really missed the mark.
The Canadian Beer Hero
In a story that Australian's can definitely appreciate, one supportive husband was seen chugging back beers to calm his nerves during his wife's performance… at 9am in the morning. Canadian curler, Rachel Homan, was competing this week when one eagle-eyed spectator noticed her husband, Shawn Germain, heading back for his third and fourth beer of the morning. In a classic response, Germain turned to twitter to explain his situation. "I'm not drunk, I'm just Canadian."
World's Most Average Skier
This one would also make our 'biggest heists of Pyeongchang' list. In an incredible example of exactly what is possible when you effectively rort the system, American skier Elizabeth Swaney completed what was hailed as the most 'average' performance in a Winter Olympics ever. Competing for Hungary, US-born Swaney made the cut by turning up to qualifying events in the 2 year lead up to the Games, ensuring that she attended events with less that 30 competitors, guaranteeing her enough top 30 finishes to qualify. All she had to do was not fall, and to her credit, she nailed it. In her hilarious run down the half-pipe at Pyeongchang, Swaney achieved her Olympic dream, despite barely even clearing the lip of the half-pipe. Just goes to show you what is possible when you follow your dreams. As a 19 year old, Swaney followed another passion, running against Arnie in the race for Californian Governor. While we haven't actually checked her official score, it's safe to say she didn't medal this year. Maybe in Beijing 2022.
Russian Curler On Drugs
Russian Olympian Alexander Krushelnitsky was formally charged by the Court of Arbitration for Sport for doping. Russia as a country was already banned from Pyeongchang by the International Olympic Committee for drug related offenses with athletes competing under the Olympic flag. Whilst doping charges are nothing to be laughed at, we can't help but wonder… why? Krushelnitsky competes in curling, which is Winter Olympic speak for 'ice sweeping'. Surely any advantage performance enhancing drugs would provide would not be worth the risk in such a… gentle… sport.
Team Zamboni
According to The New York Times, if the imported US and Canadian zamboni drivers were counted as an Olympic Team, they'd be the 22nd largest team competing at the Games. The army of 37 'ice technicians' are employed to keep the ice smooth and clear between ice based events, and professionals in the field were drafted from North America especially for the Olympics. And don't you dare scoff at the validity of Team Zamboni, as it seems selection may be harder than some Olympic events (looking at you Elizabeth Swaney). Speaking to The New York Times, Canadian Zamboni leader Mark Messer said "I look for two things: someone who is competent operating a Zamboni, and someone who wants to be part of a team. We're immersed in this — together 16 hours a day. Unless you have good chemistry, it's got the possibility of running off the rails."