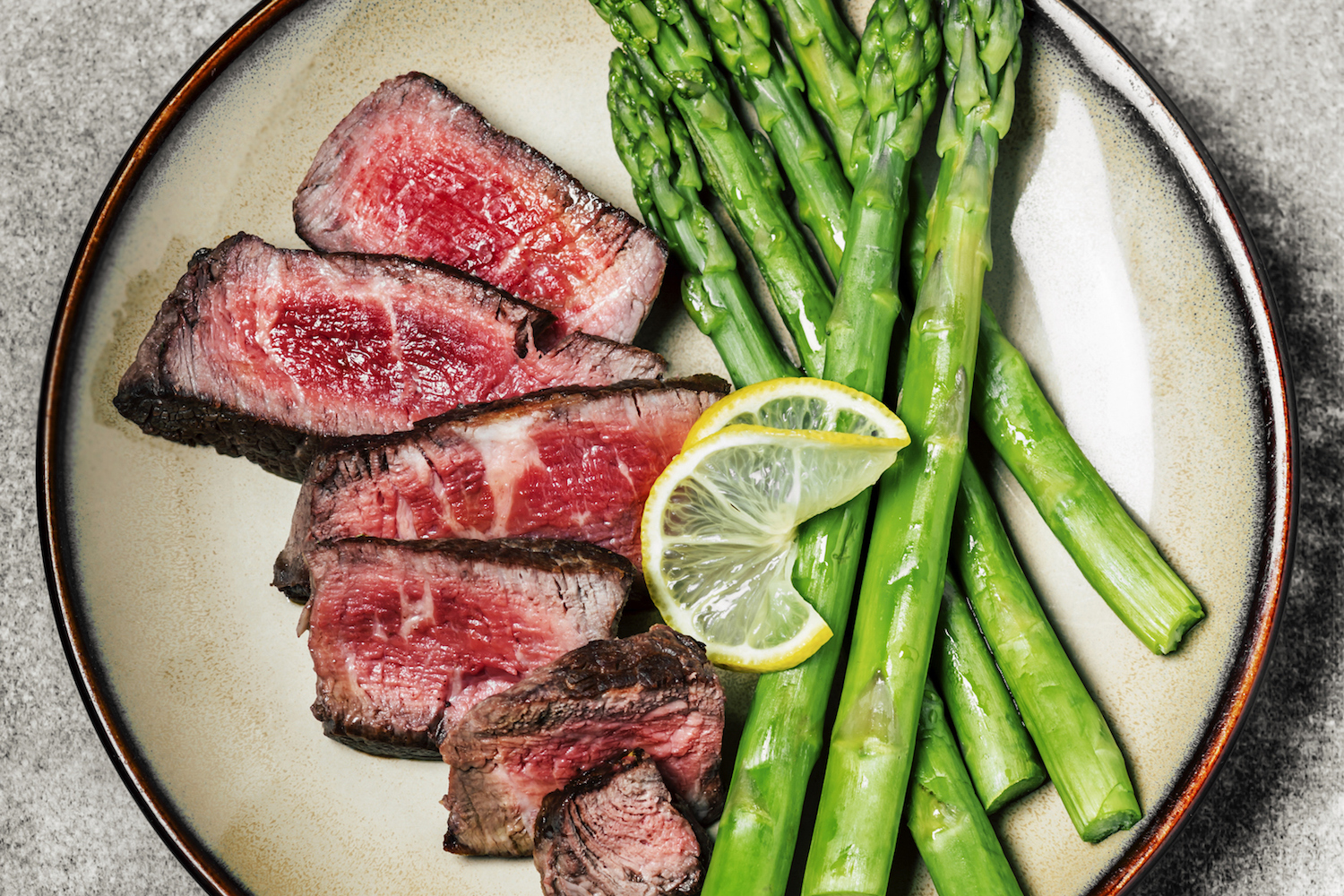 What is the paleo diet?
The paleo diet is inspired by the habits of our Palaeolithic ancestors, who followed hunter-gatherer way of life eating mostly meat, fruits and vegetables, and avoiding processed foods. The reasoning behind paleo is that the human body hasn't evolved quickly enough to handle the modern diet that emerged with the agricultural revolution. These changed in farming practices established grains, legumes and dairy products as a major component in our diet, which paleo proponents believe has lead to our current epidemic of obesity, diabetes and heart disease.
The diet's popularity really peaked in 2013 thanks to a number of high-profile fans like controversial My Kitchen Rules chef Pete Evans, but it's retained a loyal following. While some see it as a fad diet, others see it as a return to a simpler, healthier way of eating.
At its most basic definition: "It's essentially a high fat low carb diet or a high protein diet," Accredited Practising Dietitian Joel Feren told Men's Health.
Paleo food list
What can you eat on the paleo diet?
On the paleo diet you can eat:
Meat
Eggs
Non-starchy vegetables
Fruits on occasion
Seeds
Nuts
Spices
Herbs
Oils and healthy fats
What can't you eat on the paleo diet?
Bye, bread! On the paleo diet you can't eat:
Grains (yes, that even includes quinoa)
Most dairy
Starchy vegetables like potatoes and corn
Processed foods
Added sugars
Legumes
Vegetable oils
Trans fats
Legumes includes beans, lentils, chickpeas, soy-based products and even peanut butter! Some people choose to include dairy options like kefir, full fat natural yogurt, aged cheese and butter.
Is alcohol paleo?
Short answer, no.
But if you are after a few drinks on the paleo diet, wine is often considered the closest thing to paleo approved alcohol. Drunk in moderation (i.e. one standard drink) it can be beneficial due to its antioxidant content.
What are the health benefits of the paleo diet?
Fans of the paleo diet boast of numerous health benefits like weight loss, increased energy, clearer skin, muscle growth, lower risk of disease and reduced inflammation, to name a few. But how do these claims stack up to science?
Does the paleo diet work?
Well, when it comes to weight loss there are several studies that suggest the paleo diet can work.
"In the short term, there's evidence to show that you will actually lose weight," Joel says.
But there's some caveats.
"The issue is that the quick weight loss you might see is probably related to the exhaustion of your body's natural carbohydrate stores, called glycogen," continues Joel. "And when you exhaust your glycogen, you're also depleting it of a little bit of water. Often when people go on these crash diets – paleo and other high fat, low carb diets, they lose the 500g of glycogen in their system but they also lose about two kilograms of water. Often, people get off to a red hot start and they lose 2.5 to three kilograms in the first week and they think how good is this but really when people go on a diet they need to lose some of their fat stores."
In fact, research shows that participants on a Paleo diet may have only lost weigh because they ate fewer calories overall. In the long term, studies have shown that Paleo is ineffective in weight loss and weight loss maintenance. In fact, a study published in JAMA from February 2018 concluded that low-carb diets were not any better than low-fat diets in keeping the weight off.
What about those other health benefits? Experts say the diet is "over hyped and under researched". However, some small studies suggest it could be helpful in the management of metabolic diseases and larger independent trials are needed to back up these positive promises. Claims that the Palaeolithic diet could treat or prevent conditions such as autism, dementia and mental illness are not supported by clinical research.
Dietitian Kristen Kizer says the paleo diet can have some benefits.
"My favourite thing about Paleo is its emphasis on real food," she told Men's Health. "Most people who are doing Paleo are grocery shopping and cooking."
That said, she wouldn't exactly recommend the diet. "I still think Paleo can be too restrictive," she says.
Are there dangers to the paleo diet? What are the side effects?
Cutting out entire food groups like grains and dairy isn't recommended by nutrition experts.
"There's some potential nutritional deficiencies that might actually occur when someone follows the Paleo diet to a T," says Joel.
"We know there are a number of sources of calcium but the probably the best source of calcium is dairy – things like cheese, milk, yoghurt and we know that soy products are not allowed on the­­ Paleo Diet.
"They also run the risk of certain B vitamin deficiencies, commonly found in whole grains and legumes. I think the big one for me is actually fibre. Obviously it's found in fruit and veggies but it's also found in whole grains and legumes. Fibre is protective of heart, it reduces risk of diabetes, it can help keep us fuller for longer and is also wonderful for our gut health."
What are the side effects?
Those who follow the paleo diet often report a number of side effects during the initial adjustment period.
Low-carb flu
Cravings
Lack of energy
Bad breath
Change in bowel habits
Can diabetics do the paleo diet?
First things first – if you have a medical condition like diabetes do not embark on a new diet without guidance from your doctor or dietitian.
One small study on 13 people showed improved HbA1c, diastolic blood pressure, lipid profile, weight and waist circumference in patients with type 2 diabetes following a paleo diet, compared to patients on a diabetic-like diet. Another 12 week study on 32 individuals found that a paleolithic diet improves fat mass and metabolic balance including insulin sensitivity, glycemic control, and leptin in subjects with type 2 diabetes.
However, given the small sample size and short length of the studies, research is inconclusive about the benefits of the paleo diet for patients with type 2 diabetes.
What is the difference between the paleo diet and the ketogenic diet?
There are a number of differences between paleo and keto but the main one is that on the keto diet, most of your calories come from fat, whereas on the paleo diet, most of them come from protein.
Paleo meal plan for beginners
Breakfast
Omelette of three whole eggs and fresh basil filled with free-range turkey breast, mushrooms and fresh tomato, with a side of broccolini (or roasted sweet potato and parsnips, and spinach leaves) drizzled with extra-virgin olive oil.
Morning Snack
One cup of blueberries and half a banana topped with a tablespoon of plain coconut yoghurt.
Lunch
Tin of sardines in extra-virgin olive oil, with carrots, rocket and avocado.
Afternoon Snack
Piece of fruit, a row of 85 per cent dark chocolate, a few strips of biltong, handful of trail mix made from pumpkin seeds and sunflower seeds, linseed and dried apricot, make for greta paleo snacks.
Dinner
Two large, lean-beef patties mixed with whole egg, herbs (basil, coriander, cumin, ginger), grated onion and carrot, served with broccoli and avocado.
Paleo recipes
Need some lunch and dinner ideas? Try these.
Paleo ribs
This ribs recipe from chef Bill Staley, author of Make it Paleo, will turn your humdrum ribs into a falling-off-the-bone dish of pure deliciousness
Ingredients
2.5kg pork baby-back ribs
1 tbsp Chinese spice blend
½ tsp paprika
½ tsp ground coriander
Sesame seed glaze
3 tbsp sesame oil
⅓ cup coconut aminos (a sauce derived from coconut; $11.50, thecoconutshop.com.au) or balsamic vinegar
½ tsp fish sauce
2 cloves garlic, minced
Method
Divide the slabs of baby-back ribs into six portions. Fill large soup pots with water, bring them to the boil, cover and parboil the ribs for 30 minutes. Now drain and cool the ribs on a baking sheet. Once cool, generously season with Chinese spice blend, paprika and ground coriander. Cover with foil and place in the fridge for an hour. Soak hickory chips (available at Bunnings) in water for an hour, then place them in a smoker box inside your barbecue. Heat the barbecue to a low heat, then combine the glaze ingredients in a small bowl and whisk. Grill the ribs for 20 minutes, basting with the glaze every 3-4 minutes and continue to cook over a low heat for another 15 minutes. You get a set of ribs that'll be finger-licking good. Makes 2-4 servings.
Paleo marinated steak recipe
This recipe from home economist Tina McLeish unleashes an assault of flavours that'll complement your steak even better than a black eye
Ingredients
600g rump steak, trimmed of fat
1 tbsp olive oil
2 corn cobs, husks removed
2 bunches asparagus, ends trimmed
8 large mushrooms, stalks removed
Chimmichurri sauce
½ red capsicum, very finely chopped
1 tsp red-wine vinegar
3 tsp extra-virgin olive oil
¼ cup coriander leaves, chopped
½ tsp paprika
1 clove garlic, crushed
Cracked black pepper, to taste
Method
Preheat the barbecue to its maximum and brush the corn, asparagus and mushrooms with half the oil. Place them on the grill plate and turn every few minutes until they're cooked through. The corn takes 15 minutes, mushrooms 5-6 minutes and asparagus 3-4 minutes. Brush the steak with the remaining oil and cook on a ribbed barbecue plate until it's done to your liking. To make the chimmichurri sauce, combine the capsicum, vinegar, oil, coriander, paprika, garlic and pepper. Slice the steak and dress with the chimmichurri sauce for a flavour that'll have you lining up for seconds long before your final bite. Makes 1-2 servings.
Butternut Squash and Beef Chilli
Ingredients
A small onion, chopped
Garlic cloves, 20g, chopped
Capsicums, 2, diced
Mushrooms, 250g, diced
Beef mince (10% fat), 750g
Tinned tomatoes, 800g
Cumin, 15g
Paprika, 4g
Beef stock,100ml
Butternut squash, 460g
Cacao powder, 15g
Avocados, 2½, sliced
Coriander, 4g
Method
STEP 1
In a large saucepan, fry the onion and garlic for 5min. Add the capsicums and mushrooms. Leave on the stove for another 10min.
STEP 2
Add the mince, tinned tomatoes and spices and stir well, coating the ingredients. For your last bit of prep, add the stock, boiling water and the squash. Cover the pan and let it simmer for 45min.
STEP 3
Take off the lid and stir in the cacao powder, then simmer for a further 10min. Split into five bowls, topping each with avo for a week's restorative fuel.