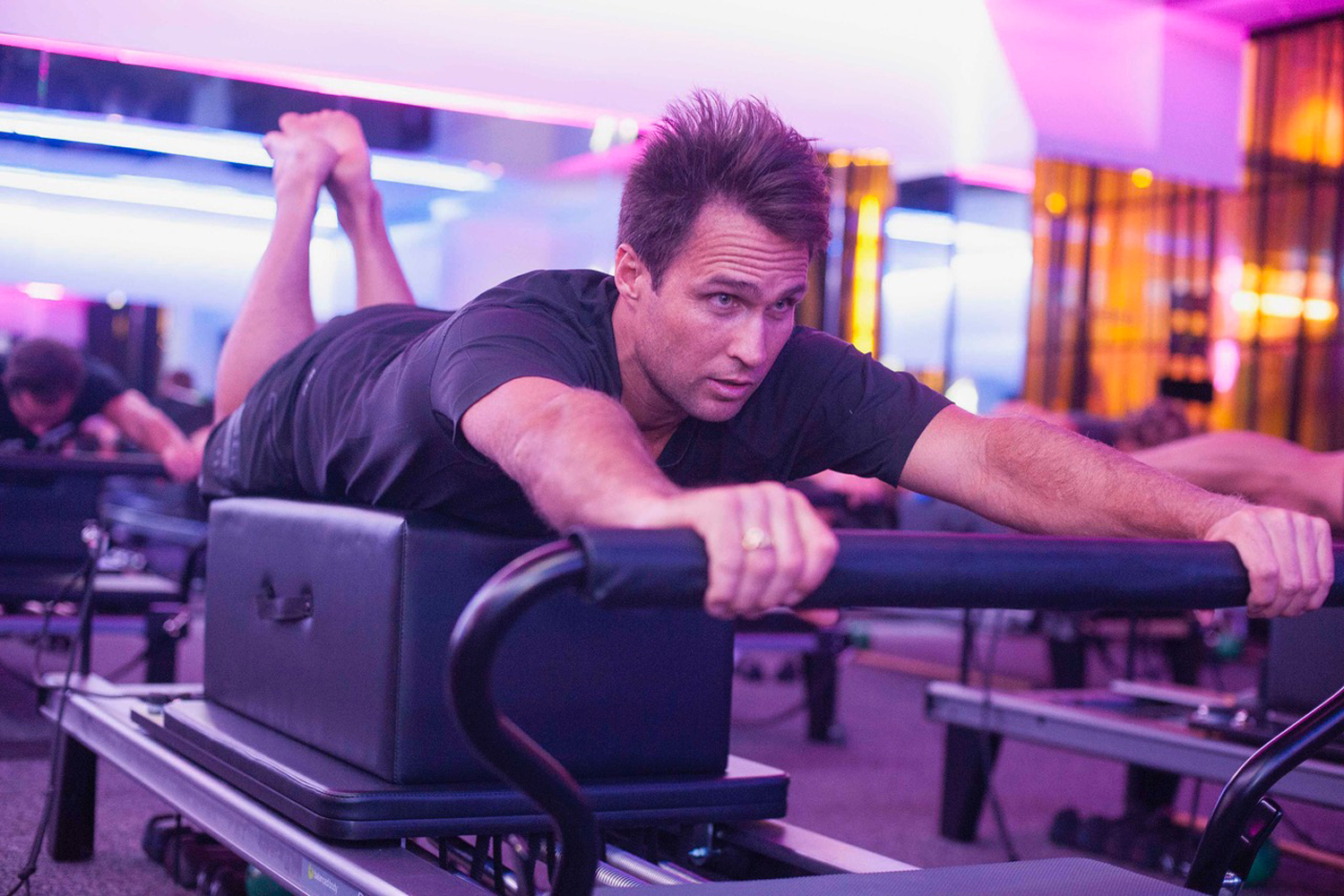 Guy Leech is a former World Champion Ironman, so it's fair to say he knows a descent amount about the science of human conditioning (oh… he also won Australian Celebrity Survivor in 2006 for those trivia buffs at home). Since retiring from the sport, his body is miraculously functioning better than ever.
Leech credits his fitness to Reformer Pilates. For the uninitiated, Reformer Pilates is a full body workout performed on a bed-like machine, and aims to tones muscle, increases stability through the joints, improves core stabilisation, flexibility and much more.
The style of workout has been extremely popular among women for some time, which has been a stigma that has kept men away despite the obvious benefits to athletic performance, not to mention general health. Now operating out of his own space on Sydney's Northern Beaches, Vive Active, Guy trains tough-guy clients Commando Steve Willis, Ironmen Kendrick Louis and Ky Hurst, and former NRL great Anthony Watmough in his "brolates" classes.
Guy recently shared with MH the reasons why you should consider including pilates into your training program, and exactly what you're missing out on by not getting involved!
1. IT IMPROVES FLEXIBILITY
In an effort to get "buff", it's not uncommon for men to resort to the activities that shorten muscles. Bench press, bicep curls, squats and even running are all great exercises but they essentially decrease flexibility, thereby increasing the likelihood of injury and developing those chronic aches and pains. Strength training is essential, but to increase our lifting capacity and to prevent injury, it needs to be balanced out by lengthening exercises. And I don't mean simply "stretching" either. On the contrary, reformer Pilates allows you to strengthen while you lengthen, which is exactly what I needed after decades of pushing myself to the limit and not giving my flexibility an inch of thought. It took nearly two years for my sports doctor to twist my arm into trying reformer Pilates and one morning, waking to excruciating back pain, I finally gave in and got on that reformer. My only regret is not trying it earlier.
2. IT BUILDS A STRONG BASE
The key to a healthy, structurally well performing body, is having a strong, neutrally aligned spine. But, with so many of us holding our bodies incorrectly as we go about our day and as we train – most of us have weak and poorly aligned spines which, inevitably, reduces our ability to perform at our peak. Not to mention increasing the likelihood of developing injuries and chronic pain in the future. Reformer Pilates is pretty much the only form of exercise that strengthens all of those deep postural muscles that work to neutralise and support the spine and allow you to push harder (and more safely) in your training.
3. IT INCREASES LEAN MUSCLE
Yes, Pilates will reduce pain and yes it will improve strength and flexibility, but how is it going to change the way you look with your shirt off? Well, I can wholeheartedly say that in 20 years, my abs have never looked better. While I'll never look the way I did when I was at the peak of my fitness career, after committing myself to four sessions of reformer Pilates per week, I have gained three kilograms of lean muscle and I look pretty good, if I do say so myself – plus I'm a lot stronger. Definition in my arms is sharper, my abs are more toned and in general my body is more "cut". This comes down to the fact that there are muscles in my body that have simply never been used before, and after 35 years of hard-core training, that's a pretty big call. I now stand taller, look leaner and have never felt better.
Related: 4 Reason Why Men Should Do Yoga
4. IT HAS A KNOCK-ON EFFECT
Reformer Pilates will improve your surfing, your paddling, your running, your boxing – you name it. It even improves weight lifting. Because the reformer makes you use all those supporting muscles, while increasing your flexibility, range of motion and balance, it allows you to fine tune the different motions you use during other sporting pursuits. As a result of all that increased strength, it greatly reduces the chance of injury while performing your favourite activities.
5. IT PUSHES YOU TO THE LIMIT
I've had football players, professional surfers, celebrity trainers, ironmen and weightlifters come thorough the Vive Active doors and they all leave feeling exhausted and feeling the burn! It's a workout that can be tailored to any fitness level, which is why it is so beneficial for absolutely everyone.
Guy Leech is a World Champion Ironman and Co-Founder of Vive Active.